Alexandra Falla is a participant in Group 2 of the Canadian Conservation Corps.
I arrived back home after an intense and knowledge-filled summer with McGill at the Gault Nature Reserve.
I don't think I will ever be able to fully explain every little thing I did and learned during my Stage 2 placement, but I have taken all those memories and experiences home with me. I do find myself missing the mountain, especially during the first week transitioning back to school and the city life. T'inquiétés pas cher Mont-Saint-Hiliare, I'll be back for you one day!
In the meantime, I've been doing my best to take my Stage 2 experience and translate it into a Stage 3 project. I have been keeping myself very busy with school. I just started my fourth year of school at the University of Guelph, but only my second semester of my new program – Zoology. Switching has been one of the smartest decisions I made in the past year, and even though I will be taking a little longer to graduate than most of my classmates, I know I would prefer to take my time doing something I enjoy, rather than rushing to graduate with a degree that I was no longer passionate about. A lot of my coursework now focuses on wildlife, natural history, and the science behind some very big conservation issues. For example, my invertebrate biology lab is currently looking at the effects of pharmaceutical run-off in freshwater invertebrates. It's exciting to see how relevant issues are being used to teach some difficult concepts in class – using these real-life situations and applying them to course work helps me get a better understanding of some serious science.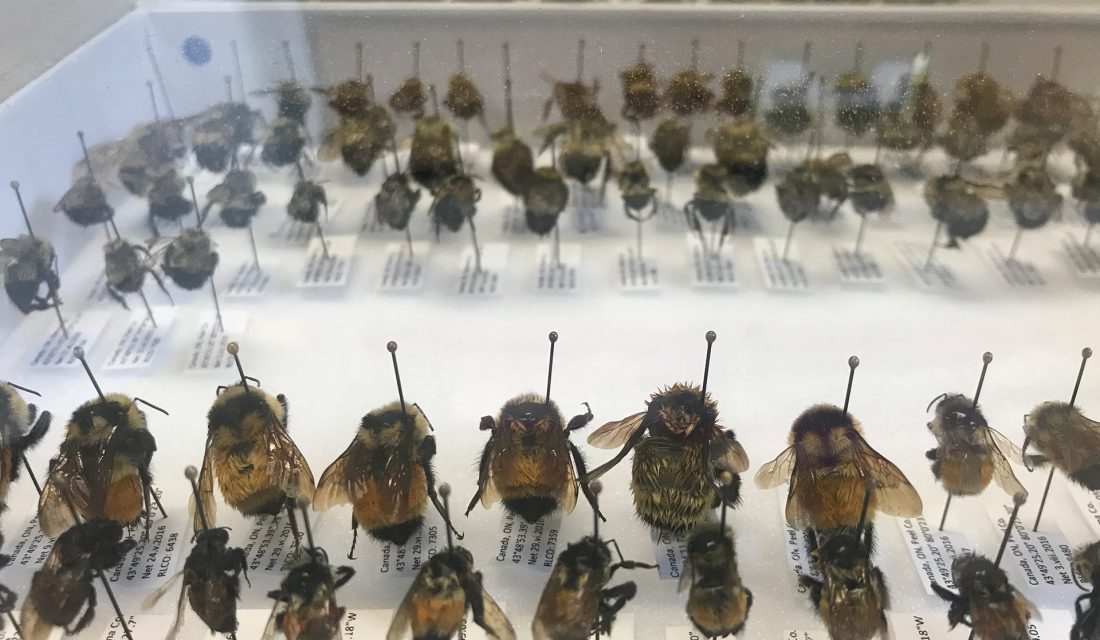 Aside from some really cool classes I am taking, I am also working as a research assistant in a pollinator lab at the School of Environmental Science. My job is to assist with the lab's long-term bio-monitoring project. Each summer, people volunteer to set up a monitoring site on their property. They collect insect samples in traps. These samples are then mailed to us, and it's our job to sort out the bees from the rest of the bugs, and then pin, identify, and database the samples. The bees we focus on are native, solitary bees – those that do not live in hives or colonies. They are much harder to find. The goal of the project is to maintain a database of bee species found across the province, and to monitor the species that are declining. This is all new territory for me but I'm enjoying the work very much. It's given me a little more insight into how much work goes into bio-monitoring, and how critical these kinds of projects are for understanding the changes in native species prevalence. #SaveTheBees.
On top of all this, I still found time in my schedule for volunteer service with Credit Valley Conservation at home in Mississauga. I helped the community outreach department, so most of my service involved assisting with community tree planting events, as well as monitoring older planting sites. I spent a day at Fletcher's Creek Senior Public School in Brampton, where I helped about 100 grade seven students get outside and plant some trees at the park next to school.  I also taught them the importance of habitat restoration in urban environments. Together we planted about 100 trees. The kids enjoyed getting outside and experiencing a different kind of learning environment. I believe the best way to teach the importance of conservation and citizen science is by taking part in outdoor events like these, where one can experience that world first hand, and see a difference at the end of the day. Even if it's as simple as taking part in a community park clean-up, or going outside to observe local wildlife at a city park, by making those connections with the outdoor world, you can be more appreciative of the efforts of people like all of us at the CCC. Our goal is to make our environment a better place for native wildlife, and to conserve it for the future generations to enjoy.
Stage 3 has been an adventure of its own. I'll admit I did not expect to have a full schedule this semester, but thanks to the CCC, I have that new-found passion for conservation and am doing every little thing I can do be a part of it. I'm excited to see what other opportunities present themselves in the next few months, and how my CCC experience will continue to shape my future in conservation.
The opinions expressed are those of the participant and do not necessarily reflect the views of the Canadian Wildlife Federation.