The North Atlantic Right Whale is a critically endangered species that finds its way to Atlantic Canadian waters every spring.
Described by some as "grotesquely majestic," the Right Whale is threatened by human activity, and can therefore only be saved by human ingenuity.  Right now, we're at a tipping point for this tiny population of great whales. There is an urgent need to closely monitor their population and health.
Since 2017, there has been a drastic increase in the numbers of dead, stranded and seriously injured right whales in Canada and the United States.
We have lost 42 of these magnificent creatures in the last three years, which represents more than 10 per cent of the entire North Atlantic Right Whale population.
More than half of these deaths were caused by fishing gear entanglement and ship strikes. Likewise, these threats have an impact on the twelve other whale species in Atlantic Canada, and if drastic measures are not taken, they could follow the Right Whale on the path to extinction.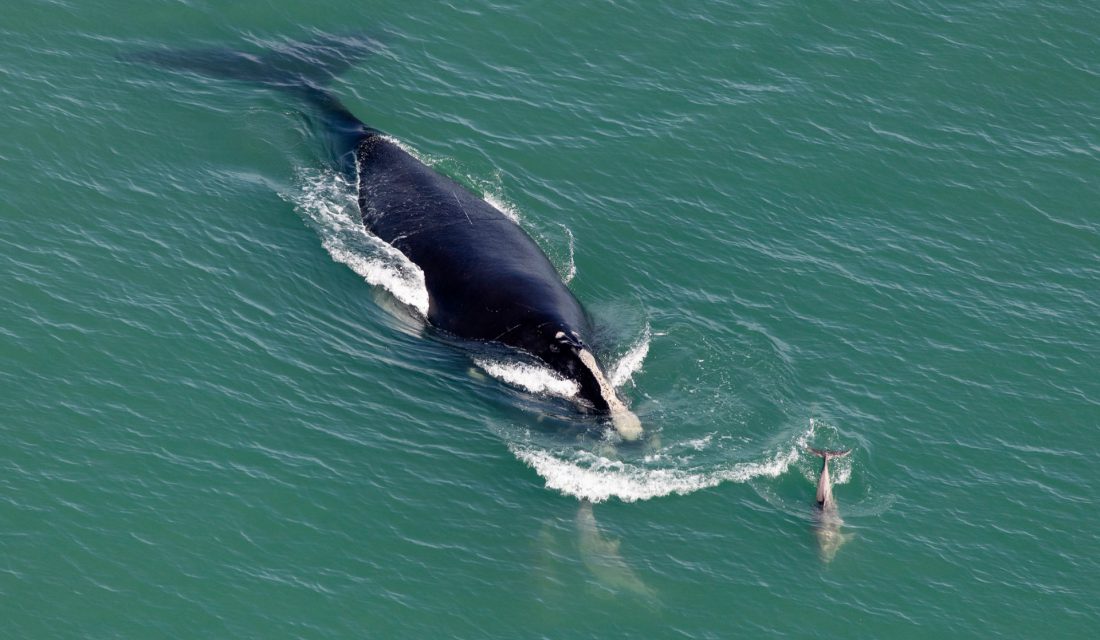 Finding and Protecting the Remaining Right Whales
To help conserve this magnificent species, we first have to know where they can be found. We have two ways of detecting whales:
Visually: this includes aerial surveillance, at-sea vessel surveys and the future use of drones and satellites.
Acoustically: this includes buoys and gliders outfitted with specialized technology to listen for whales under water.
Visual Surveys
Let's break down the different types of visual surveys and when they should be employed.
Aerial Surveys
This type of surveying is conducted by aircraft flying in systematic line transects across known Right Whale habitats. Photos and videos are recorded and whales are identified by the unique callosities on their heads (hardened skin). Using photo-identification, it is even possible to distinguish and name each individual in the population. Their stories have been documented and are accessible online in the North Atlantic Right Whale Catalog. From photographs we can document their injuries and develop risk assessments. Aerial surveys also provide crucial information about population distribution and habitat use.
At-sea Vessel Surveys
A more 'hands-on' form of surveying, at-sea vessel surveys can assess the health of the population by collecting data with aerial photogrammetry (drones), obtaining biopsy samples (blubber, skin or feces) and blow samples from the whales. These samples are used in hormonal studies to measure stress and reproductive ability. This is critical as there are only around 70 breeding females remaining.
Whale Tagging
This form of detection is a high-cost option for data collection; however, tags have short attachment times and cannot withstand the acrobatic force of these enormous beasts. Long-term tags embedded into the skin would pose the risk of infection to an already vulnerable animal.
Marine Mammal Observers
This type of surveying uses scientists trained to detect whales from large vessels to prevent ship strikes. Because putting a highly trained observer on every vessel at sea is not feasible, low-cost technology is required to increase this effort, such as thermal imaging camera systems built into fast-moving ships.
Satellite Surveying
The newest addition to the toolbox of Right Whale monitoring are satellites. SmartWhales is a detection system that is being designed to spot Right Whales from outer space. Working alongside the Canadian Space Agency, scientists will apply deep learning methods to satellite images to monitor for the presence of whales and predict their movements.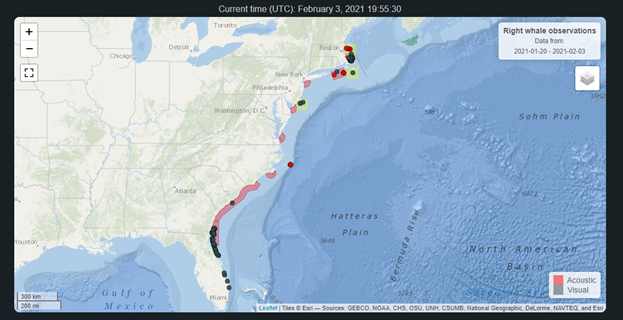 Acoustic Surveys
Acoustic surveys use passive acoustic monitoring to determine whales' habitat use over time. Sound recorders and acoustic sensors are an effective way to understand whale presence, especially when visual surveys are not possible, such as at night or in adverse weather.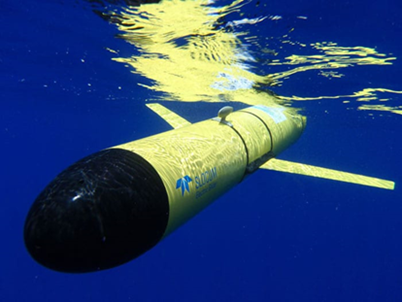 In the past year, gliders have been implemented to guide management measures in Canada. In 2020, two Slocum Gliders equipped with digital acoustic monitoring instruments were deployed to detect Right Whales and trigger restrictions. The Department of Fisheries and Oceans used one glider to inform fisheries management in the southern Gulf of Saint Lawrence, and the other was used by Transport Canada to guide management of the Laurentian Channel dynamic shipping lane (Zone C). These gliders respectively triggered eight fisheries closures and a ten-knot speed restriction for sixteen days. These management measures would not be possible without collaborative effort from the shipping industry and fishing communities.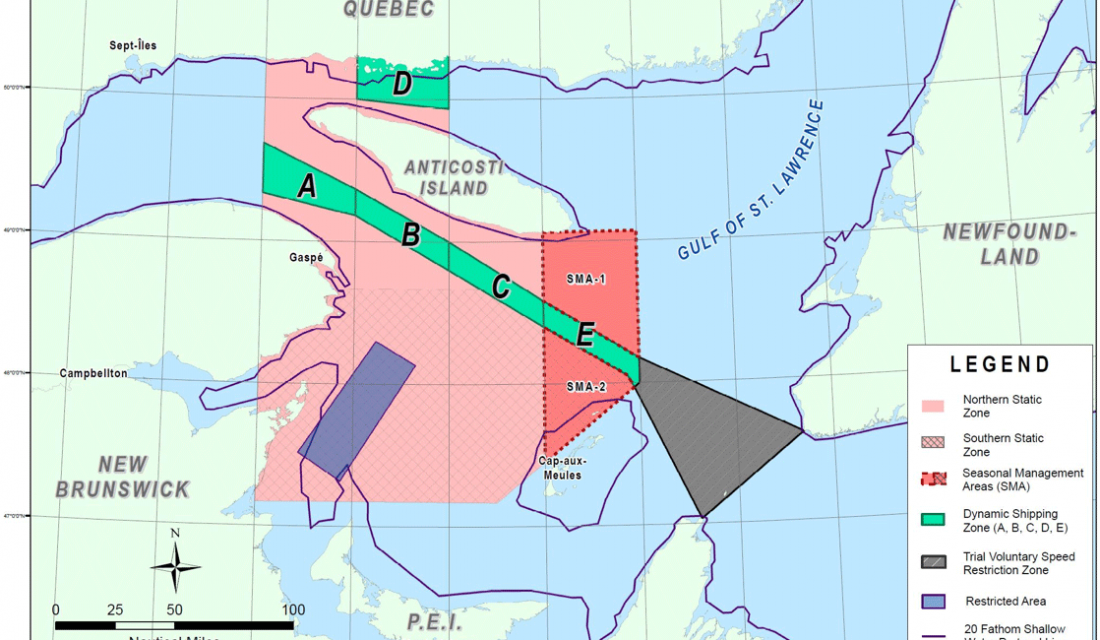 From underwater acoustics to outer space photography, these detection platforms are all important; together they can paint an accurate picture of the lives of whales. This "swiss army knife" approach uses multiple detection platforms as a collaborative monitoring system, which allows us to protect these beautiful creatures by working together.
How Can You Help?

While you may not be on the front lines of whale detection, you can still help! Sign the Canadian Wildlife Federation's Marine Action Plan petition to reduce mortality of whales due to collisions with shipping vessels. This includes implementation of speed restrictions, alert systems and seasonal changes to shipping lanes.
If you're near a coast, you can join The Watch to learn how to report and respond to marine animal emergencies. Report all sightings to the Marine Animal Response Society or call the toll-free hotline at: 1-866-567-6277. Learn more by checking out WhaleMap for yourself at to see if there have been any detections of Right Whales in your area!
Learn more about Canada's Coasts & Oceans or the work the Canadian Wildlife Federation is doing to help our Endangered Species.