There are phenomena in the realm of birds when nature makes a spectacle of itself. Those moments bring people and communities together.
Among the great pleasures in a bird-watcher's life are what I consider the spectacles of the ornithological world. These often occur during migrating time. This fall, I witnessed two such events, and each was unique.
The first was in Sidney, B.C., on the southern tip of Vancouver Island. In the middle of October, I drove from my home to a nearby bay to join in a search for buffleheads (Bucephala albeola). Or, at least, to welcome them, since they arrive here every year with remarkable punctuality: on or around day 297 of the solar year.
These smallish diving ducks have been faithfully tracked locally by a retired Arctic biologist named Kerry Finley over the last 22 years. He determined that the uncanny timing of these ducks has little to do with the onset of winter temperatures, but rather can be best explained by "planetary waves" in the Earth's atmosphere caused by its rotational movement.
These waves travel slowly eastward across the continent. At this time in the planetary calendar, the wave amplitudes change and, as if on a secret signal, millions of bufflehead ducks from coast to coast begin their migrations south from their northern breeding grounds. And each year, on a predetermined date in mid-October (plus or minus 3.8 days on either side), some arrive in Roberts Bay not far from my adopted home. This year's prediction was October 13. They arrived on October 9 (within the range of variation).
All Buffleheads Day
Around here, it has been dubbed All Buffleheads Day. (Since 1997, Sidney's coat of arms has featured two buffleheads.) Each year, there is an event for bird-lovers of all ages to observe and celebrate the ducks' arrival.
There are prizes for being the first to spot one, activities for kids, talks by local experts, visits from some elected representatives and, best of all, a community gathering to do citizen science in the form of counting the new arrivals. I suggest you web-search "All Buffleheads Day" to learn more. And mark it in your 2020 calendars; the buffleheads have already done so.
Birds and Drones
Two weeks later, I was on a bridge over the Merrimack River in Lawrence, Massachusetts, in the fading dusk light. I was in the area to give a talk on birds and drones to the Nuttall Ornithological Club. (Founded in 1873, it is North America's oldest club dedicated to ornithology, and among its most respected.)
I was on the bridge because international avian photographer and bird guy Craig Gibson invited me to witness a local spectacle. It was the massing of thousands upon thousands of crows, largely American and fish crows, along the riverbanks and covering the roofs of several massive old factories. I had seen crow roosts before, but nothing like this. By winter, as many as 25,000 crows will overnight there.
It seems the crows are abandoning rural night roosting sites in favour of urban locations, like Lawrence. Gibson is a co-founder of the Crow Patrol, a group of keen bird lovers who are engaging a diverse urban population to experience this amazing spectacle and learn about birds through guided walks, festivals and arts programming for young people.
From a scientific perspective, Gibson and his team are planning to use a combination of nighttime optics, drones and radio tracking to count the crows. They hope to learn where the crows spend their days in smaller flocks and perhaps something about what is drawing them to roost in the post-industrial urban night.
To my mind, both All Buffleheads Day and the Crow Patrol are nice examples of how communities can come together to celebrate birds and how everyone can benefit. With the terrible news recently reporting the decline of more than three billion birds over the last 50 years, the timing of these events and more like them could not be better.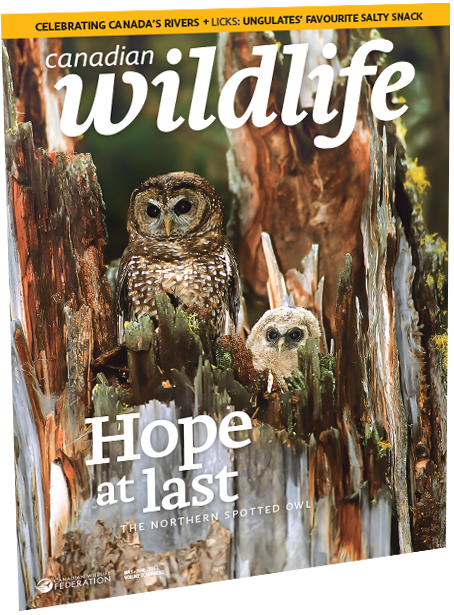 Reprinted from Canadian Wildlife magazine. Get more information or subscribe now! Now on newsstands! Or, get your digital edition today!