Silvana Botros is a participant in Group 5 of the Canadian Conservation Corps.
I stood at the base of Mount Galatea on the last day of my Canadian Conservation Corps Rocky Mountain expedition and felt profoundly changed — but was all the better person as a result.
Spending 14 days in the backcountry was the adventure I always knew I wanted to take, but it wasn't until the end that I realized the huge impact it would have on me.
The journey as a whole was full of difficult challenges, laughter, tears and personal growth.  I wouldn't have it any other way. Coming from Eastern Ontario, my Septembers are usually characterized by an abundance of changing leaves, sunshine and sweater weather.  I assumed the same of Alberta. Rather, we arrived at our first camping site to 20 centimetres of snow, -9 C weather, and a bit of fear in our hearts. I felt confident going into the Outward Bound expedition, given my experience in the outdoors, but nothing could have prepared me for the curveballs the Rockies threw my way.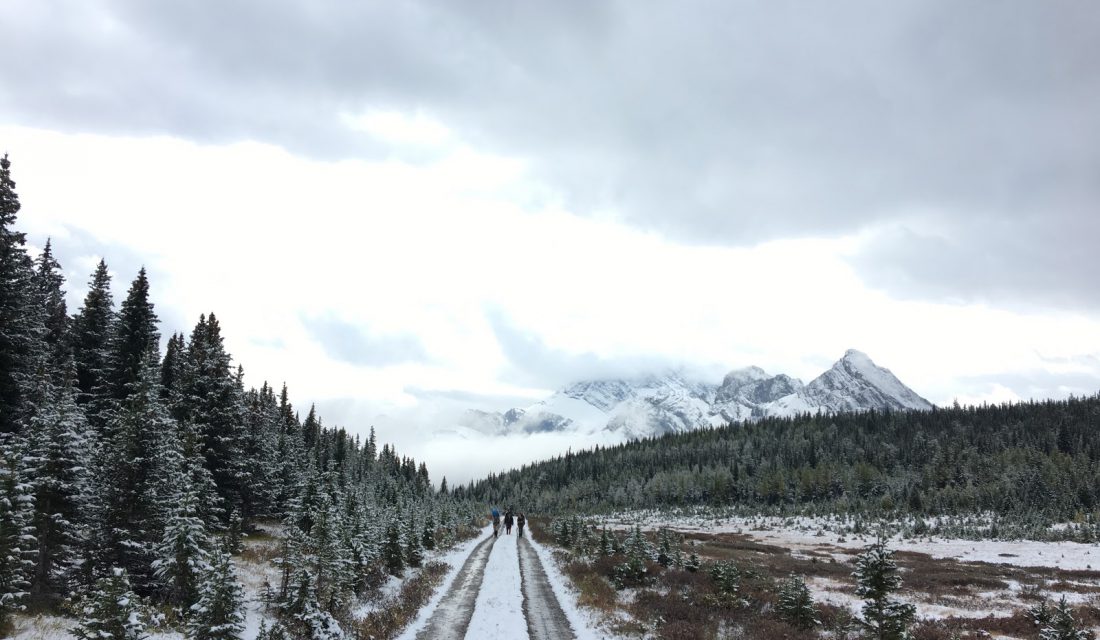 On our fifth day, after a long, snowy, 18-kilometre trek from Elbow Lake to Mount Romulus, I went to bed in my sleeping bag feeling accomplished, happy, and ready for the next day. Little did I know it would be one of the most challenging days of not only my expedition but of my life. Our plan was to travel from Mount Romulus to an abandoned horse camp about seven kilometres away. In my mind,  this was an easy trail. The next day, we got to the trail and I found out something new about myself:  I'm really afraid of cliffs, and the trail we were on was full of them.
The day started out easily enough, meandering through established trails with lots of switchbacks up the mountains. Then the trail began to thin out.  The trail was not easily distinguishable from the shrubs and stunted growth trees (called krummholz) hugging the steep slopes of the mountain. The soft dirt path soon turned into unsteady scree slopes with no identifiable path. I began to feel nervous, questioning my footing and cursing the 27-kilogram pack on my back. The atmosphere changed as person after person passed me. My confidence as an outdoors person was being challenged, and I was ashamed that I was having difficulty navigating. My expectations of myself were high, and I was not reaching them (figuratively and literally). Then, the cliffs came.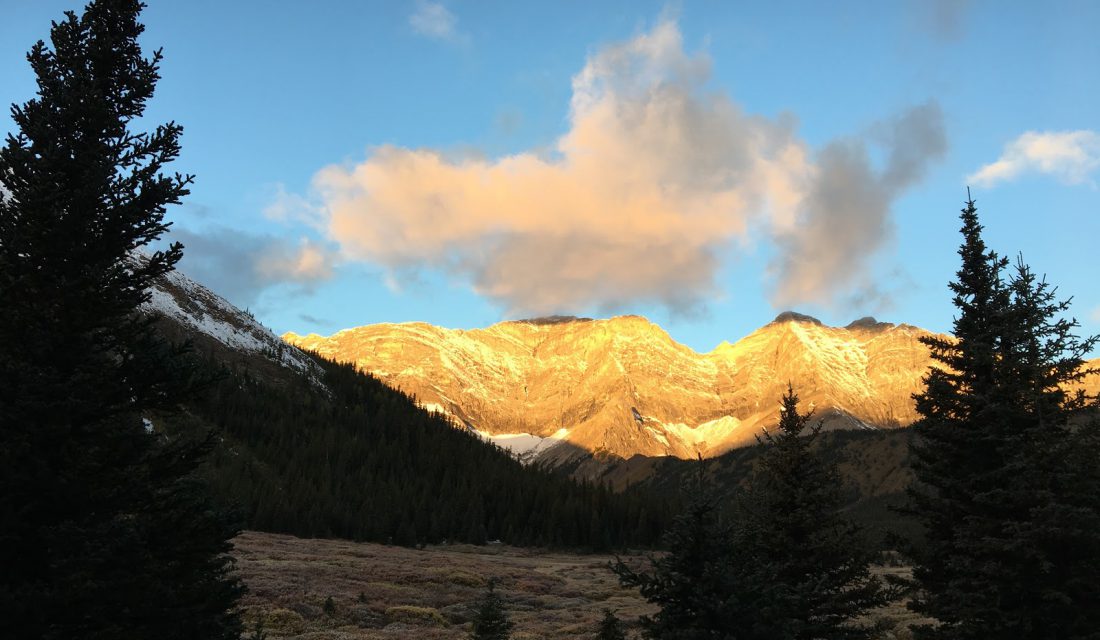 The path (or lack thereof) we were on soon became a risky scramble over loose boulders at the top of a 50-metre drop into the ether. Looking down, there was no question: one ill-placed step would not end well. Below me was a 70-degree slope with no discernable end, and above me, the same. Overwhelmed by the sudden fear of falling and my lack of confidence in my abilities, I broke down into a full-blown anxiety attack, hyperventilation and all. Sobbing at the junction between me and the steadier footholds about 30 metres ahead, I felt powerless. This was the first time I had ever reacted like this to heights. I never knew this would be the thing to make me crumble.
Throughout the first few weeks of the program, I had maintained my almost always laughing optimism and rose-coloured glasses way of looking at things, but this new phobia was something I couldn't have anticipated.  It was here that my Mountain Goat family took hold and helped me through this difficulty. Outward Bound guides Clark and Madeleine literally guided each step I took and stayed close enough to make me feel safe.  With help from my amazing crew I got across the pass and breathed a bit easier.
A big shout out to Lin and Jesse for their reassurance, patience, and willingness to carry my heavy pack across especially sketchy parts. This scene repeated itself a few times over the course of the day as we traversed to the campground — it never got easier, mentally. But I forced myself through tears to put one foot in front of another or to scoot across the face of the mountain on my bum (whatever worked) and made it to the campground.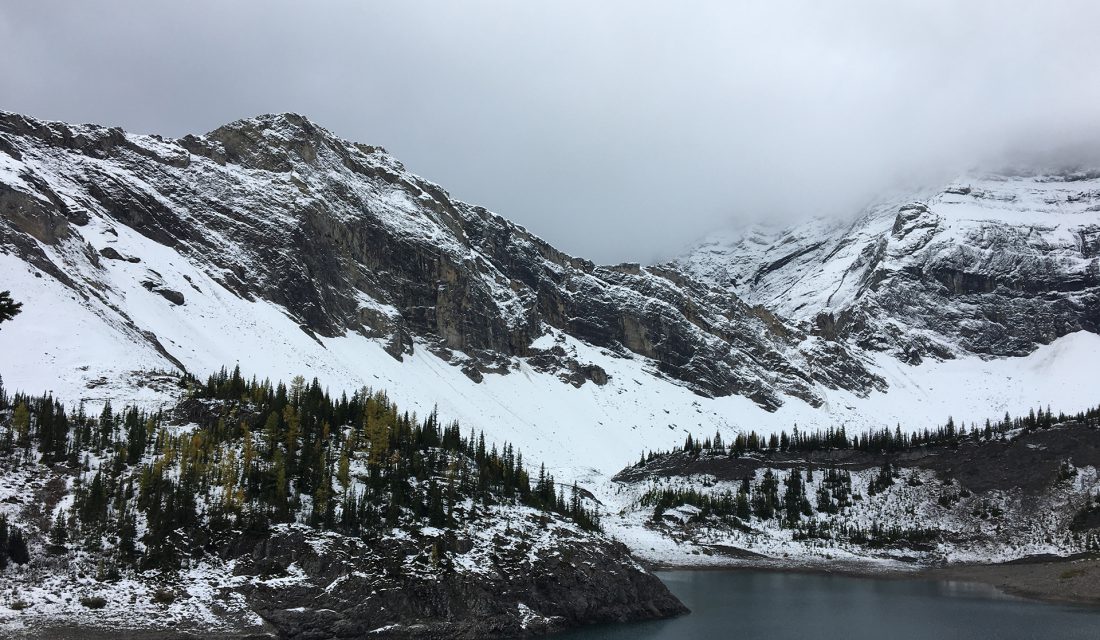 Days went on and we kept moving through the Rockies.  Snow came and went, laughter was abundant, and I kept going over cliffs that I hated. Towards the end of the expedition, we took a day hike to Galatea Lakes. It was a snowy day, but we were in good spirits. Scanning the landscape ahead of me, I saw where the trail hugged the edge of the mountain, about 50 meters straight up. My breath caught at the prospect of crossing yet another cliff, but I kept walking. The view from the trail was amazing — crystal clear lakes and the majesty of rocky mountain faces.  I carefully and slowly traversed the edge of the cliff and stopped midway.
For the first time, I forced myself to look down. The loose boulders were shifting under my feet. Rather than let the fear overtake me, I stood and allowed it to turn into something else. From such great heights, I let go of my fear, and there I replaced it with resilience and beauty.