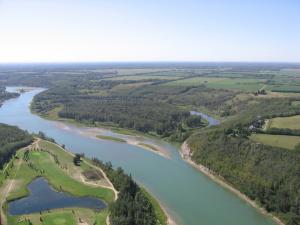 Here we are at the North Saskatchewan River. "Kisiskatchewan" or the "swift-flowing river" of the Cree begins in the Columbia Icefields of the Rocky Mountains, travels across Alberta into Saskatchewan where it meets up with the South Saskatchewan River and empties into Lake Winnipeg, a path of about 1,287 km.
The headwaters of the North Saskatchewan River are part of the Canadian Heritage Rivers System. This area is known for its glacial beginnings, wildlife, tributary valleys, rapids and rich history with mountain explorers. It is not uncommon to see grizzly bears, coyotes, mountain goats, elk, wolves and bighorn sheep. The high mountain areas of the river's head-waters even provide breeding habitat for golden eagles.
The North Saskatchewan River and its surroundings provide great opportunities for hiking, camping, sightseeing and canoeing.
Definitely sounds like a river that has a lot to offer!