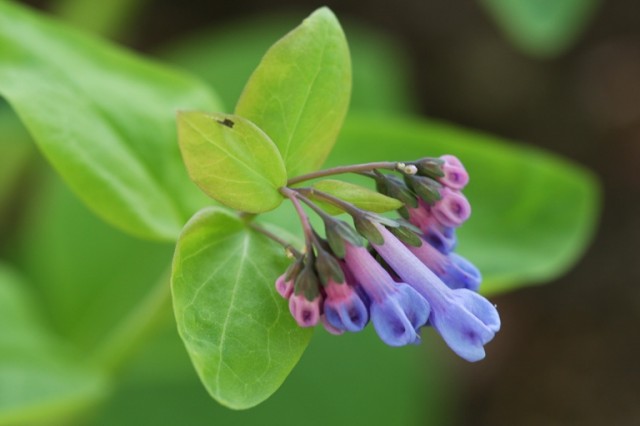 [PHOTOS: CWF]
It's almost May and…it snowed. Yup. And it didn't just sprinkle down…it stuck…for hours. For my friend in the Quebec Laurentians, it lasted days thanks to the cold temperatures we've been having. So much for the balmy (not to mention highly unusual) days of March! Nevermind, I live in Canada and the weather is a-changin' so I know to be prepared for just about anything.
Despite the odd weather, spring plants are continuing their early show. This week, conventional plants like Forsythia are still blooming and daffodils are up in full force. See below for the photographic story of what's happening in CWF's Wildlife Friendly Demonstration Garden.
Some plants that bloomed last week are continuing on this week, such as prairie smoke, prairie crocus/pasque flower, hepaticas, Dutchman's breeches and bloodroot. As we have different beds with varying conditions, some plants are fully up and opening while others are still thinking about it, such as our prairie crocus in our pollinator bed. Joining the crowd this week are: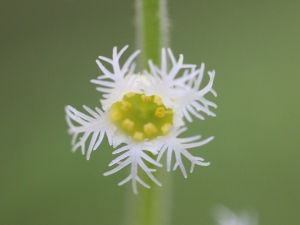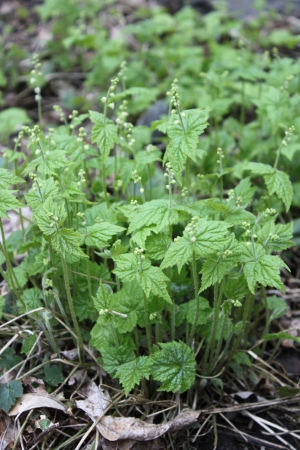 Mitrewort (Mitella dyphylla), although similar to foamflower (Tiarella spp.) with its leaves and size, is very different in its snowflake-like flower. Thank goodness for macro lenses that allow me to share their magnificence online!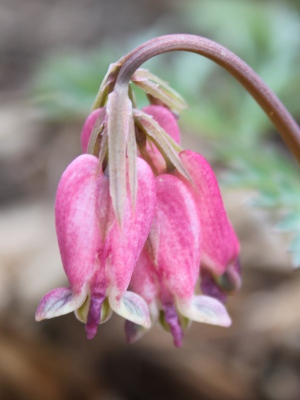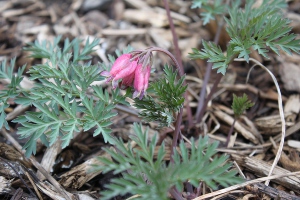 Western bleeding heart (Dicentra eximia). This plant is similar to Dutchman's breeches (Dicentra cucullaria) with the most obvious difference being its flower colour. It is a much smaller and more delicate version than the non-native species commonly seen in gardens.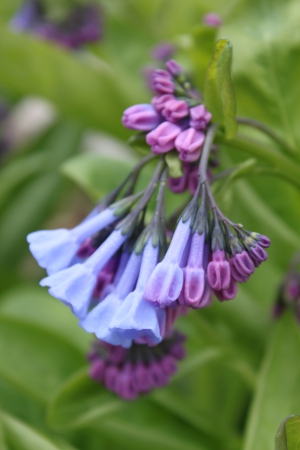 These Virginia bluebells (Mertensia virginica) are just starting to flower. Even their buds are attractive – with pink-purple buds that open to blue-purple flowers, often displaying both colours at the same time, as above.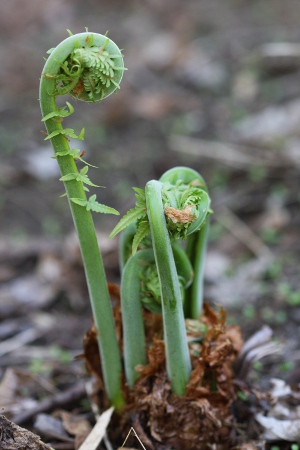 Ostrich ferns (Matteucia struthiopteris) are a few inches tall now, pretty much caught up with the others in the garden.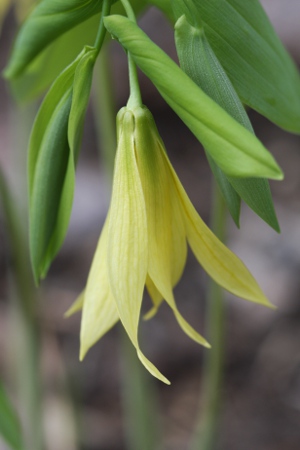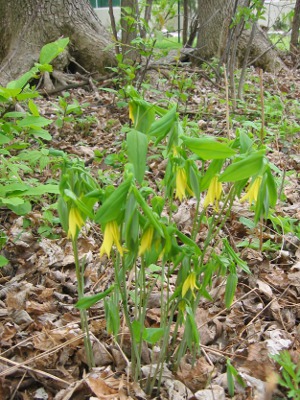 Bellwort (Uvularia spp.) is a plant that could easily be ignored if one walks by too quickly. But a close look reveals its beautiful blooms.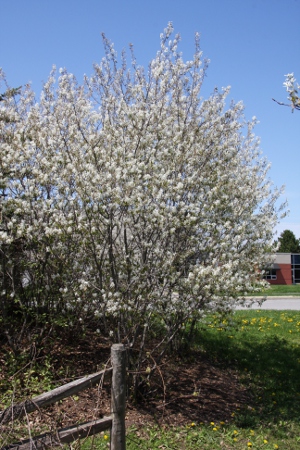 It's so blustery and grey outside that the photos I took of our serviceberries (Amelanchier spp.) weren't the most exciting. So here's a shot from a previous year that shows one of our serviceberries covered in flowers, with its leaves only just beginning to open. I'll include a close-up of its flowers next week.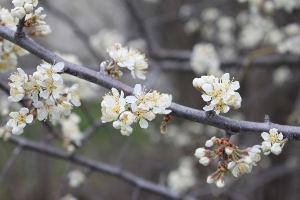 Another flowering shrub this week is one of Canada's native plums (Prunus nigra or P. americana – this is a wild part of our property where we haven't finished identifying the plants growing there).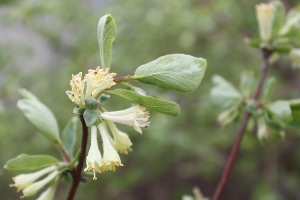 Bearberry honeysuckle (Lonicera involucrata) This little shrub has flowers that are less showy than the two above, but are lovely when close up. Once its warm enough, bees will be out enjoying these and other blooms, an important early food source for our pollinators.
For more information, check out our online gardens which we hope to complete this summer, or our Native Plant Encyclopedia, to which we add new photos and entries each year.