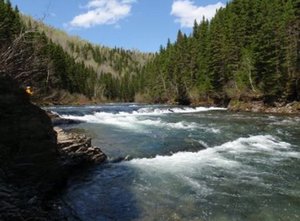 Bonaventure River Photo Credit
Canada is blessed with an abundance of freshwater so I've decided to feature a Canadian river or lake the first Friday of every month. It may be a hidden gem or one that is better known.
Bonaventure River is the first river I want to highlight. This is a river in the Gaspé Peninsula of Quebec and is approximately 120 km long. It was called 'Wagamet' by Mi'kmaq aboriginals which means "clear water."  Today the river is still known for its crystal clear water, beautiful scenery and Atlantic salmon, referred to by some as a "wilderness paddler's dream" and "the prettiest canoeing river in Quebec".
Make sure to check back next month to see if the river or lake I feature next is from your area!
Click here to see what CWF is doing to help conserve Canada's freshwater systems.