We're inviting our pollinators back into our neighbourhoods and rights-of-way corridors!
Bees, flower flies, butterflies, moths, wasps and beetles are pollinator species that support our economy and environment. These unsung heroes of the natural world are declining due to multiple threats, including habitat loss, pesticide use, climate change and disease.
To reverse current trends, immediate changes to land use are necessary at a large scale. Transforming our approach to land management will make a big difference.
Rights-of-Ways Are the Right Way to Go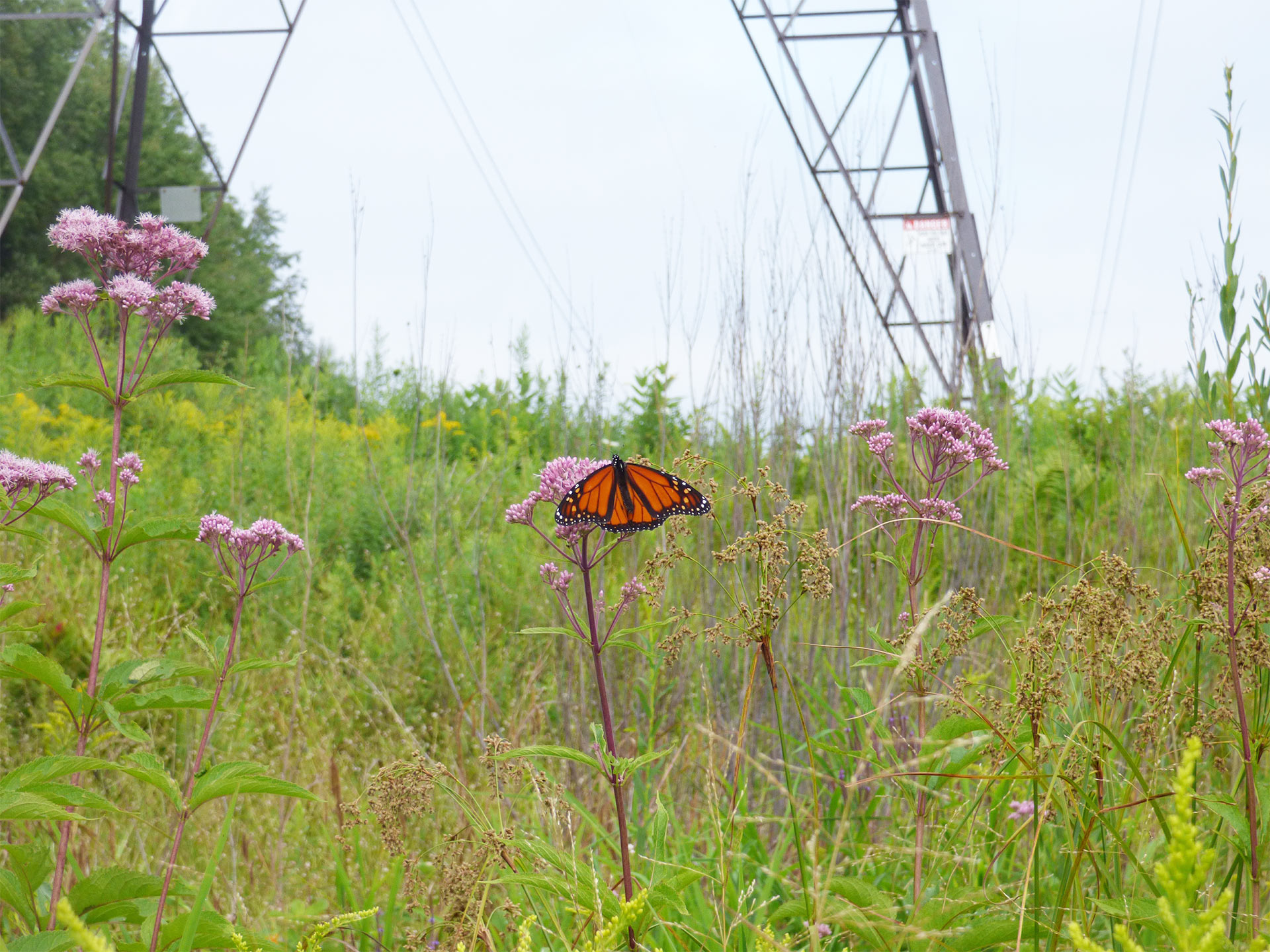 Canada's network of rights-of-way — roadsides, utility corridors, transmission lines and pipelines — are often mown and sprayed with pesticides throughout the growing season. While our eyes have become accustomed to the uniformity of these lawn features, they displace habitat for pollinating insects and wildlife. Clipped non-native grasses do not provide the food and shelter pollinators need.
The Canadian Wildlife Federation is collaborating with a network of rights-of-way managers to restore pollinator habitat. Together, we are creating a pollinator pathway across Canada, restoring wildflower meadow habitat along migratory routes of pollinators like the Monarch Butterfly. Lawns in our urban parklands and private backyards also offer an opportunity to give the required habitat back to the plant and animal populations that came before us.

Quick facts about Canada's rights-of-ways:
1.4M: Canada alone is home to 1.4 million kilometres of roads! On either side of these roads is up to seven metres of width that could be restored as pollinator habitat. That's an immense amount of space that could be converted into pollinator habitat!
80%: The eastern Monarch Butterfly population has dropped by 80 per cent over the last 20 years. The world would be a diminished place without these stunning butterflies.
14,400: There are about 6.2 million lawns in Canada. Converting just one-quarter of each lawn would equal around 14,400 hectares of habitat for pollinators. Since one hectare equals two and a half football fields, that is a lot of pollinator habitat.
Engaging in Native Grassland and Meadowland Restoration Ecology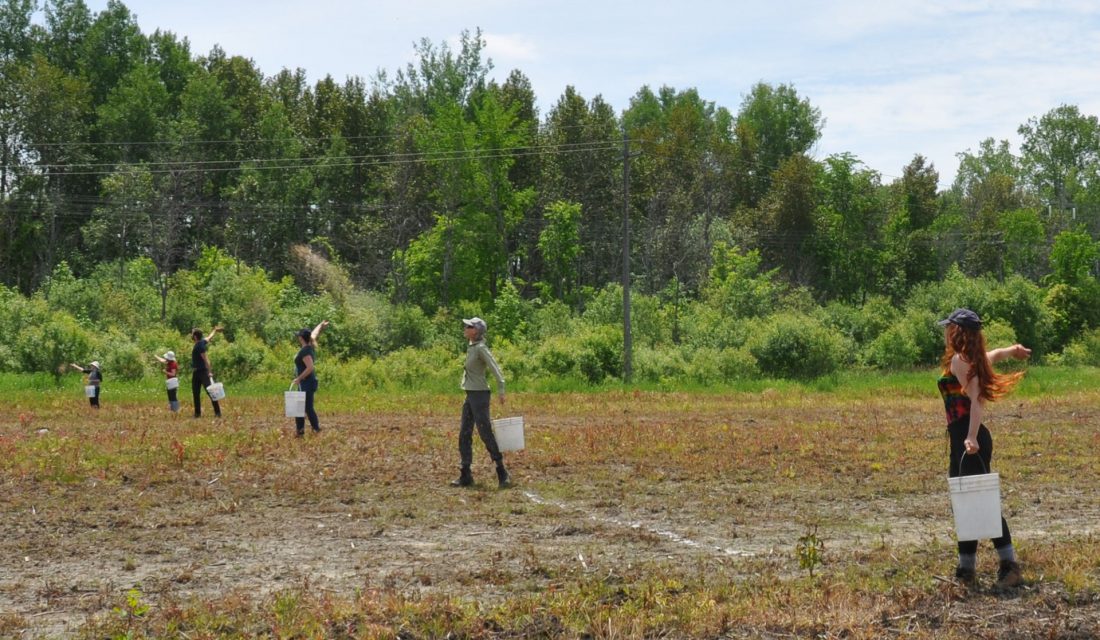 In 2019, CWF initiated meadow habitat restoration on rights-of-way in Ottawa and in 2020 and 2021 expanded this work to advance rights-of-way habitat restoration in Eastern Ontario and southwestern Ontario. Through this initiative we are creating new partnerships and sharing expertise in grassland and meadowland restoration ecology.
Outcomes in 2021
6.84 km2 of rights-of-way in Eastern Ontario have been improved through on the ground implementation of active and/or passive restoration, meeting 94 per cent of the objective.
45 rights-of-way managers in Eastern Ontario have been engaged in the Communities of Practice network, online workshop and webinar sessions, and in-person roadside training.
Eight new restoration partners, have committed to active pollinator habitat restoration through 2023.
More than 315 rights-of-way managers across Canada and the United States have received training on rights-of- way habitat restoration through the provision of online webinars and workshop sessions.
Objectives for 2022
Achieve or exceed the goal of 7.3km2 of pollinator habitat restored in Eastern Ontario. On track to restore over and above the target.
Engage another 15 rights-of-way managers through the Eastern Ontario Communities of Practice, online workshops/webinars, and in person training.
Achieve five hectares of habitat restoration with partners in southwestern Ontario.
Engage 350 rights-of-way managers across Canada and the United States to receive training on rights-of-way habitat restoration through the provision of online webinars and workshop sessions.
How You Can Help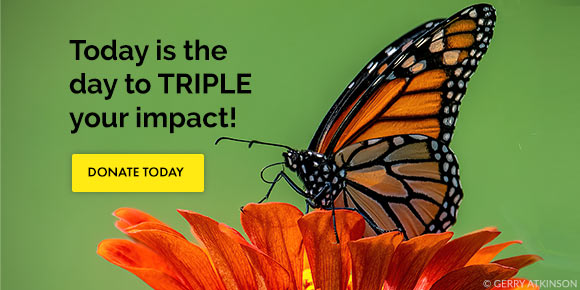 From March 4 to April 4, 2022, we have a matching gift campaign. Every gift donated to this campaign will be triple matched up to $60,000 in honour of the Canadian Wildlife Federation's 60th anniversary. This triple match offer is only possible through the generous Estate gift of one of our very long-standing supporters, Ms. Mary Moore. Ms. Moore, an animal lover and nature enthusiast, supported CWF's wildlife conservation efforts and today her legacy will live on through her generous sponsorship of this campaign. We are so very grateful to Ms. Moore. Her generosity provides a wonderful opportunity for your support to have triple the impact for our precious wildlife. Thank you!
Together, we're ensuring a positive future for our essential pollinators. Thank you!