Author Paul Emerson Almontero is a participant of the Canadian Conservation Corps.
Through the Canadian Wildlife Federation's Canadian Conservation Corps Program, I was able to explore and fall in love with Atlantic Canada.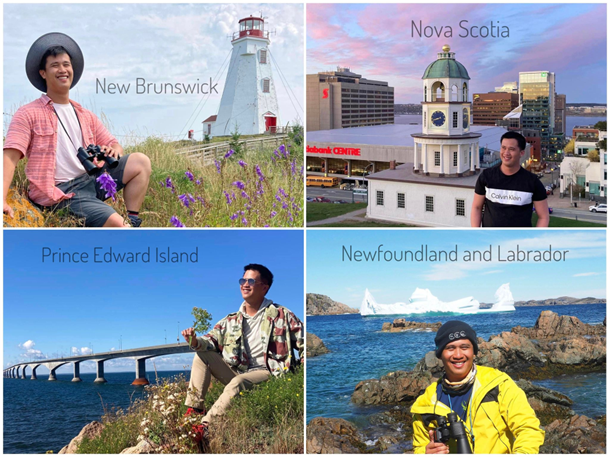 My name is Paul Emerson Almontero, a 2SLGBTQ+ Filipino-Canadian educator, explorer and nature lover. In 2022, I was very fortunate to be part of the CCC Spring/ Summer Atlantic Cohort. From my home city of Calgary, I was flown out to the wonderful Atlantic Region of Canada. It was a journey I did not expect that would happen in my life (as I have never been to Atlantic Canada before). It was a very big blessing!
Stage 1: Outdoor Exploration With a Conservation Mission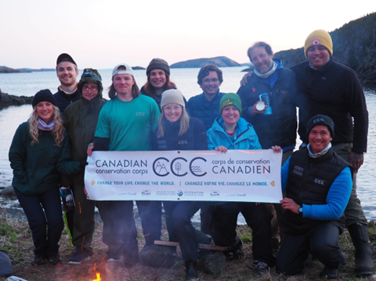 It was at Halifax International Airport that I was first able to meet most of my CCC cohort mates and our Youth Leader Specialist, Max Muehlen. After a quick stop-over in Nova Scotia, we proceeded to our Stage 1 outdoor expedition location, the lovely province of Newfoundland and Labrador.
It was a big honour to be part of this group, who we called The Pioneer Batch. We landed in the historic Gander (the town that welcomed the world during the 9/11 crisis, and the inspiration of the Broadway Hit Musical: Come From Away). We were then joined by Subhash Matthew (CCC Peer Mentor), John Wiersma (CCC Manager), and the rest of our cohort. Prior to our actual Stage 1 expedition, we were housed in Albatross Hotel to do essential training and workshops. We were also given our CCC branded clothes and gear. For me the highlight of our training week was doing a community service activity: "Gander Lake Trail Clean-up Drive."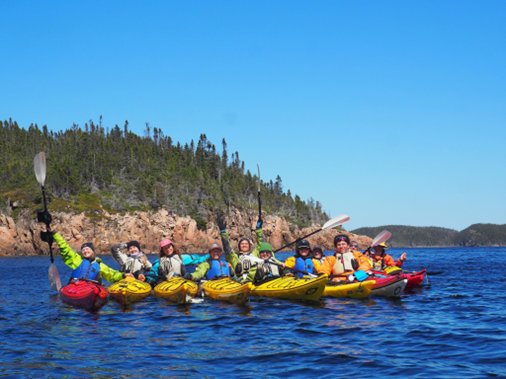 After having been fully trained, we then experienced our two week Outward Bound Canada (OBC) Expedition kayaking in the Bay of Exploits, Newfoundland. It was an "expedition with a mission." Throughout our sea kayaking adventure in the Bay of Exploits, we had camped on one island per day and conducted Bird Sound Recording Surveys (in Partnership with the Birds Canada – Newfoundland Bird Atlas Project). It was a service project that has never been done in the Bay of Exploits before. It was the highlight of our expedition.
During this stage we were able to hone our leadership and survival skills, as well as our love for nature and  conservation. A few of the highlights were being greeted by Minke Whales as we paddled and seeing icebergs for the first time. We were teary-eyed gazing upon the undeniable wonders!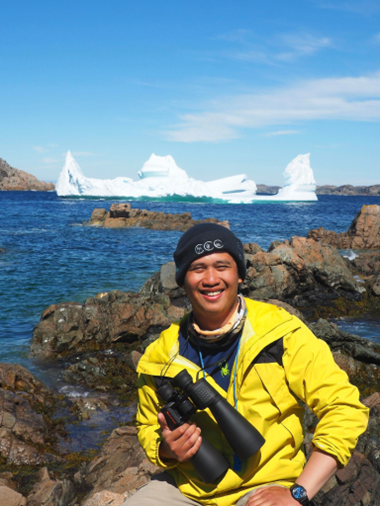 It was at the end of our sea kayaking expedition that we were able to see the icebergs. What a way to conclude a memorable journey, Eh? Also, our cohort visited the Beothuk Interpretation Centre to discover and further understand the history and culture of the Beothuk (Indigenous People of Newfoundland). It was a learning-filled experience. When Stage 1 ended, we took a two week break at home to rest and recharge before starting Stage 2.
Stage 2: Volunteer Field Experience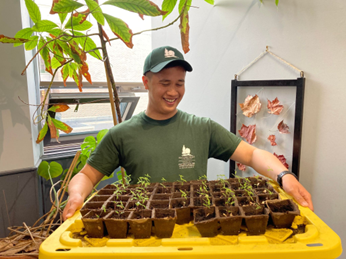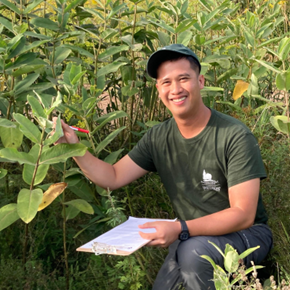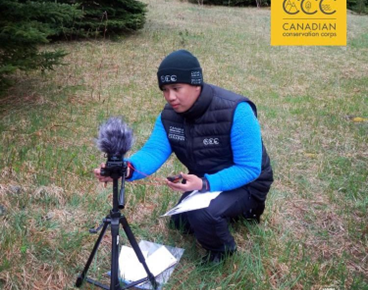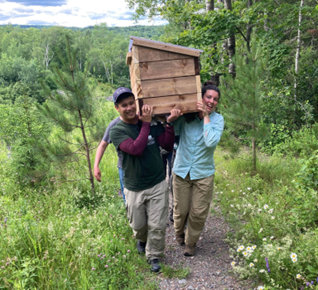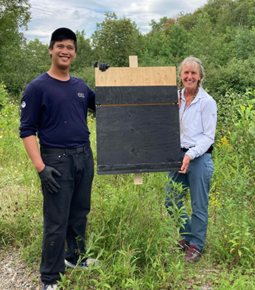 For my Stage 2, I was assigned to do stewardship and engagement work with the Nature Trust of New Brunswick (NTNB). Its headquarters was in the province's capital city, Fredericton. NTNB is a charitable organization that takes care of more than 70 nature preserves in New Brunswick through conservation, stewardship and engagement.
My cohort mate (Kala Herring-Geelen) and I were so fortunate to be part of the NTNB family during our CCC Stage 2. It was a wonderful placement. We experienced a lot of opportunities to learn and lead. Here are some of my favourite activities that we helped organize and lead:
Frog surveys
Nature preserve monitorings
Tree planting
Bat box installations
Coastal clean-ups
Invasive species management
Monarch Butterfly surveys
Engaging with and leading volunteers on NTNB events, manning NTNB booths, admin work and more!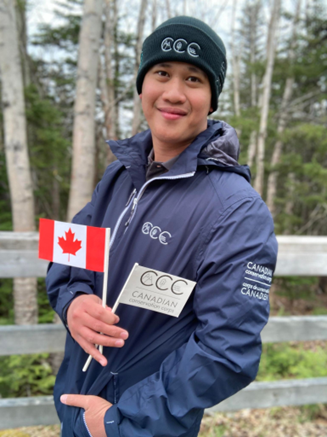 We were busy and productive every day. I loved working at NTNB. The work environment there was so inclusive, caring and nurturing. Also, before I ended my Stage 2 with NTNB I took the oath as a new Canadian Citizen while I was in Fredericton. It was a sweet end to my stay in 'Freddy.'
Two weeks before leaving New Brunswick, and to celebrate our successful CCC Stage 2… My CCC Cohort Mate Marianne St-Pierre and I visited the wonderful and  captivating Prince Edward Island. Thus, making me achieve my dream of visiting all four Atlantic Canada Provinces. It was a joyful day!
Reflection and Innovation
During the first week of September 2022 (when CCC Stages 1 and 2 were completed), our cohort reunited at Oak Island Resort for our Innovation Lab. It was such a full circle moment, knowing that it was in Nova Scotia that most of us first met. We were all joyful seeing everyone again. During that week we shared learning and experiences from our respective Stage 2 placements, and also brainstormed for our upcoming Stage 3 Projects where we'd have to develop and conduct a conservation project in our hometowns. When the Innovation Lab week was done, we all said goodbye to each other and went back to our respective home cities. That was the time to actually apply and share our learning from CCC to the world!
Stage 3: Conservation Project
I came back home to Calgary, reconnected with my partner organizations. I did a lot of social media content postings about CCC, did TV interviews, volunteered in Environmental Conservation events in town and more. A month after I came back, I started a job with Elephant Thoughts (ET), an educational organization based in Durham, Ontario. ET's organizational pillars are: STEM Education, Environmental Sustainability, and Indigenous Communities – Empowerment.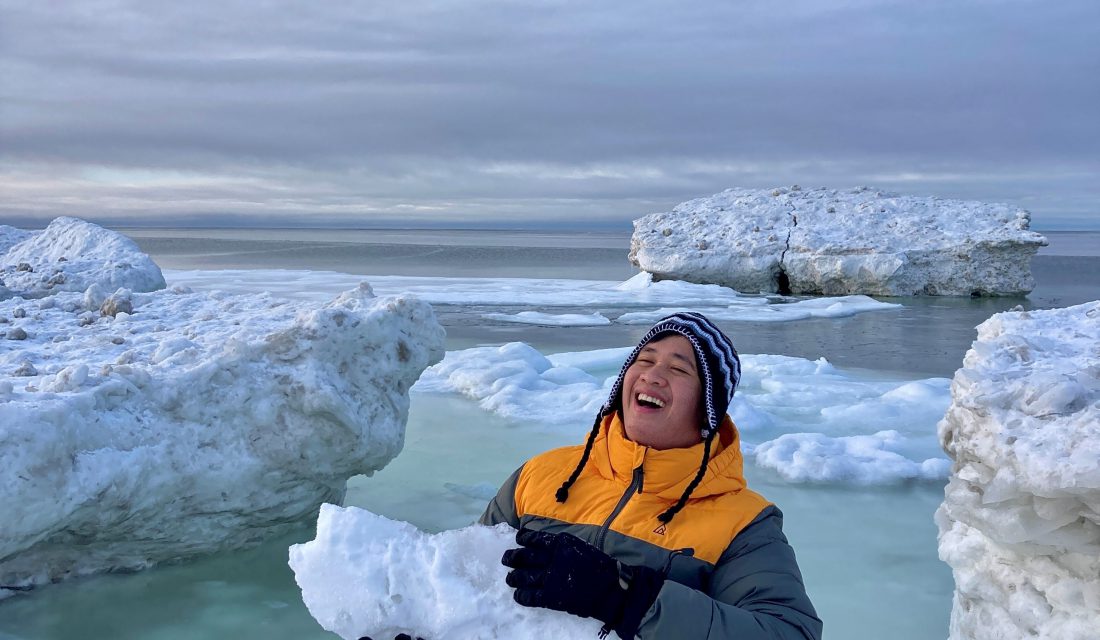 Currently, I am working at Whapmagoostui Cree First Nation in Northern Quebec (proximate to Nunavut). Here, I am running STEM and Graduation Support Programs for Indigenous Students (from Pre-Kindergarten to High School). I love working and living here! It's a very welcoming and caring community. It is my dream and goal to conduct my CCC Stage 3 projects here, in spring and summer this year.
CCC has changed my life for the better. It has made me see how beautiful Canada really is. CCC has made my love for the environment stronger. It has let me meet wonderful and inspiring people. My CCC journey has not yet ended (and it shall continue forever). I have learned a lot, and I am motivated every day to share it to the world! Thank you so much, Canadian Conservation Corps!
Learn more about the Canadian Conservation Corps >
Author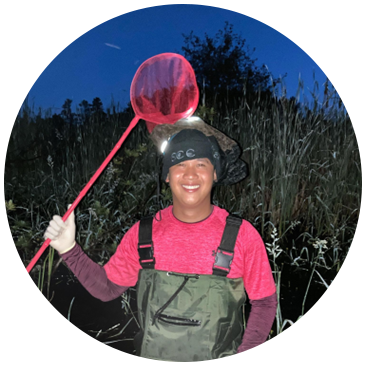 Paul Emerson Almontero. A 28 year-old educator, explorer, and lover of nature from Calgary, Alberta. A 2SLGBTQ+ Filipino Immigrant, and now a bona fide Canadian Citizen.