We have almost finished our winter bat surveys and found only 12 bats so far. Some of these were visibly infected with white-nose syndrome, but not all, so maybe these bats are capable of surviving. We were hoping the bat population had bottomed out, but this is still a decrease from last year's survey when we found 24 bats. It is quite depressing doing surveys in empty caves where we used to find hundreds of bats.
The huge snowfall in the Maritimes this past winter has made accessing some of our sites a challenge:

From Left to Right:
(1) It took us about 45 minutes to dig into this cave. Photo Credit: KJ Vanderwolf, (2) It was a challenge climbing back out! Photo Credit: DF McAlpine, (3) Unfortunately one of the snowshoes got knocked into the creek! We tried to find it, to no avail. Photo Credit: KJ  Vanderwolf, (4) It is an hour walk to get to one of our sites and this time we did it in the rain. Photo Credit: DF McAlpine.
---
Even worse, I accidentally dropped 2 ibuttons into the creek which were promptly swept away and lost! We have ibuttons in all our sites and they measure temperature twice a day. We download the data during our survey visits. The temperature deep in caves can radically differ from that outside. Bats cannot hibernate in temperatures below freezing, and the temperature deep in caves in New Brunswick is generally around 5 deg C during the winter. Much warmer than the -20 or -30 deg C outside! Luckily the ibuttons I dropped were those recording temperature outside the cave, which are not as critical to the study.
[one of the ibuttons. Photo Credit: DF McAlpine]
So, sans 2 ibuttons and one snowshoe, we squished our way back through the rain to the car with visions of hot showers in our heads. The creek definitely got the better of us this day! But we'll be back…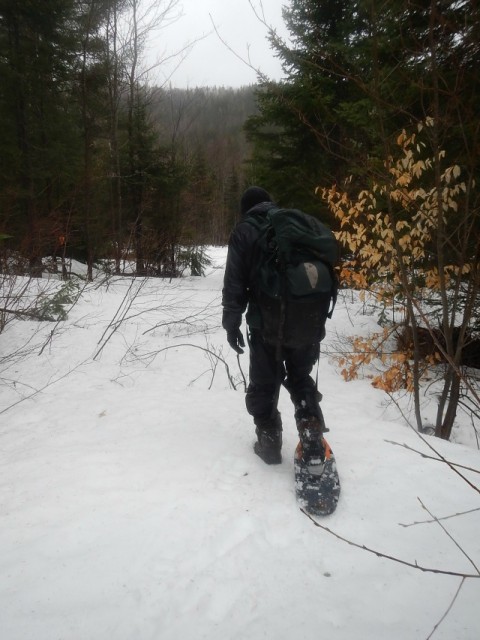 [Photo Credit: KJ Vanderwolf]