Guest blogger Liz Lore is an artist and CWF Wildlife-friendly Certified Gardener.
Five years ago, I moved from Southern England to South West Nova Scotia.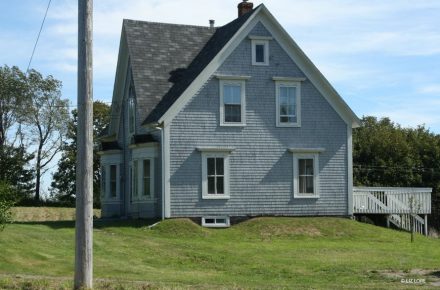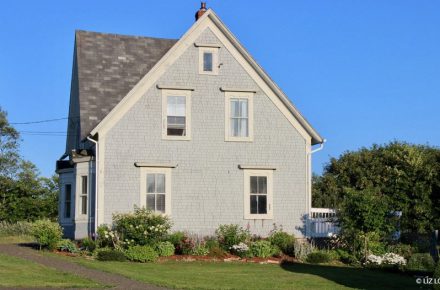 I now live on a sliver of land in Nova Scotia surrounded by two bays. From a protected, quarter acre walled garden in Dorset, that I planted with old French roses, fig, quince and hazelnut trees, I moved to a heritage home that stands on Angry Hill. Here, the soft summer breeze becomes a gale, as the southerlies funnel up across 45 acres of land and whips around the house.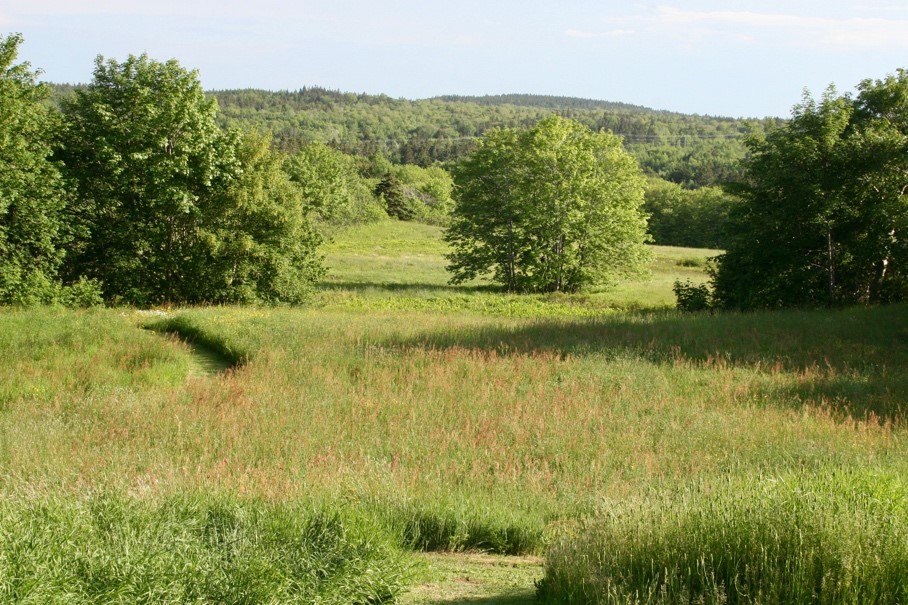 My first priority was to put in windbreak plants that would survive! I sketched out a plan to settle my house in the landscape. Rosa rugosa "alba" was the natural choice. The hedgehog rose protects the border plants and the smell of its perfume is wonderful on a summer's day.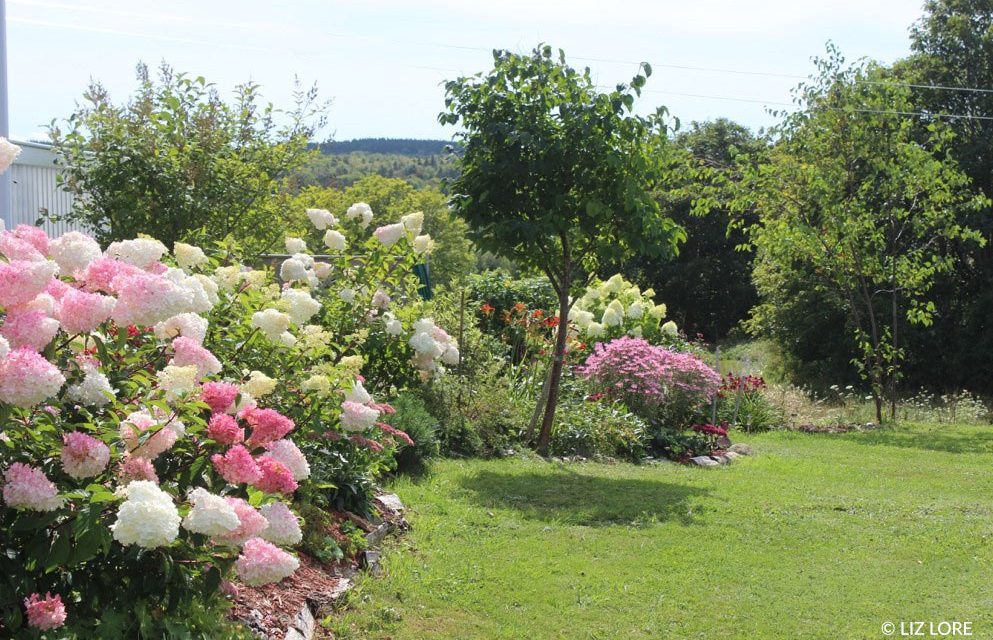 If you deadhead it regularly, it will reward you with flowers throughout the summer that the bees — especially Bumblebees — LOVE. They fling themselves with abandon into the fine petals from daybreak to dusk, their buzzing amplified like morning trumpet players. And in the autumn, if you are a jam maker, the red hips are divine. The deer benefit from them too!
The roses are easily controlled by removing new canes where you don't want them. Just cut them down at the base. If "alba" is too wild for you, you can opt for Rosa "Blanc Double de Coubert," if you can find it. It is semi-double, has the same enticing fragrance, and is a bit more showy.
The latest ninebarks have late spring flowers and foliage that ranges from burgundy to copper and sulfur yellow to lime green. Give them a sunny spot and they will serve both as a windbreak and a backdrop of gorgeous colour. And they are tough too. Physocarpus "Summer Wine" last year performed admirably, with spring blossom and beautiful burgundy foliage that is set fire when backlit by the sun.
The garden is my morning sanctuary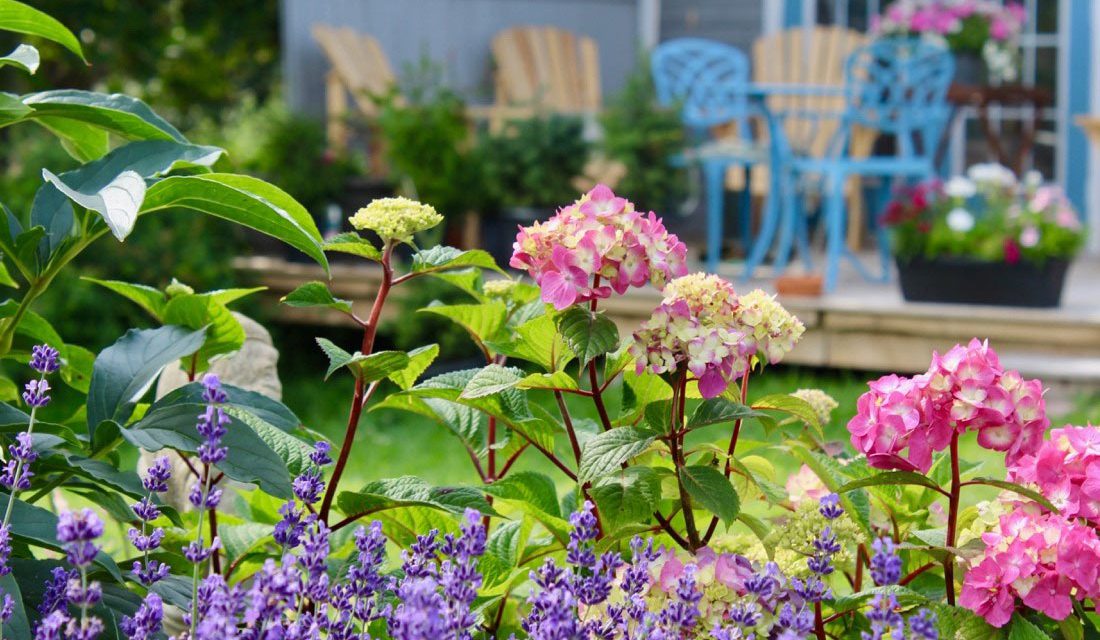 During this difficult time, when we are being asked to stay at home to protect our own and our neighbours' lives, my garden has become my sanctuary. With a coffee or tea in hand, if it's not blowing a gale or bucketing down with rain, I do the rounds in my garden.
Each day is a little different. In early spring, it's easy to make an inventory of the new beginnings: the green rosebuds of sedum, the tulip and daffodils leaves poking through the mulch, the deep red peony shoots pointing skywards. Even the daylilies start sprouting their leaves.
Nature is an optimist, and the stronger sun rays of March encourage the maple trees to put on their copper buds, and the willows to stretch their shiny red stems. Soon I will cut back all the withered branches and stems that have protected the insects over the winter. Each year is different, depending on how harsh the winter is, how dry the land is, and how cold.
I am lucky to have both a swamp at the edge of the meadow, and an area of wetland, where a natural spring overflows year round, so that water mint and grasses are perennially green even in this region (zone five). The water runs clear and cold, and I planted a couple of yellow willow branches, straight into mud two years ago. Now they are 10 feet tall, glowing in the early spring sunshine. The birds congregate around the wetland area – and you can hear them from the top of the hill and the road. A neighbour remarked about the cacophony of cardinals, starlings, chickadees, yellow warblers and sometimes a raucous pheasant.
Later in the spring, the woodcock, with its eerie call created by the air rushing past its wings, will do its' elegant dives over the fields. The swamp area is home to the Spring Peepers, who sing in early evening until night fall, their volume and numbers orchestrated by the air temperature.
Soon, the inventory will be impossible to keep track of, with so much activity! The song sparrows with their fancy stripes will flit through the shrubs and undergrowth, where thorny rose bushes protect them from marauding cats and hawks.
Miracle of nature – plant it and they will come and grace your garden
If you plant the right plant, in the right place, then the right critters will visit your garden. Two years ago, I noticed a solitary flower blooming in a patch of field near the house. Like a dandelion, but taller, it only opened in the morning hours. The flowers were like yellow daisies, swaying amongst the grasses on its wiry, gaunt stem. As the flower faded, a pair of goldfinches suddenly appeared, pecking away at the seed heads, releasing what looked like fluff.
I looked up the plant to discover it was Meadow Salsify. I let it self-seed in one area, and now, each summer, I have at least three dozen goldfinches descend on the patch every morning . I feel so honored to have them visit, and to know that they can feed on something that grows naturally.
It's the same with Foxglove, Evening Primrose, and native aster. I let them self-seed, filling in the gaps in the border, so that the song sparrows, wrens, hummingbirds and the bees are busy all day long. Plants that feel at home will multiply, and soon you will have flowers for your next border project, or for your neighbour who is just starting out with their gardening endeavors. The generosity of mother nature is something we can all learn from.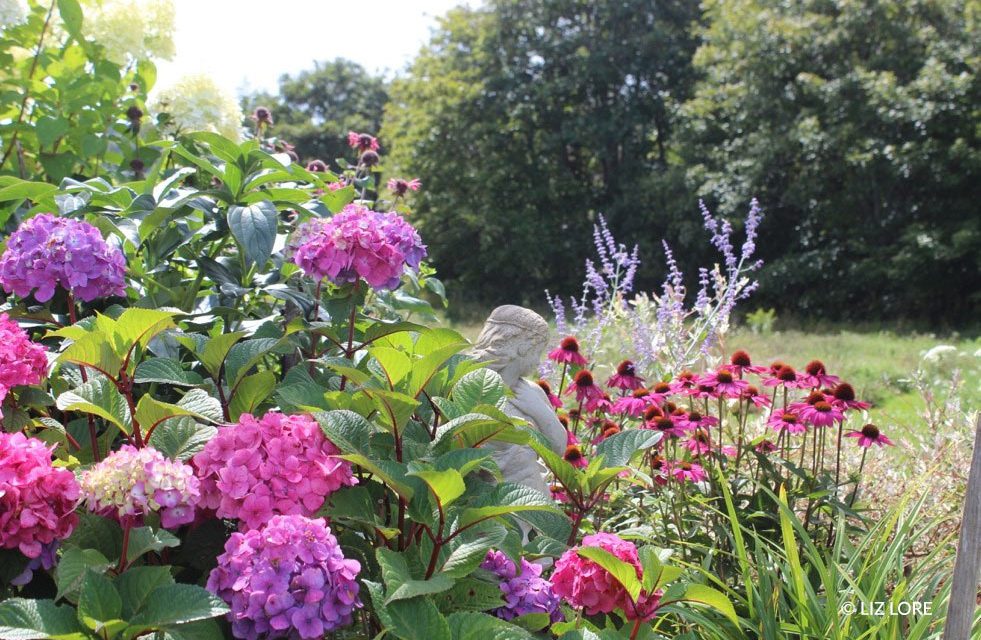 Another wonderful surprise was my planting of Butterfly Weed two years ago. Purchased from a local farmers market, the plant put out its stems very late, and only last year did the two plants bloom. I was surprised when its dusky pink flowerheads appeared, lovely next to the Carradonna purple sage.
And I was shocked to find two Monarch Butterflies cruising along the flower border before landing on the blooms. Somehow, they knew the plant was there for them!
And as the summer rolled on, I noticed something was chomping on the leaves of the plant, leaving big 'u shaped' holes. Looking closely, a big fat yellow, black and green caterpillar was demolishing the leaves. It turned out that it wasn't alone. There were actually 13 Monarch caterpillars on two young plants!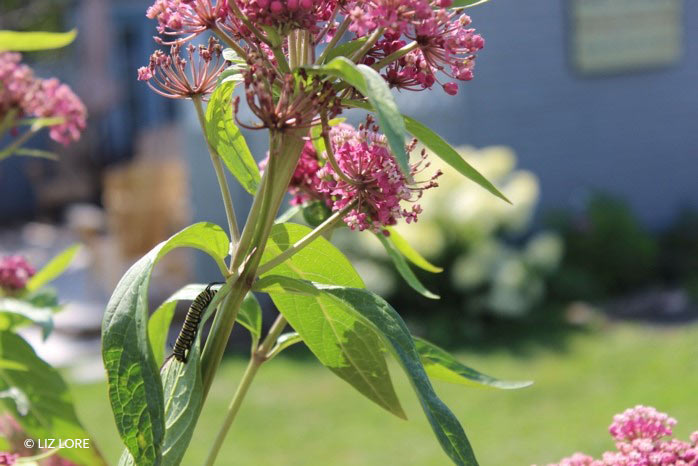 It's the same with foxglove, evening primrose, and native aster. I let them self-seed, filling in the gaps in the border, so that the song sparrows, wrens, hummingbirds and the bees are busy all day long. Plants that feel at home will multiply, and soon you will have flowers for your next border project, or for your neighbor who is just starting out.  The generosity of mother nature is something we can all learn from.
Season long colour for your pollinators – fancy weeds
As a painter and an artist, colour is my creative inspiration and season long colour in the garden is a must. Your garden doesn't have to look a mess for eight months of the year, like the prairie meadow that fades to dull shades of brown. With a backbone of shrubs, evergreen and deciduous, to provide year round interest, you have delightful structure that serves as a backdrop to your starring cast of perennial and annual plantings. And feeding wildlife means relaxing the rules a bit.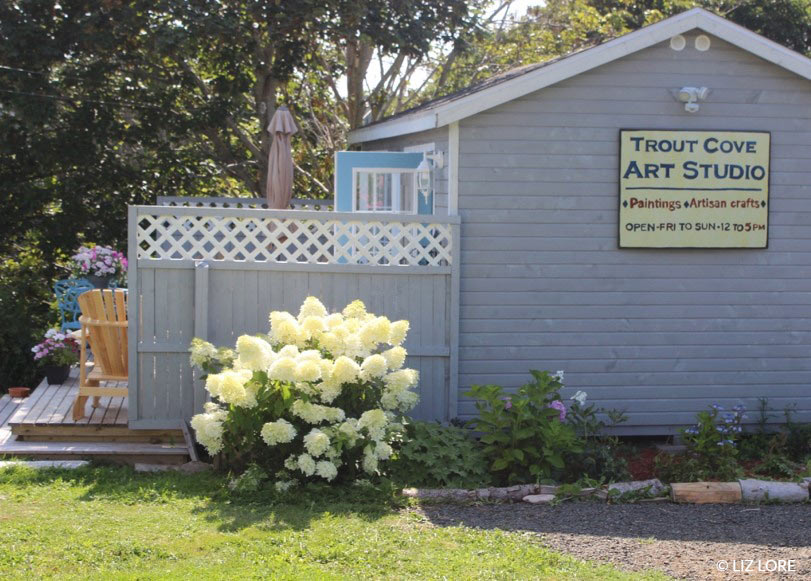 Dandelions are the first thing that appear in my lawn, and are often the ONLY nectar plant available to bees that early in spring. So I leave a huge swathe of them for insects like hoverflies, bumblebees, honey bees, butterflies. They complement the daffodils and then the early crab apple blossoms.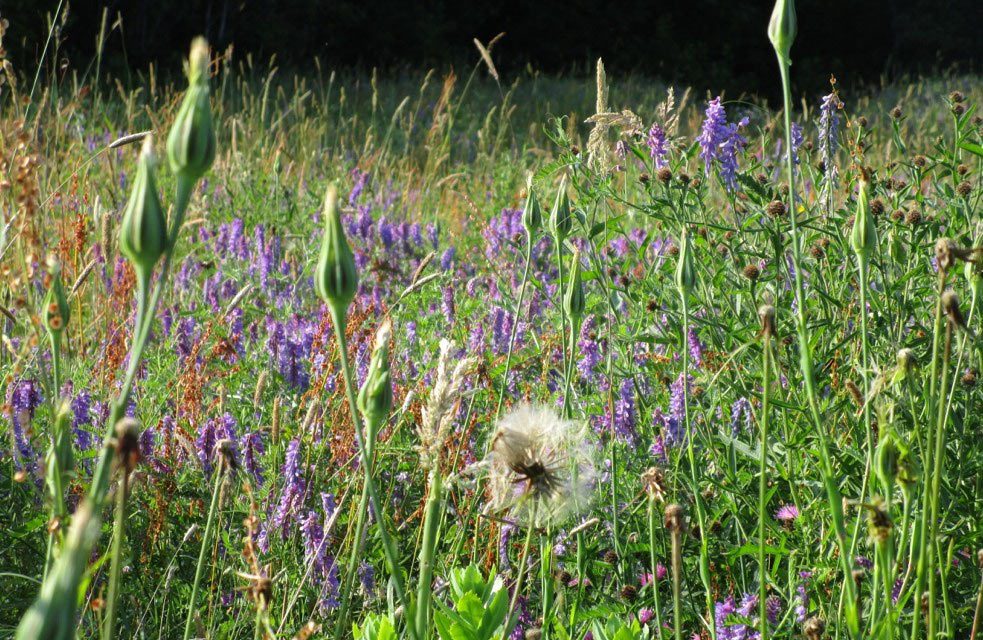 Once other plants start opening their flowers, then I think about cutting the lawn. Blue Wild Indigo — Baptisia australis is also a favorite perennial of mine. It is a drama queen in spring, with its asparagus-like stalks bursting from the ground. It blooms alongside the tulips and alliums, and its lovely blue flower spires are wildlife magnets, with bees desperate for early spring pollen. They look like lupins, are easy to grow, and improve the soil by fixing nitrogen. If you leave them be, in three years you will have a good shrub sized perennial. In the fall, the foliage turns butter yellow, and the flowers may produce a rattle of seeds. They are sun lovers, but will also tolerate some shade.
I have a little rock wall that I built around a south facing patio, and the bees overwinter amongst the nooks and crannies. In the crevices I have planted stone cress, an early pink phlox that flowers for nearly six weeks in spring. Each year I also create a little wood pile, after stacking most of it in the cellar, a dozen or so logs have their own garden position, to encourage insects, voles and other small creatures to take up residence over the winter months.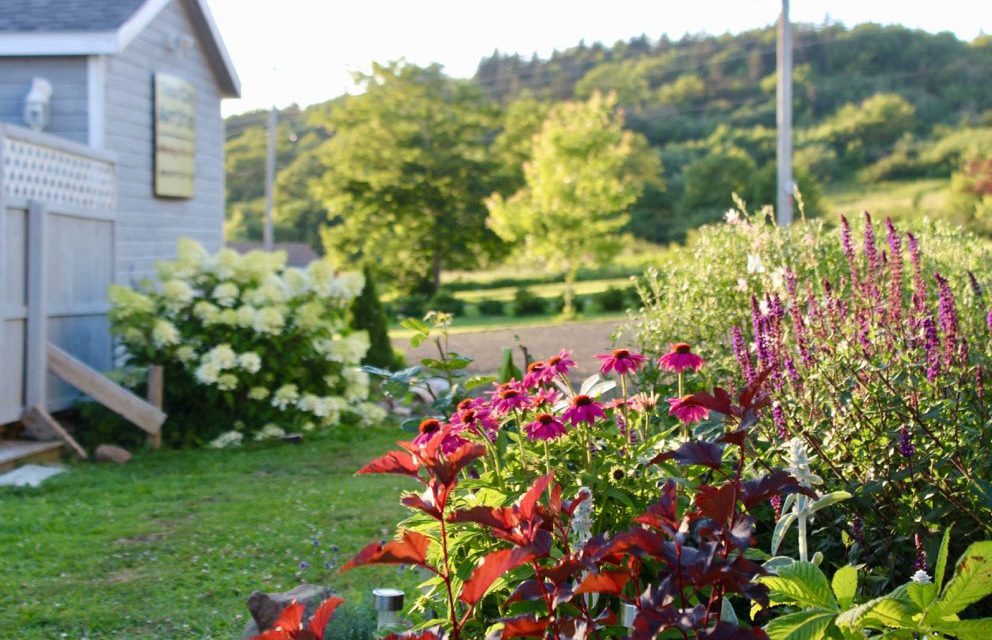 In the fall, I let the asters take over the border, even into late October, where they will be visited by bees for a last feeding before the winter.
So, be brave, and fill in your shrub border with flowers that wildlife loves — the more the merrier. That way you have less work and all the joy of a cottage garden. When I buy a plant, or grow from seed, I think, how will this support wildlife? Is it a fancy hybrid whose colour or form won't be recognized or visited by the bees or the birds? I love my garden precisely because the wildlife does. Even the cutworms, those fat, creamy slug like creatures that cause brown patches in the grass, attract and feed flocks of starlings in the spring, and skunks in early summer.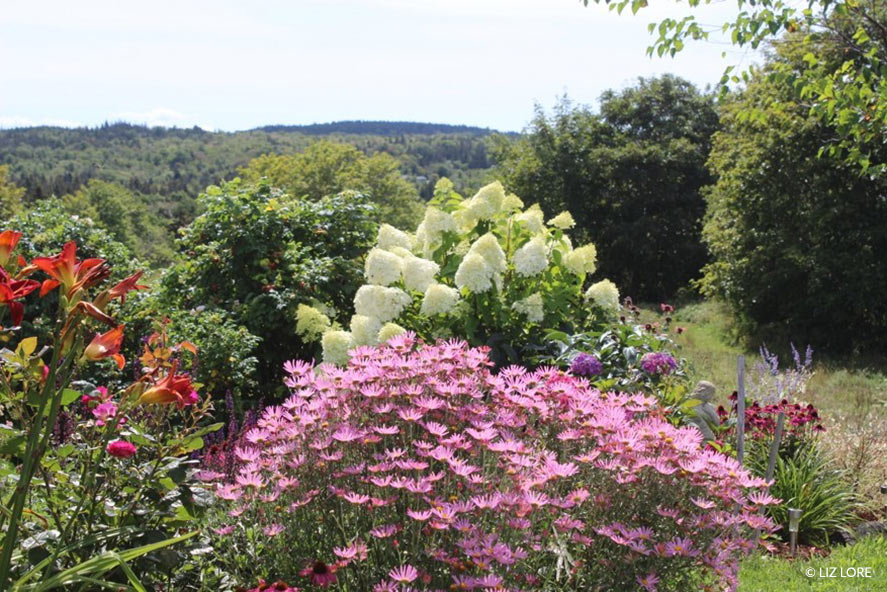 Revel in nature's generosity and the solace it provides by springing hope. I am proud to be able to say that my certified garden is a haven for flora and fauna. You can make a difference, starting today. Buy a packet of flower seed to sprinkle in a gap in your border, or start with a few young plants from the local nursery that you know the birds and the bees will love.
Learn to live and let live, and your local wildlife will be forever grateful.