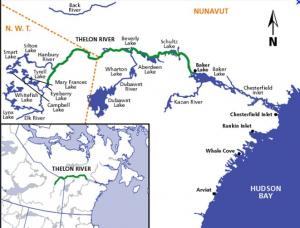 This month we're heading to Nunavut to find the Thelon River – the largest river in Canada that flows into Hudson Bay. Beginning just 200 kilometers east of Great Slave Lake, near the Saskatchewan border, the Thelon flows 900 km through a stretch of the Northwest Territories, crosses into Nunavut into Baker Lake and Chesterfield Inlet which then empties into Hudson Bay.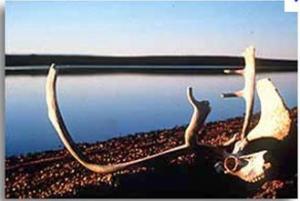 This river also flows through the Thelon Wildlife Sanctuary. This sanctuary consists of 52,000 square kilometers of land that was reserved in 1927 to help protect wildlife, most notably muskox.
The wilderness of the Thelon makes for spectacular wildlife habitat, one of the main reasons I have chosen to highlight this river. As mentioned, it boasts a thriving muskox population, but it is also home to the Beverly caribou herd, grizzly bears, wolverine, moose, lynx, arctic fox, peregrine falcons, gyrfalcons, rough-legged hawks and bald eagles. And I can't forget the fish – arctic char, lake trout, cisco, lake chub, whitefish and more!
With its white sand at the Thelon-Hanbury junction, 15 m high sand embankments and boulder beaches at the Thelon Bluffs and the Aleksektok Rapids, it truly is an area of spectacular beauty, one largely untouched by people.