When I think of my mom, I always imagine her looking out at the garden of my childhood home. I think of how she'd sit in stillness, her book resting on her lap, unopened, opting instead to enjoy a pretty spring day. To listen to the robins chirping. To watch hummingbirds drink nectar from the flowers she just planted. To soak up the sun and breathe the fresh air. She taught me that nature is awesome – in the truest sense of the word. Every bud, every butterfly, every bee is an amazing little being that plays a critical role in nature.
I wanted to do something special this year for Mother's Day. For her. But also for you and your mother. I'm sure my mom wasn't the only one who showed me the beauty of nature. Maybe your mother let you splash in puddles (even when she knew it meant an extra load of laundry). Maybe she taught you that playing in the dirt could result in a beautiful butterfly garden. Or maybe your mother spent extra time helping you with your science homework (you always aced biology).
Let's spoil mothers today, shall we?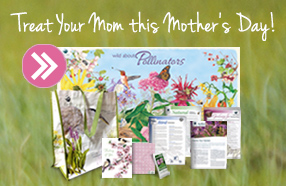 We've created a special Mother's Day bundle* just for her. Our spring bag is packed with all sorts of gardening goodies including:
A common milkweed seed packet she can plant in her backyard to help the Monarch Butterfly bounce back!♦

Information on how to attract butterflies to your garden

A brand new folded pollinator poster 

A handwritten mother's day card

A handout on how you can certify your garden with the Canadian Wildlife Federation

An e-card you can send to her to tell her how much she means to you!

A beautiful wildflower poster to inspire your gardening endeavors this spring 

A stunning shoreline-inspired reusable bag

A tilly hat to protect your head from the hot sun (not that we're complaining)
*While quantities last.
She already has lots of gardening supplies? Why not give a gift in her honour this Mother's Day — each donation, no matter how small, will help Canada's wildlife. When you become a Special Friend of Wildlife, you'll receive this beautiful spring bundle and know that your monthly donation for the year will be going towards the wildlife and wild spaces you cherish.
♦ Note: in some provinces, milkweed is considered a noxious weed on crop lands. Check with your provincial Ministry of Agriculture to ensure that you are able to grow milkweed on your property.