During the summer of 2017, we seemed to be discovering dead or entangled North Atlantic Right Whales every week in the Gulf of St. Lawrence. Throughout this catastrophe, teams of specialists volunteered to do detailed examinations of the dead bodies. These are called necropsies.
With help from Fisheries and Oceans Canada (DFO), seven carcasses were ultimately towed to shore so that these necropsies could be performed. They didn't wait until the animals were towed ashore before these dedicated specialists set to work going out to sea and climbing on the bodies of the dead animals so they could take samples.
On October 5, a detailed report was released to present the findings of the necropsies. The Incident Report was compiled by members of the Canadian Wildlife Health Cooperative (Atlantic region, and Québec region), as well as the Marine Animal Response Society, with contributions by numerous partners.
Below are the main findings of the report:
In total, 12 Right Whales were found dead in the Gulf of St. Lawrence.
Necropsies were done on seven of the dead whales.
Four of the whales were killed by a violent strike by something very large.
Two of the whales died as a result of being entangled in ropes.
The cause of death of one whale could not be determined because it was too decomposed (although there was evidence this whale was also hit by something large, but this couldn't be confirmed as the cause of death).
They have also determined that neither biotoxins (such as a red tide), disease, nor starvation had any role in the deaths of these whales.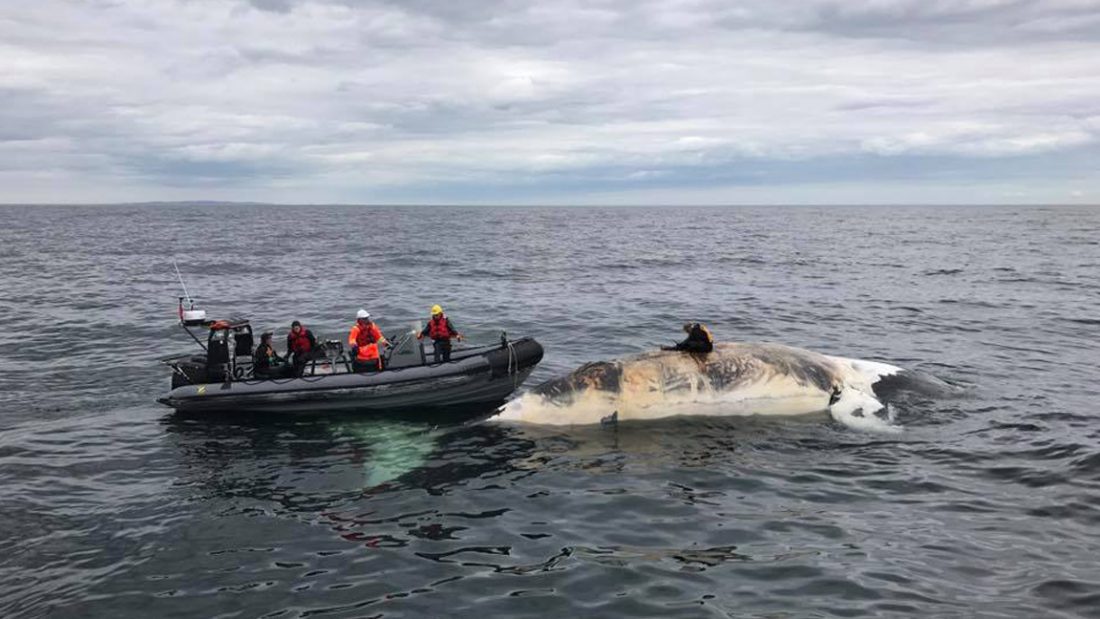 Five other Right Whales were also observed entangled during the summer.
Two of these animals were freed because of the successful disentanglement attempts by the Campobello Whale Rescue Team with support from DFO.
One whale freed itself because it was seen at a later date with no gear attached to it.
The remaining two whales have not been re-sighted so they may still be entangled.
Six of the seven entangled animals (two of the dead animals and the five of the live animals), were entangled by snow crab gear.
The Incident Report was dedicated to Joe Howlett, the specialist with the Campobello Whale Rescue Team who disentangled two of the entangled Right Whales, but died as he freed the last animal.
The effect of human activity on North Atlantic Right Whales is real and serious to their existence. Although many scientists and conservation organizations have been identifying these threats for many years, the events of the summer of 2017 showed this very clearly.
We need to act, or North Atlantic Right Whales will be gone forever.