Guest blogger Donna Cook is a nature interpreter who writes about her recent visit to the Monarch Butterflies' overwintering grounds in Mexico.
Lying down in a high mountain meadow looking up at the sky, we are thrilled to see thousands of Monarch Butterflies flying in a stream above us.
Orange, black and white wings flutter along in a light breeze heading for the large fir trees where the Monarchs roost from late October through March of each year. Fellow visitors speak in hushed voices so as not to disturb the insects and there is a sense of excitement in the air.
Like many Canadians, we love visiting Mexico. This February we headed inland to see where the Monarch butterflies overwinter.
Mariposa Monarcha
The butterflies are called "Mariposa Monarcha" in Spanish — a fittingly beautiful name for a brilliant insect that has an incredible life cycle.
Like us, they have flown all the way from Canada. Unlike us, they have had to dodge hurricanes, find enough food to fuel their flight and deal with changing weather. Monarch numbers have been decreasing over the past two decades and there have been calls to add them to the Canadian endangered species list.
Cerro Pelόn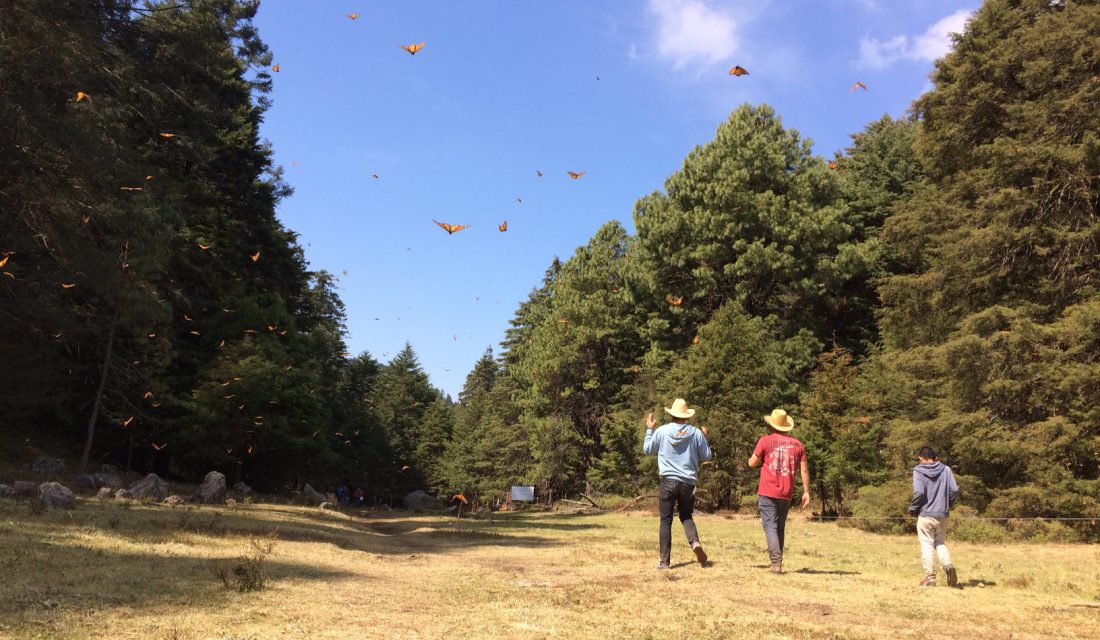 There are a handful of Monarch Reserves in Mexico. We decided to go to Cerro Pelόn first. It is one of the least visited areas.
Horses lead us along a steep trail through the forest passes and dense patches of wildflowers. Our mounts stop for us to dismount and we walk to the roosting trees. I imagine the butterflies feeding on these colourful plants, storing up energy for the journey north.
The roosting trees are large with millions of butterflies clinging to the branches. The branches droop with the weight of so many insects. A few roosting trees are visible from the trail and I wonder how many there are in total.
We continue walking uphill to an open meadow where we lay down to watch the skies. Here, about 50 other visitors share the experience.
It was a spectacular day. We came down from the trail covered in dust and walking on air.
El Rosario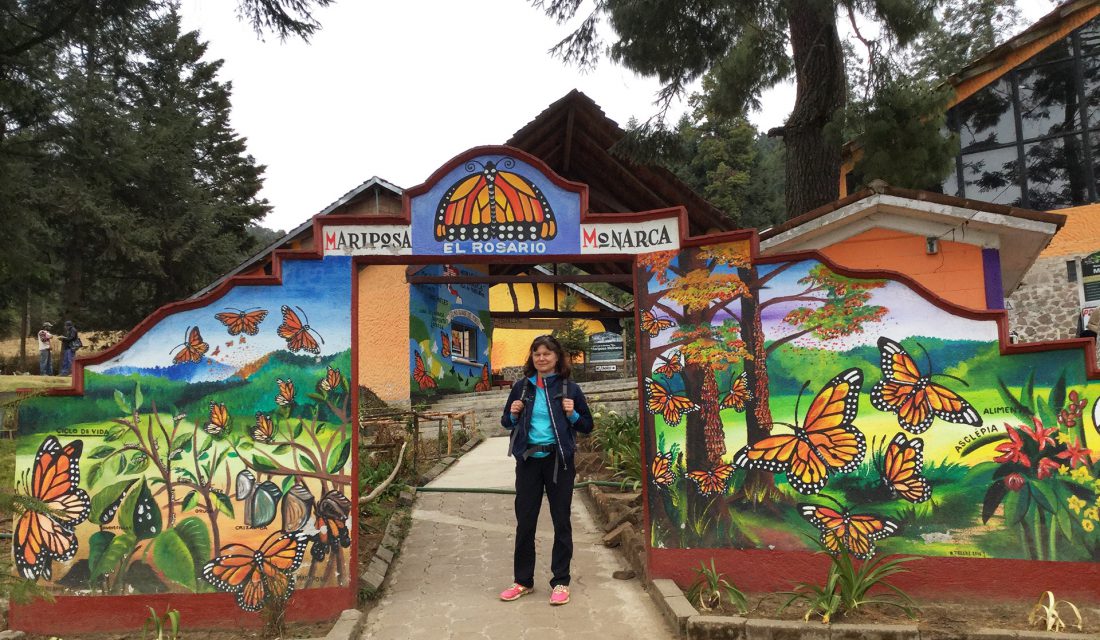 Our second destination was El Rosario. This is where thousands of visitors arrive each weekend from Mexico City and abroad.  As we hike from the village to reach the trailhead, a couple of local kids skip along beside us. They greet us with "Hola" then sing a Monarch song. We smile as we share their enthusiasm.
The Monarch reserves are important to the local communities, providing them jobs and income. These kids are hoping to sell us butterfly souvenirs to help support their families.
As we hike into the reserve, it appears that the old growth trees have been logged nearly all the way to the roosting trees. Deforestation is one of the threats to the Monarchs' survival here. New trees have been planted and there is a determined effort to protect these wintering grounds.
The environment at El Rosario is similar and there are more butterflies here. We are fortunate as it is mid-week and the crowds are thin. Butterflies engulf us and some land on the people in the group. Cameras are clicking, and binoculars are passed around. Another amazing day!
Regresando al norte
We will return to Canada, but this generation of Monarchs will not. They will fly north in April and find wild milkweed plants to lay eggs on. The next generation will continue the trip reproducing along the way.
The grandchildren of the butterflies we saw in Mexico will arrive in southern Canada in late May. I plan to welcome them here by planting some native milkweed and wildflowers to help them along.
Say "Hola Monarcha" in your garden too! Learn how with CWF's Gardening for Wildlife.