On June 24th, I woke up early in the morning, grabbed my gear pack, and drove with my best friend Kiron Mukherjee to the Rouge National Urban Park to participate in the the Rouge Park BioBlitz co-hosted by Ontario BioBlitz for BioBlitz Canada 150.
A BioBlitz is an outreach citizen science event where scientists and members of the public get together to survey biodiversity in a habitat of importance.
We were invited to the event to record video for a vlog, take photos for our respective social media stories, and record an episode of my podcast – Curiosity in Focus. But if we were going to tell compelling and informative stories about the event, we had to participate fully.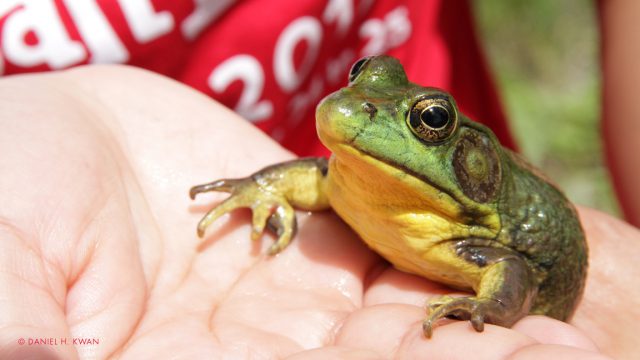 So that's what we did. We joined a guided blitz led by reptile and amphibian experts, Josh Feltham and Jessica Middleton. As a professional educator, it felt wonderful to be a student and in a position of learning. Wading into ponds, catching frogs with nets, and hiking through the Rouge with new and old friends was an amazing experience. In addition to the frogs, toads, and turtles we documented, we saw a variety of insects, plants, and birds. Seeing Kiron hold a frog for the first time was probably the highlight of my day. It was an experience he said he'll probably talk about for months to come!
An event like this is a call to action to the next generation of scientists, leaders, and policy makers, and a place for everyone to indulge in their scientific curiosity, connect with the world, and foster that quality in others.
"At a BioBlitz event, everyone's a scientist!"
The world is so vast, that much remains unknown. There are only so many academics, and they couldn't possibly document every living thing or be at every location at the right moment. That's why community involvement in the scientific process is so important. Josh and Jessica, the leaders of our guided blitz, couldn't possibly have found or documented every reptile and amphibian species in the area we surveyed in one day. But with the aid of 40 other active observers, we were collectively able to achieve much more. That's the magic of citizen science.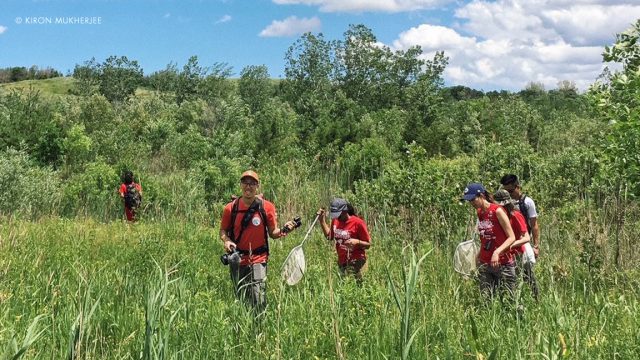 With events like this one – opportunities are made to train enthusiastic people to appreciate the world around them, the scientific process, and get involved in the dissemination of knowledge. As a PhD Candidate at the University of Toronto, Studio Instructor at the Royal Ontario Museum, and the host of the Curiosity in Focus podcast, I get to meet a lot of scientists and am actively conducting research of my own. The scholarly pursuit of knowledge is an integral component of my career. But not everyone has this opportunity.
At the BioBlitz though, anyone can participate and be a scientist. Kiron and I met people from all walks of life during our time at the event. We saw families with young children, chatted with photography enthusiasts who were keen on broadening their subject matter, and met students and graduates from the Fleming College Environmental Visual Communication program. Regardless of their experience, knowledge, training, or the equipment they carried, each one of them was gathering to celebrate Canada's biodiversity and the scientific process.
Whether you notice it or not, at a BioBlitz, you're participating in science. You're taking on the role of citizen scientist. Participating in the event, opening yourself up to learning opportunities, taking photos, and sharing your results with the public are simply "research, documentation, and publication." At a BioBlitz event, everyone's a scientist!
Stay curious!
Learn more about Daniel: www.danielhkwan.com
Twitter & Instagram: @danielhkwan
Curiosity in Focus podcast: www.curiosityinfocus.com