Below zero temperatures, chilly winds, snow covered grounds…. How do Canadian wildlife prepare themselves? Let's dive right into wildlife in winter!
The change in colours, the brisk air, the frost… It can only mean one thing – winter is coming. Winter is a beautiful time of year. It can be quiet, calm and serene but can also be uncertain, unforgiving and challenging for wildlife. As we're preparing for winter, wildlife is too.
Don't Wake Me Up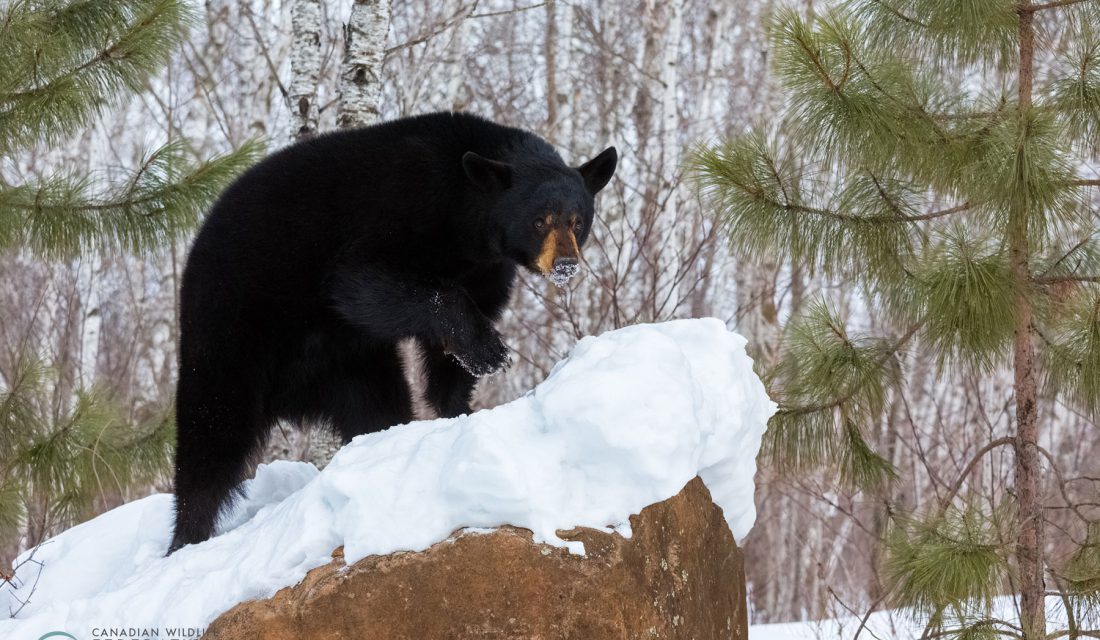 Some species cope with colder weather by sleeping right through winter using a few tricks up their sleeves.
Bears are one of the most famous sleepers in Canada! They enter their dens as soon as the temperature becomes chilly – typically between September and October and emerge around April. They survive this long stretch by reducing their breathing rate to one breath every 45 seconds, slowing their heart rate way down to eight to 19 beats per minute and relying on their fat store.
Bats like the Little Brown Bat are also well-known hibernators in Canada. They were known to effectively hibernate throughout winter in their caves surviving off their fat stores. This is no longer the case for many millions of bats. White-Nose Syndrome is severely impacting their hibernating abilities by keeping them more active and using up their precious fat stores quickly during the chilly winter months.
Groundhogs, also known as the national symbol that spring has arrived, are one of Canada's largest true hibernators. They go into hibernation around September or October and reduce their heartrate from 80 to five beats a minute. They also drop their body temperature to as low as 3°C to last the entire winter.
Garter Snakes hibernate in groups of a hundred, sometimes thousands, in holes or burrows to stay warm. When spring arrives, they head out of their winter homes to soak all the Vitamin D they can get.
Into the Cold I Go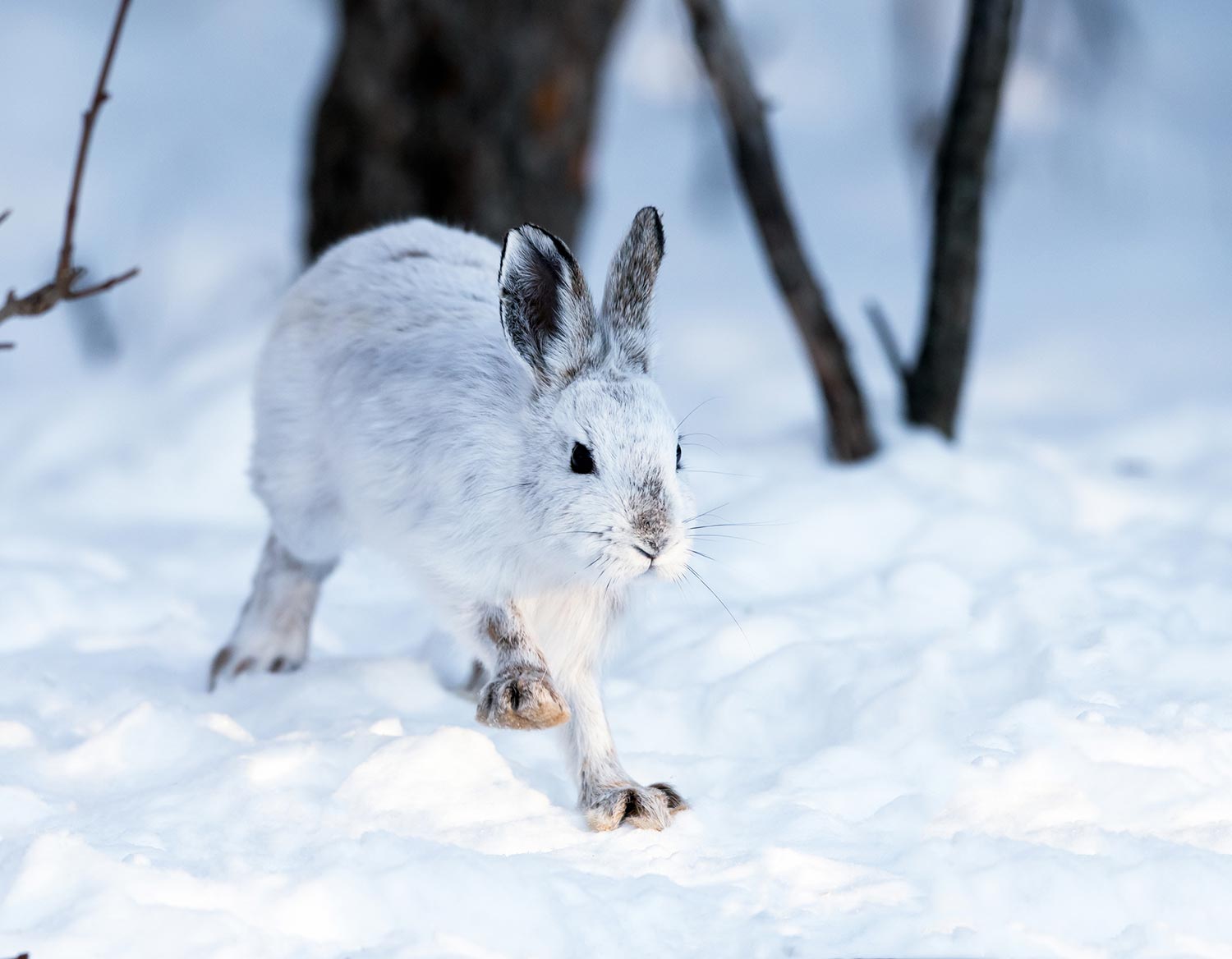 Some species really know how to make the most out of winter and have the best of both worlds – a cozy home and a wintery wonderland to explore.
Snowshoe Hares are one of the most well-known species that are active all winter long. Their fur gets thicker and turns white to blend into the snow. Snowy storms and weather may put a damper on their daily foraging plans but they are known to ride out storms and rest in sheltered spots, known as "forms", and under logs, stumps and bushes. Because these little guys are always on the move, they can easily find shelter and food like buds, twigs and bark. These little guys also play a crucial role in the food chain during Canada's harsh winters. The Snowshoe Hare helps keep other species alive like lynx, foxes, coyotes and more during these cold months.
Foxes adapt well to wintery conditions too. During the winter months, foxes take shelter in thickets and heavy bushes. Foxes explore the winter grounds and rely on small mammals such as Snowshoe Hares, mice, voles, rabbits and more as a source of food during the colder months. Foxes have excellent hearing and can actually hear the sound of small mammals scratching and rustling under the snow resulting in the most incredible nose dives into the snow to scrounge up a snack.
Life Under the Snow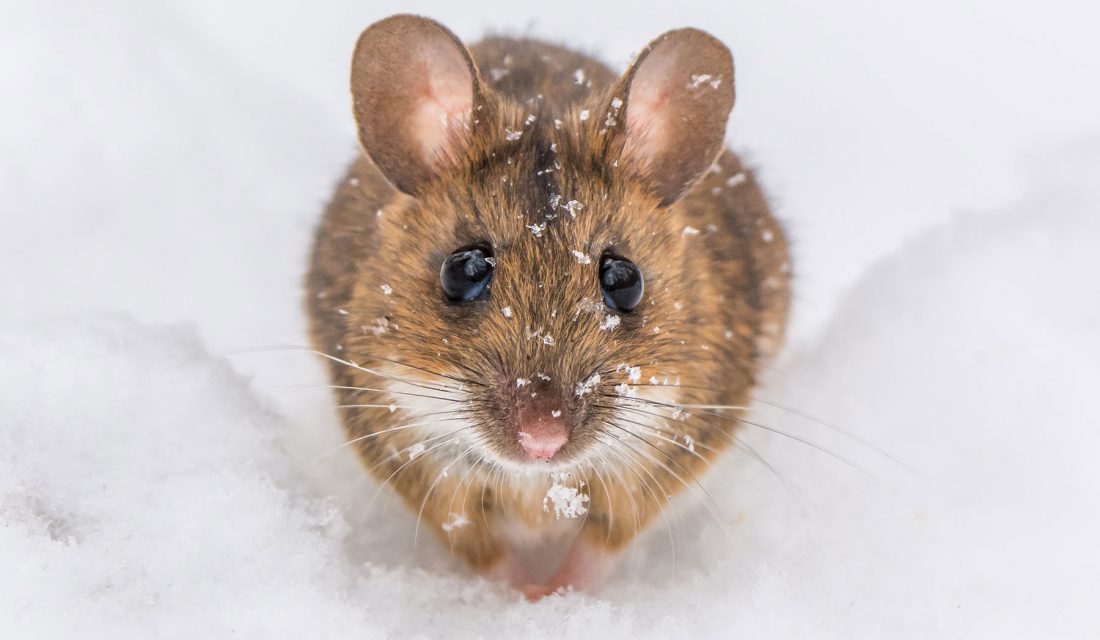 Don't let the serene calmness of a perfect snowfall cover fool you, there's a bustling network under it. Small mammals like voles, shrews and mice build a network of tunnels that allow them to move freely on the bottom in search of food. For them, the more snow the better! The snow acts as moderate insulator keeping them warm and cozy on the coldest days and keeps them somewhat protected from predators. There is an abundance of food under the snow like seeds, nuts, dry grasses and torpid insects which keeps them well-fed.