The Canadian Wildlife Federation is proud to announce the winners of its national conservation awards.
This year's recipients represent seven provinces and countless Canadians who are making a profound and positive impact for wildlife and habitat from coast to coast.
"Wildlife are the real winners when citizens get involved in conservation," said Rick Bates, CEO of CWF. "Thanks to the outstanding efforts of these dedicated Canadians, we are helping to ensure a bright future for Canada's wildlife."
The CWF Canadian Conservation Achievement Awards were presented June 16, 2018 at a special ceremony in Regina.
And the Winners Are…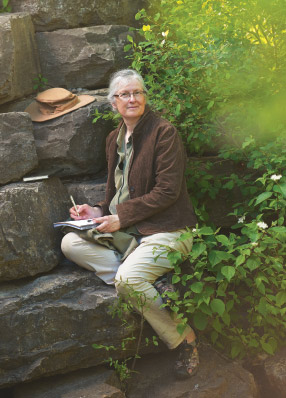 Aleta Karstad, Bishops Mills, Ont.
Winner of the Robert Bateman Award recognizing an individual whose art has furthered the appreciation of Canada's wildlife and habitats.
Aleta Karstad has been writing and illustrating books since 1979 bringing to life the natural history of little-known areas. Working in partnership with local citizens and conservation organizations, she has taught and promoted respect for biodiversity through her remarkable visual arts, her tireless fundraising and an exceptional online presence.
"It's a big step to be recognized nationally," Karstad said. "I'm amazed and grateful that my art has reached out so far to inspire others."

James G. Wilson, Quispamsis, N.B.
Winner of the Roland Michener Conservation Award recognizing a commitment to promoting, enhancing and furthering the conservation of Canada's natural resources.
James G. Wilson has played a central role in advancing the knowledge of birds in New Brunswick. He conducts nocturnal owl surveys and has co-authored several books. He also helped establish the Point Lepreau Bird Observatory, a source of invaluable data on seabird and monarch butterfly migration which is used by academics and researchers all over the world.



Sue Penney, Shubenacadie, N.S.
Winner of the Wild Educator Award recognizing the efforts of CWF WILD Education facilitators and instructors who provide innovative and meaningful nature experiences for youth.
As an education co-ordinator at a popular wildlife park, Sue Penney delivers workshops on a wide range of ecological subjects to children of all ages. She shares her remarkable enthusiasm for nature with everyone she meets. She has trained and inspired countless other educators in order to connect even more young Canadians to conservation.

Ray Makowecki, Edmonton, Alta.
Winner of the Roderick Haig-Brown Award recognizing a significant contribution to the conservation, development and wise use of Canada's recreational fisheries.
As a teacher, biologist, environmental consultant and outdoor enthusiast, Ray Makowecki has motivated many Canadian anglers. Through his career as a manager within the fish and wildlife division programs of the Alberta government and as a private consultant and steadfast volunteer he has encouraged the conservation of Canada's recreational fisheries. A father of six and grandfather of 16, Makowecki believes we have a responsibility to mentor youth so they value fish and wildlife habitat.

Griffin Andersen, Belcarra, B.C.
Winner of the Wade Luzny Youth Conservation Award recognizing youth who have inspired exceptional habitat and conservation projects.
In elementary school, Griffin Anderson took charge of a salmon enhancement program. Ever since, he has been active as a youth ambassador and fundraiser with a focus on biology and living creatures. In high school he created a website called Wishful Thinking which supports not-for-profit conservation organizations including the Mossom Creek salmon hatchery in Port Moody. He volunteers for many charitable organizations and considers himself lucky to grow up in an area bordered by parkland on one side and marine life on the other.

G3E Education and Water Monitoring Action Group, Quebec City, Que.
Winner of a Youth Mentor Award recognizing individuals and groups who create, present and encourage habitat and wildlife conservation programs for young Canadians.
Thanks to a network of regional coordinators, G3E has delivered high-quality citizen science programs to a diverse and dynamic youth population, fostering community while conserving water resources and habitats for the enjoyment of generations to come. From programs like Adopt-a-River to science training and outreach, the G3E Education and Water Monitoring Group has engaged more than 50,000 young people in conservation.

Conservation Corps Newfoundland and Labrador, St. John's, Nfld.
Winner of a  Youth Mentor Award recognizing individuals and groups who create, present and encourage habitat and wildlife conservation programs for young Canadians.
For 26-years, the Conservation Corps Newfoundland and Labrador has provided youth with employment training, a sense of communal responsibility and an understanding of environmental and climate change issues. Through this program, thousands of students have been inspired to learn more and to take action to reduce environmental impacts in their own lives and in their communities.
"CWF thanks all the recipients, nominators and nominees for demonstrating that it's in our nature to volunteer for the conservation of wildlife and habitat," Bates said.
To learn more about the awards, visit CanadianWildlifeFederation.ca or pick up a copy of Canadian Wildlife or Biosphère magazines, available on newsstands or by subscription.