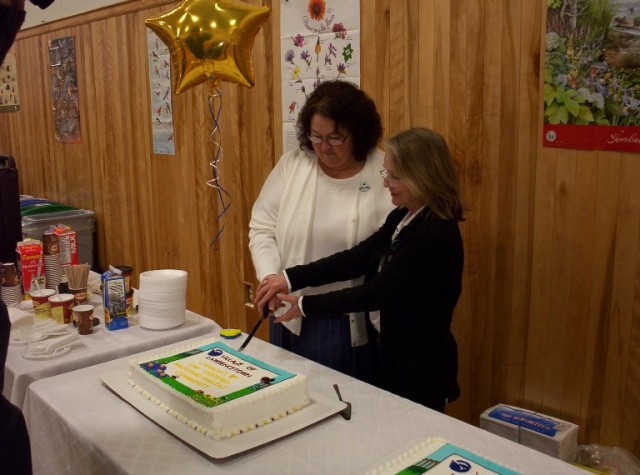 [PHOTO: CWF]
I went to a party last weekend in Lawrencetown, a small rural village in the Annapolis Valley of Nova Scotia. It has a population of just over 650. It is home to the Nova Scotia Community College's Centre of Geographic Sciences. And it has also just become the first community in Canada to be designated as wildlife-friendly through the CWF's Backyard Habitat Program – a great reason for a party!
CWF Board Member, Wilfred Woods presented a framed certificate from CWF to the village and provided subscriptions for the village library to CWF's Canadian Wildlife and Wild magazines. Carole Wheatley, CWF's Officer for the Backyard Habitat Program and who did the assessments for the properties, was also on hand to enjoy the celebration and got to help cut the cake!
The community has good reason to be proud. We live with wildlife. Animals and plants surround us. Some wildlife avoid humans of course, but not all do. Improving their habitat is not as difficult as it seems. They need food, water, shelter and some space – the same as us, really. Add to that avoiding pesticides and incorporating regionally native plants and voila – wildlife habitat. It's our challenge to simply recognize this and to keep this in mind everyday as we go about our lives – especially as we modify the places around where we live. Each one of us can make a difference. So far more than 600 properties in Canada have met the CWF standard to be designated as Backyard Habitat. The residents of Lawrencetown came through in a big way, though – about a third of all the properties in the village met this standard! This is a major boon to wildlife as well as to the residents and visitors of Lawrencetown and Nova Scotia
Congratulations to Diana Ackroyd for leading this charge and to all of the residents of Lawrencetown who took the time and care to ensure that wildlife had a place in their backyard!
To see more photos, click here to visit our facebook photo album.