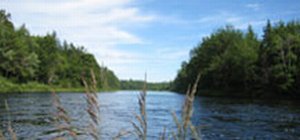 This month I take you to my home province of Nova Scotia where you will find the St. Mary's River.
Reading about this river makes me dream of a summer day where I can set my canoe in what has been named one of Canada's top 10 canoeing rivers. I'm told it's not uncommon to see mink, beaver, muskrats, deer, bear, eagles, osprey, pipers and king fishers among many other wildlife species.
St. Mary's River is also home to the wood turtle – a species listed as threatened on the federal Species at Risk Act and as vulnerable on the provincial list. In fact, St. Mary's River is said to be home to the largest population of wood turtles in Atlantic Canada. It also boasts important Atlantic salmon habitat however salmon populations have been declining in recent years.
Treasures like this prove how important it is to keep our waters healthy!