New Brunswick's Campbell Creek flows free again for the first time in 100 years.
Built in 1919, the Campbell Creek dam was a well-known landmark in Marysville, New Brunswick. It once provided water to the Marysville Cotton Mill — the largest of its kind in the Maritimes. With the closure of the mill in the 1970s, the dam became obsolete and began to deteriorate.
Complete removal of the dam was recommended by engineers as it was a safety liability. The dam did not meet the Canadian Dam Association guidelines with respect to the hydraulic capacity of the spillways, stability, seepage and erosion, or public safety and fish passage was non-existent, negatively affecting fish habitat and aquatic connectivity for over a century.
With our rapidly warming climate affecting so many rivers, opening as much high quality, cold, clean water habitat as possible is a priority for creating a well-connected and resilient landscape. Wild Brook Trout, Atlantic Salmon, American Eel and Sea Lamprey are among native aquatic species that stand to benefit from this work.
After funding from Department of Fisheries and Oceans was secured by the Maliseet Nation Conservation Council, Fredericton City Council decided to remove the dam in 2021. Additional funding for the project was provided to the Nashwaak Watershed Association from the Atlantic Salmon Conservation Foundation, along with a cost-sharing agreement with the City of Fredericton and in-kind support from many other partners.
Deconstructing a Dam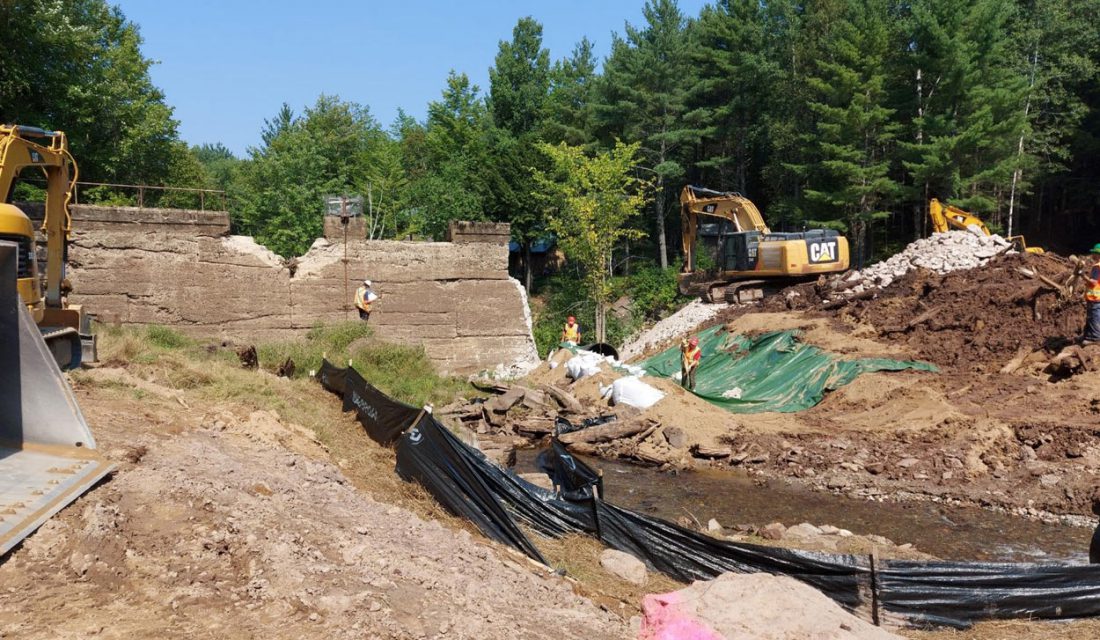 Multiple fish rescues were conducted throughout the removal process to mitigate fish mortality in the construction zone, and we were pleased to find a number of Atlantic Salmon and American Eel just downstream of the dam.
After being tested thoroughly for potential toxins and contaminants the concrete of the dam was laid to rest on-site, buried and covered in topsoil to be re-vegetated. The newly established stream channel was reconstructed to facilitate fish passage by roughening the stream bottom and creating a series of riffles and pools.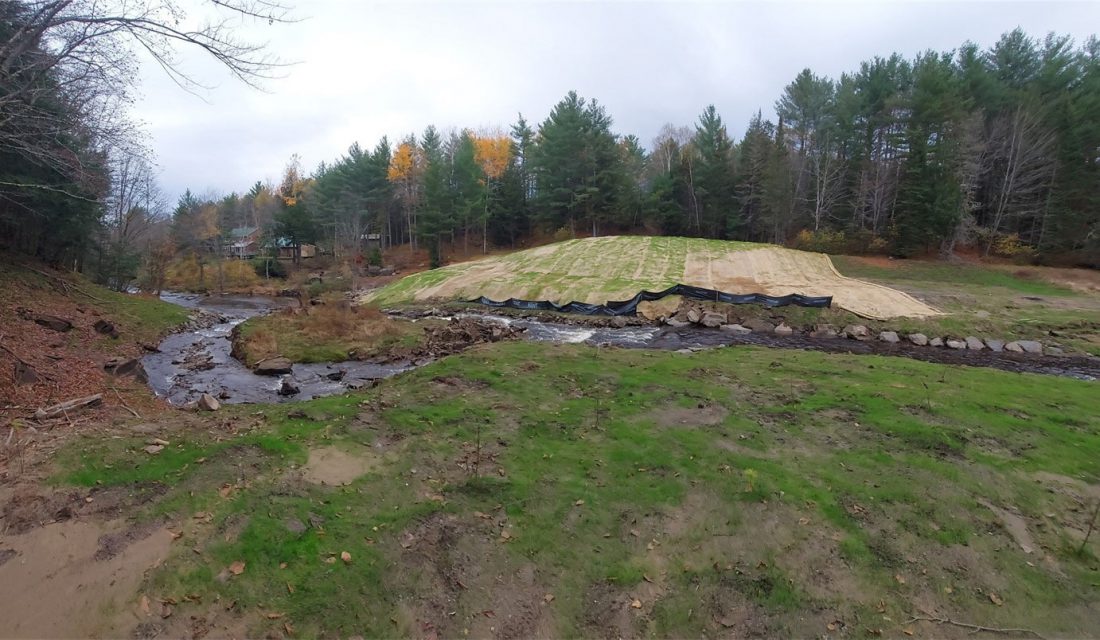 The removal of the dam and restoration of fish passage now provides over 22 kilometres of high quality upstream aquatic habitat. In addition, the restoration of the former headpond to upland Acadian Forest will provide over eight acres of habitat to terrestrial species. The overarching goal of site headpond restoration was to facilitate restoration of riparian and upland forest community and structure, while allowing more vulnerable sites to re-vegetate naturally.
Reconstructing a Forest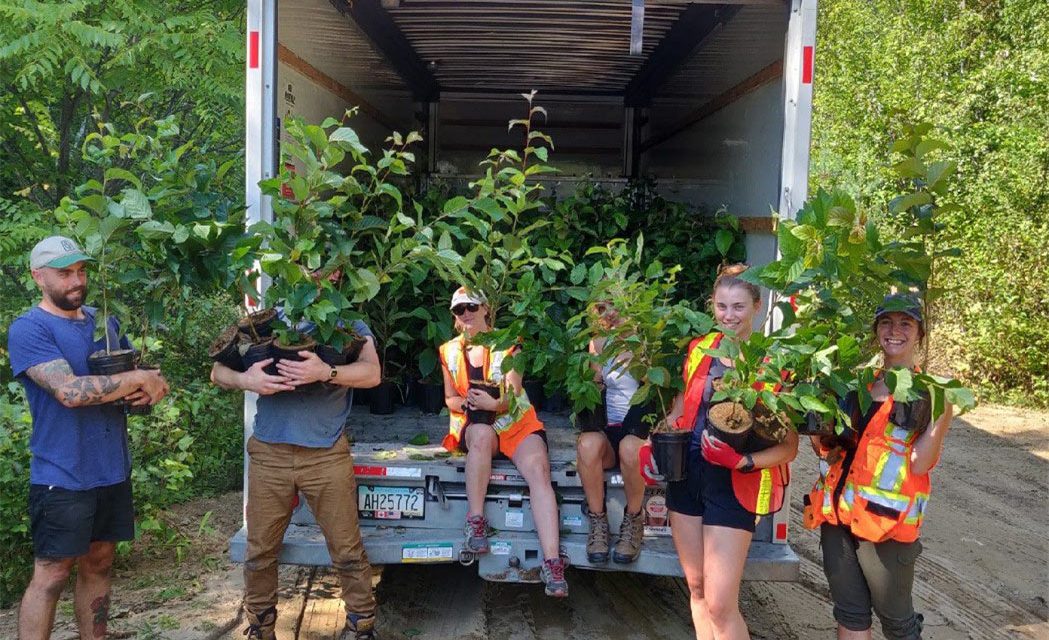 The former headpond was planted with more than 3,000 native Acadian Forest species including: Red Oak, Eastern White Pine, Red Spruce, Yellow and White Birch. Due to tricky site access, which did not allow vehicle entry into the headpond, all vegetation had to be carried into site by hand. Planting was carried with the support of a stellar crew from Community Forests Canada, who planted the entire site in a single afternoon — a truly Herculean effort.
In addition to tree planting, more than 900 native riparian shrubs were staked and planted along the newly established river-banks and the construction zone was seeded with appropriate grass by hand to mitigate erosion and sedimentation.
Ecological restoration and recovery do not occur overnight — these are long-term processes that we have sought to support and optimize through the removal of the dam and restoration of the stream channel and headpond.
From a Dammed Site to a Place of Learning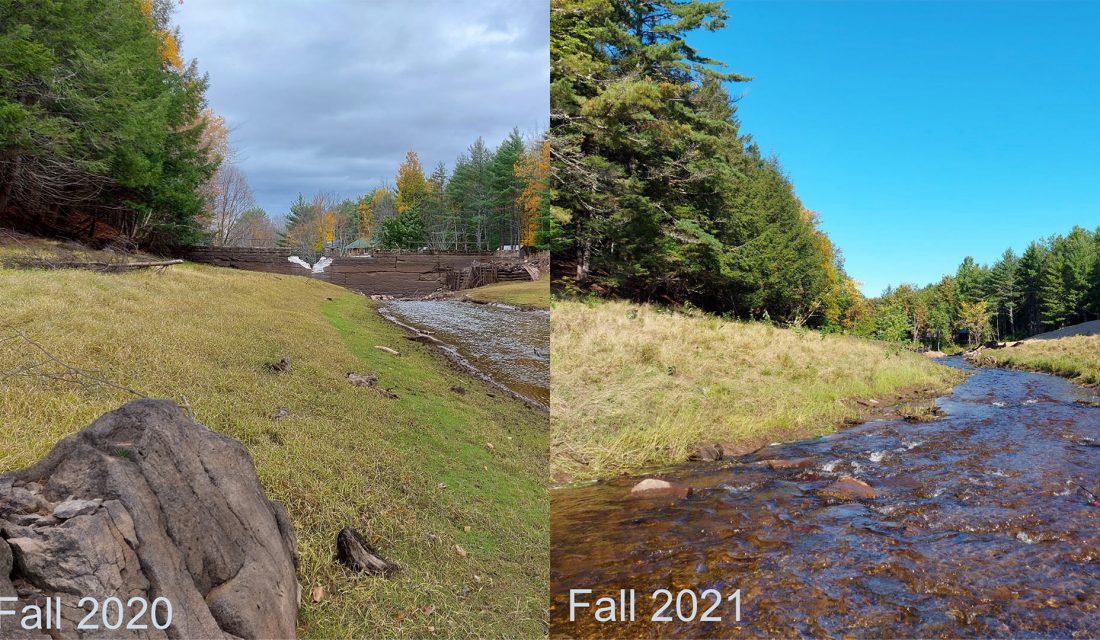 Moving forward into 2022 and beyond, we will continue to plant additional riparian species along the streambanks, as needed. A heritage display commemorating the dam's history, but most importantly aspects of the much longer history of traditional Indigenous use in the area will be installed. We will also continue to monitor biological, physical and chemical parameters to assess the impacts of this intervention through to 2024.
The removal of old dams is critical for restoring ecosystem health, fish habitat and fostering climate change resiliency. A free-flowing Campbell Creek provides improved water quality, landscape connectivity and regulation of the flow of water and sediment downstream. The successful execution of large-scale community-based projects such as this requires a multitude of committed partners. Such a positive outcome is a testament to the teamwork that brought this dream into reality.
The Canadian Wildlife Federation applauds the work and successes achieved by these partners. Learn about the Canadian Wildlife Federation's work on breaking down barriers and fish passages.