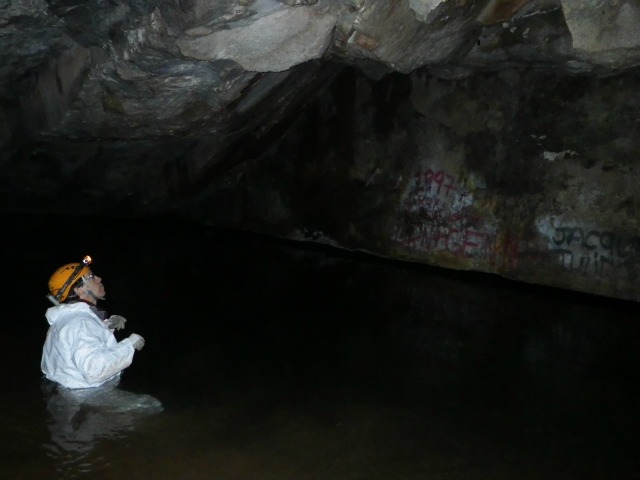 [PHOTO: NB MUSEUM]
We started bat hibernaculum surveys last week and the news is not good. Of the 3 caves we visited, one had 2 dead bats, another had 12 live bats, and the 3rd had 22 live bats plus 18 dead. Each of these caves used to have several hundred healthy bats each!
We had some company on these visits: Scott McBurney from the Canadian Cooperative Wildlife Health Center and Mirelle Geervliet, the current white-nose syndrome assistant coordinator, came along to give us a hand and learn about our research.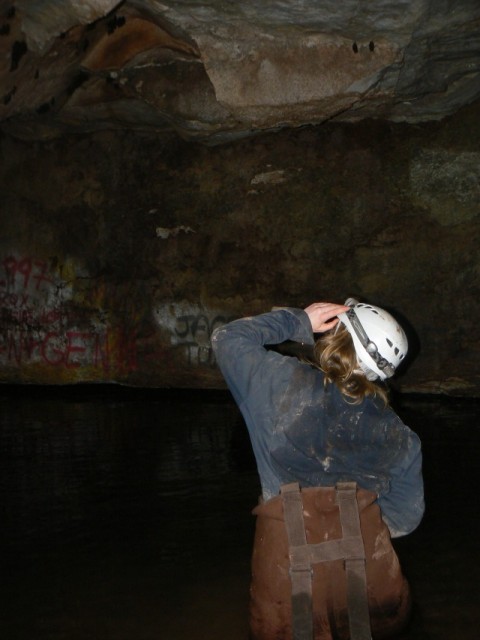 [PHOTO: KAREN VANDERWOLF/NB MUSEUM]
Our first cave visit this year has one of the most challenging hikes to reach it. We have to cross a wide stream, bushwhack through the woods in deep snow, and climb a steep, icy hill. The cave entrance itself is steeply sloped and quite icy in the winter so we always use a rope. One or more people usually take a little spill on these trips and this one was no exception! I myself did not fall, but I did make an even bigger mistake. My camera somehow fell out of its carrying case on this trip and I have no idea where it is! On the plus side, my chest waders were the only ones that did not leak! In order to count the bats properly, we have to wear waders to get into the cold, deep body of water that dominates the cave. The bats like to roost on the cave ceiling over the water and cannot be seen from the water's edge.
On the cave visit we did March 21, 2013 we were accompanied by staff from Global Maritimes TV: Laura Brown and Brion Robinson. Laura wrote some Twitter posts about the experience which can be seen here: