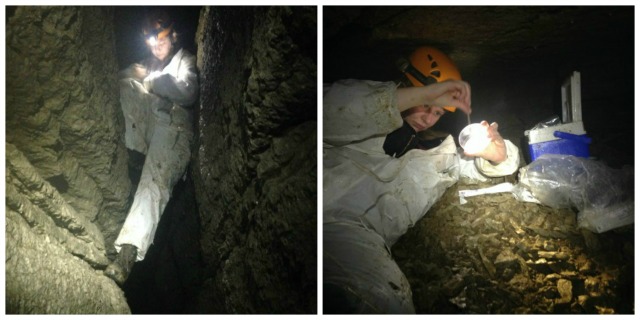 [PHOTO CREDIT: D.F MCALPINE/NB MUSEUM]
I recently went on a research trip to Anticosti Island, Quebec to study the caves there. Our goal was to determine if the white-nose fungus, Pseudogymnoascus destructans, had made it to the island and also to compare the cave fungal assemblage to mainland caves. We did not see any bats, as bats avoid caves during the summer because they are too cold this far north. We were told that one cave generally has 50-70 bats during the winter and we did find signs of bats in the form of guano. The other caves did not appear to be suitable hibernacula as they were too small to support a stable microclimate with above-freezing temperatures during the winter.
Anticosti Island is an interesting place to visit! It has the second highest waterfall in Quebec: Vaureal waterfall is 76m high. The white-tailed deer population on the island is estimated at 160,000 while the human population is less than 300. We saw many many deer during our stay, as well as other wildlife. There are many foxes and hares on the island, and nearly 60% of the known breeding sites of Bald Eagles in the province of Quebec are located there.
It will be several months before I have my results from the cave surveys but it was a successful trip!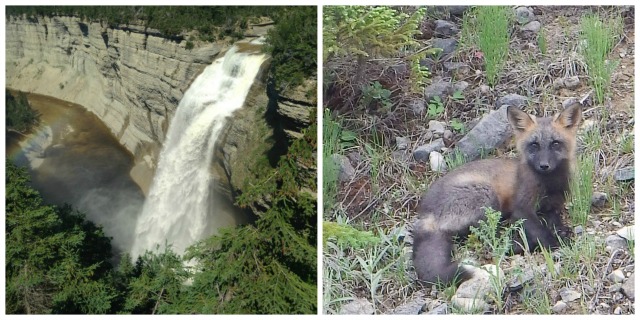 [PHOTO CREDIT: LEFT – D.F. MCALPINE/NB MUSEUM : VAUREAL WATERFALLS; RIGHT – KAREN VANDERWOLF/NB MUSEUM : FOX]