On May 18, 2021, Hydro Ottawa seeded their very first pollinator habitat.
This innovative stewardship project has been in the works for a few years. Once it was determined that the Cambrian municipal transformer station was to be built, it was decided that the entire plot was not needed. Discussions with the City of Ottawa led to the idea of building a pollinator habitat.
Pollinator habitat on Rights-of-Way is the perfect solution. Since woody plants cannot be allowed to grow under power lines and pollinator habitats require only grasses and wildflowers this is a great use of the space.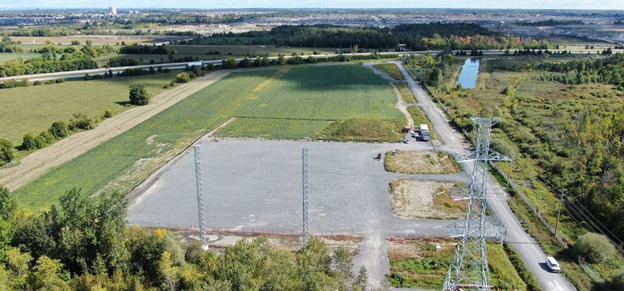 Support from Municipal to Federal Conservation Groups

The Rideau Valley Conservation Authority (RVCA) was brought on to help manage the project and to conduct some tree planting. The Canadian Wildlife Federation also supported the initiative as an advisor since we have experience conducting a Rights-of-Way project in eastern Ontario.
Native Seeds for Local Conditions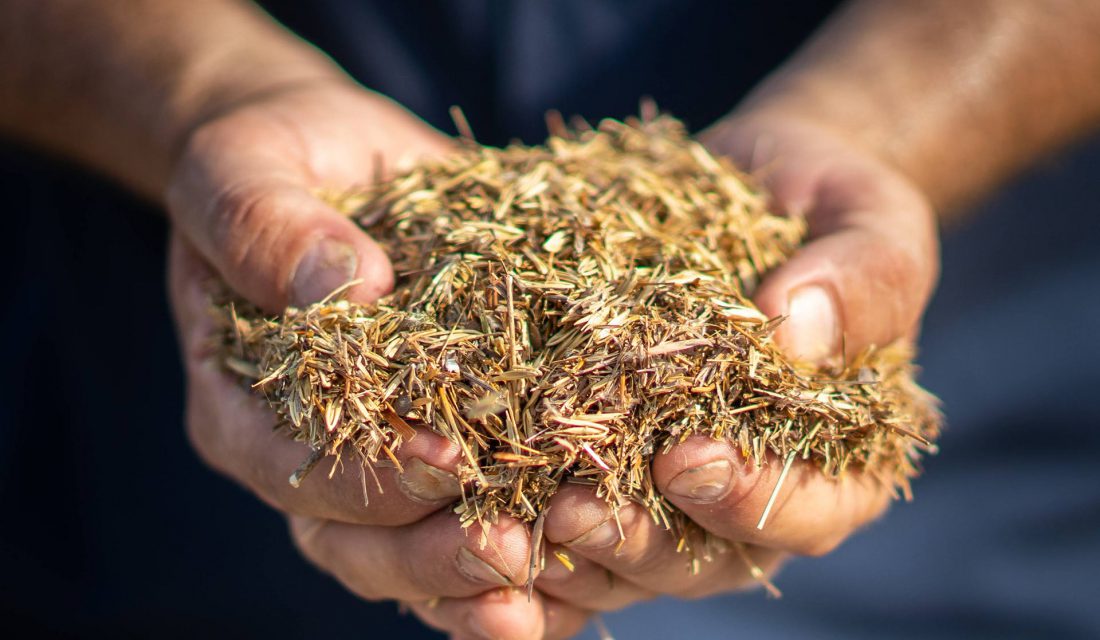 A plan was built whereby the flat, former crop field would be seeded with native plant seed that benefits pollinators. Having a weed-free planting site is very important, so a farmer planted with soy for a season. Once the soy was harvested in the fall, the site was left to rest for the winter. Since the soils contain a lot of clay, it can be difficult to get good fall seeding by a broadcast method (hand or ATV). This led to the choice of using a drill seeding approach.
It is best to conduct drill seeding on clay soils in the spring, because winter conditions can cause cracking and a loss of seed-to-soil contact.  A specialist in native seeds, Ontario NativeScape, was hired to prepare a seed mix and to install it via a drill seeder pulled by a tractor. The seed mix was custom designed to include local native species that cover all growing seasons (spring, summer and fall). It was also important that would do well in clay soils and would provide many pollen and nectar resources. It is expected that many other species such as birds, insects, and small mammals will benefit as well!
Planting the Seeds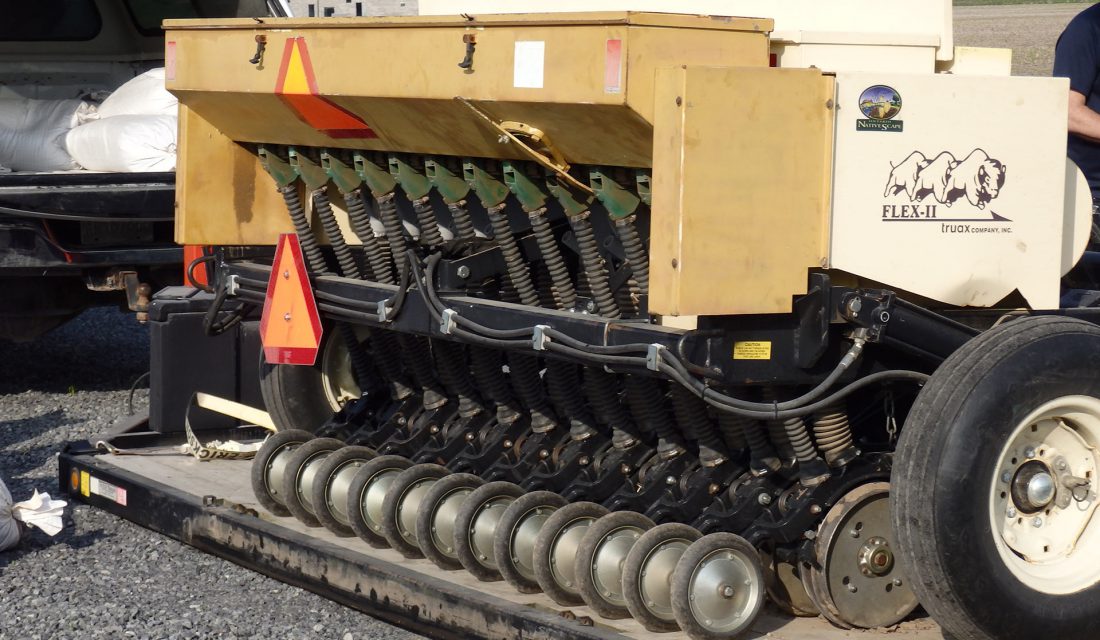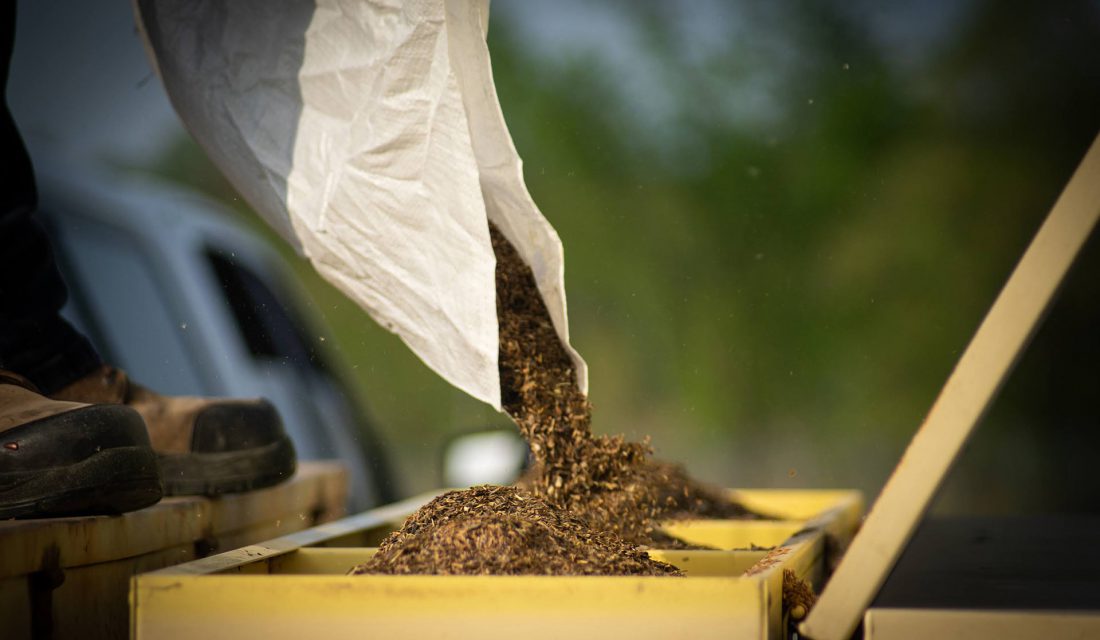 Planting day arrived, and Ontario NativeScape showed up with a very precious seed mix and the drill seeder. Various sized seed was loaded into the separate hoppers on the seeder, and the tractor connected.
Slowly, the drill seeder drops seed into newly created shallow troughs. The final wheel rolls over and presses the seed into the soil. The seed-to-soil contact is key.  The advantage of using a drill seeding approach is that it requires less seed; this is great considering native seed can be expensive. Drill seeding also ensures that the different sized seeds are evenly spread. The down side is that drill seeding equipment is expensive to purchase and owned by very few contractors.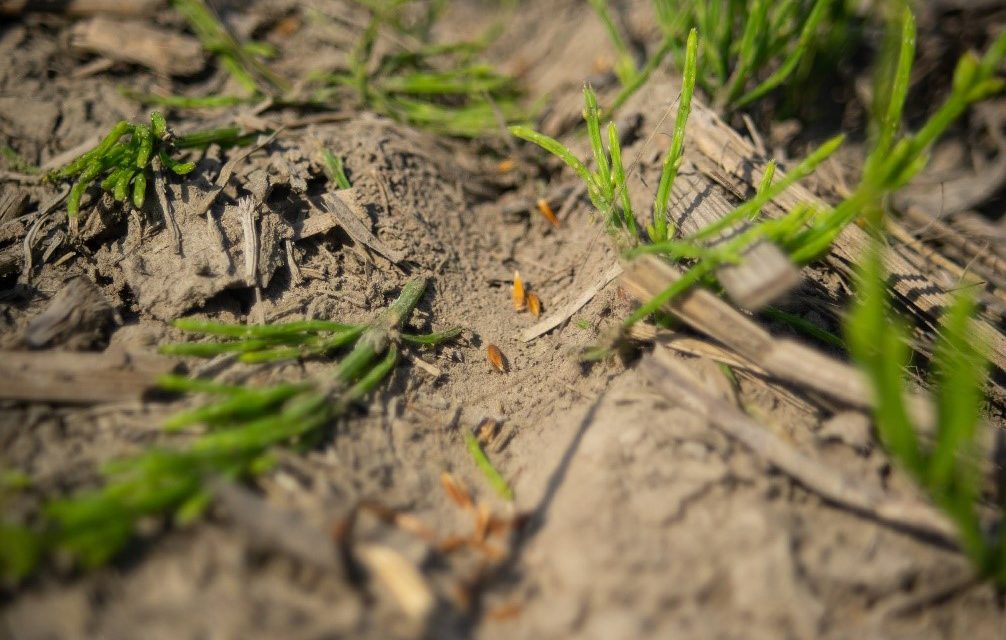 The site was successfully seeded in one day, and now we wait. The "sleep, creep and leap" expression applies here. In the first year after seeding, many native species are asleep, in the second year, more species are awake but creeping by growing roots. In the final year, we expect a leap of flowering, and expect to see a very healthy pollinator habitat in effect. Of course, there will be weed control required over the years. However, the biggest effort is the careful planning, and the ultimate seeding of the site.
A Big Thanks to Ontario Nativescapes!
I think Hydro Ottawa should be highly commended for this initiative. They understand that pollinator population declines affect food and biodiversity. This project is a great example of what local electrical distribution companies can do to support our wild pollinators. I look forward to seeing the site in a few years!