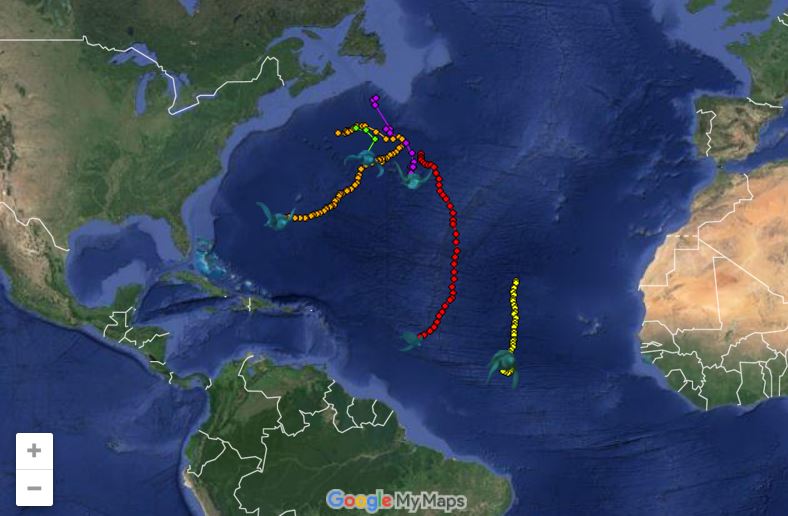 I wish we knew!
Each time we put a transmitter on a sea turtle we know that we're sending that scientific instrument out into the ocean. And that is something to think about: we've sent it somewhere entirely beyond our control.
We can track things remotely, like the strength of the battery and the movements of the turtles. So I can tell you that the battery on their tags were going strong when the tags themselves stopped transmitting. I can also tell you that Christie, Beverly and Sharon were all behaving much the same as they had previously up until the transmitters stopped working. This is important because if they had been caught in some kind of fishing gear, for example, we might see a change in their behaviour or a change in the amount of time they were at the surface of the water. But it seems as though they were all swimming freely when the tag stopped transmitting.
What has most likely happened is that the tags "biofouled." Biofouling is when organisms like algae and barnacles grow on the tag and prevent it from working properly. The organisms prevent an important switch on the tag from drying. When the switch is dry (which normally happens when the turtle is at the surface of the water), the satellite tag transmits data. If the switch isn't dry or if it is covered, the data is not transmitted. We think this is the case with our turtles.
Biofouling is not unusual—it is just frustrating! But, the good news is that we've had turtles with biofouled tags start transmitting again after a while (when presumably the organisms colonizing the tag fall or are knocked off). We've also had turtles that have tags that stopped working found on the beach anyway—including Christie herself this spring (https://canadaseaturtle.wordpress.com/2015/05/04/nothing-short-of-amazing/)! And, famously, including Red Rockette during the last Great Canadian Turtle Race (https://canadaseaturtle.wordpress.com/2013/04/23/red-rockettes-tag-is-back/ ).
So for the Christie, Beverly and Sharon fans out there…keep the faith. These animals will surprise you.
Guest Post written by Kathleen Martin, Canadian Sea Turtle Network
———————————————————————————-
Pourquoi ne pouvons-nous plus repérer nos tortues?
Si seulement je le savais!
Chaque fois que nous munissons une tortue luth d'une balise, nous savons que nous jetons un instrument scientifique dans l'océan. Pensez-y-bien : nous avons relâché cet instrument dans un endroit hors de notre contrôle.
Nous pouvons suivre certains éléments à distance, comme la charge de la pile et les déplacements des tortues. Je peux donc confirmer que les piles dans les balises étaient chargées lorsque ces dernières ont cessé de transmettre de l'information. Je peux aussi vous dire que Christie, Beverly et Sharon se comportaient tout comme avant lorsque les balises ont arrêté de fonctionner. C'est une information importante, car si les tortues étaient prises dans un engin de pêche quelconque, par exemple, elles auraient pu changer de comportement et passer plus ou moins de temps qu'avant à la surface. Mais il semblerait qu'elles nageaient librement quand nous avons perdu la transmission.
Des salissures marines se sont vraisemblablement fixées aux balises. Les salissures marines sont des organismes comme des algues et des morailles qui se développent sur les balises et qui empêchent un important commutateur de sécher. Lorsque le commutateur est sec (ce qui est normalement le cas quand la tortue est à la surface), la balise transmet des données. Si le commutateur n'est pas sec ou s'il est recouvert de salissures, les données ne sont pas transmises. Nous croyons que c'est ce qui s'est produit dans le cas de nos tortues.
Les salissures marines ne sont pas inhabituelles – mais elles sont très contrariantes! Cependant, il est déjà arrivé que des balises avec des salissures marines se remettent à transmettre des données après un certain temps (sans doute après que les organismes qui ont colonisé la balise soient tombés). Nous avons également retrouvé sur la plage des tortues dont les balises ne fonctionnaient plus – y compris Christie le printemps dernier (https://canadaseaturtle.wordpress.com/2015/05/04/nothing-short-of-amazing/) et la célèbre Red Rockette durant la dernière Grande course canadienne des tortues (https://canadaseaturtle.wordpress.com/2013/04/23/red-rockettes-tag-is-back/ ).
Donc, si vous êtes un admirateur de Christie, de Beverly ou de Sharon, ne perdez pas espoir. Ces tortues peuvent encore nous surprendre!