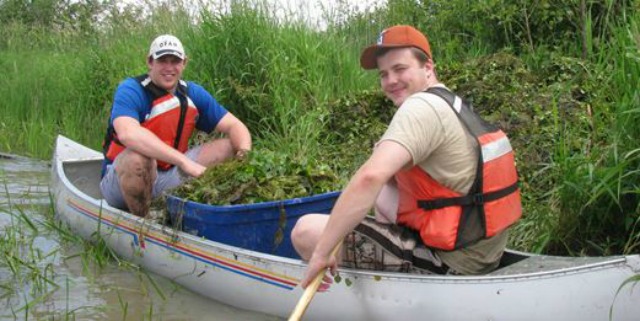 [PHOTO CREDIT: VOYAGEUR PROVINCIAL PARK]
Come help save the Ottawa River!
Volunteers are needed to help remove Water Chestnut plants from Voyageur Provincial Park, near Chute-a-Blondeau, ON.
Water chestnut is a non-native plant that has invaded the Ottawa River at Voyageur.  This is the only known location in Ontario.  Water chestnut negatively impacts biodiversity and recreational activities such as swimming and fishing.  Control efforts are on going, but we need your help!
If getting wet and dirty to save the environment sounds fun, then come out and volunteer for Pull Days!
July 18, 19 and 20, August 16, 17 and 18 from 9-3pm
Bring sunscreen, lunch, snacks, plenty of water and extra clothes.  Also bring you own canoe, kayak or boat (and safety equipment).  A limited number of canoes may be available on a first come first served basis.
For more information or to register contact:
Jennifer Jung, Voyageur Provincial Park
(613) 674-2825 x223
[email protected] or [email protected]
If you are unable to participate on the Pull Days, volunteers are also welcome at any point from July to September.