Did you know that fewer than 400 North Atlantic Right Whales remain?
To raise awareness about this important and critically endangered species, the Canadian Wildlife Federation and the Ocean Tracking Network (OTN) are teaming up to offer a series of live webinars. Join us to learn more about North Atlantic Right Whales, marine conservation, and how we can all work together to make a difference.
Saving the North Atlantic Right Whale Webinar, June 8, 2020
Thank you to everyone who joined us for the first webinar on World Oceans Day. Sean Brillant, CWF Senior Conservation Biologist for Marine Programs, spoke all about the North Atlantic Right Whale and answered your questions about this iconic species. If you missed the talk, you can check out the recording below.
Participants asked so many great questions during the Q&A that we didn't have time to answer them all. A follow-up Q&A with Sean was recorded to make sure we addressed all outstanding questions. Take a look.
Marine Animal Response & Necropsy Webinar, July 20, 2020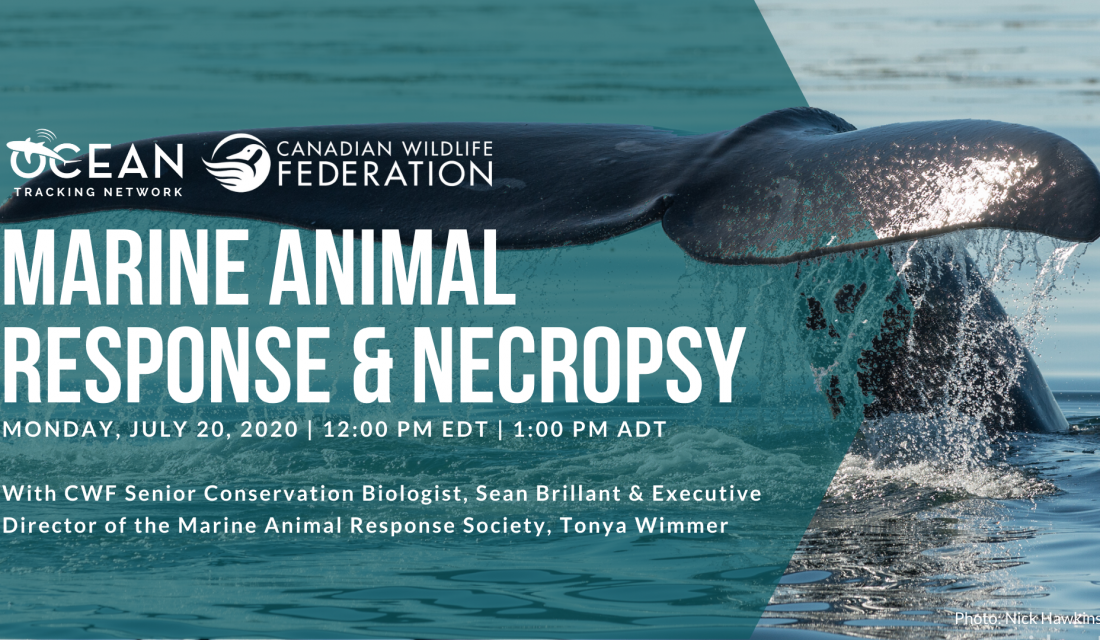 The next webinar is coming up on Monday, July 20 at 12:00 p.m. EST / 1:00 p.m. ADT. This time, you're invited to a conversation between Sean Brillant and Tonya Wimmer, Executive Director of the Marine Animal Response Society.
Marine Animal Response & Necropsy
Monday, July 20, 2020
12:00 p.m. ET
Register to attend 
Every year, more than 1,000 marine animal incidents are reported in Canada. Many of these involve large marine animals – such as the North Atlantic right whale – that are already critically endangered. Sean and Tonya will discuss the importance of responding to marine animal emergencies, and the essential conservation role you and other Canadians can play by reporting incidents.
Sadly, some of these incidents have tragic endings. When a marine animal dies, a necropsy (or autopsy) can help us better understand and conserve marine wildlife. Tonya will share her experience participating in North Atlantic Right Whale necropsies, and we'll discuss ways we can work together to conserve this critically endangered species.