We live in a symbolic time. That's especially true when it comes to wild creatures.
It feels like a gut punch to hear about an ancient Douglas fir that falls to a chainsaw, or a snowy owl that fails to lay eggs, or another North Atlantic right whale calf lacerated by a ship. Each event is about so much more than a single individual. It's a reminder that the human hand is everywhere and that it is rarely benevolent.
Maybe that's why it is so compelling to hear about experiments to put species back where they used to be before we drove them out. For me, that means tracking the reintroduction into Banff National Park of the plains bison (Bison bison bison), a subspecies of the American bison.
It's like a triple whammy, metaphor-wise.
There's the beast itself. The largest land mammal in North America, it once roamed this continent with a population of 30 million or so. As a child growing up in Regina, I used to imagine what it would have sounded like to hear them thunder across the grasslands in vast herds, hooves ploughing the land, pugnacious heads bent into the winds. I could almost hear their grunts of satisfaction as they stopped to wallow in prairie sloughs to cool off and keep the bugs at bay, only to rise once more dripping with mud as they feasted on the sedges. They were a force on the land, sculpting it for the other creatures that lived there — until we drove them almost to extinction in the late 1800s. Things got so bad here that the federal government bought 700 bison from a rancher in Montana in the early 1900s to re-establish the species, sending a group of them to Elk Island National Park east of Edmonton.
IN MAY 2017, THE FIRST BISON IN OVER A CENTURY WAS BORN IN BANFF. NOW THERE ARE MORE THAN FOUR DOZEN 'LOCALS' ROAMING THE BACKCOUNTRY
And there's the age-old link between bison and Indigenous peoples who relied on them for food, warmth, spiritual connection and kinship. As the bison vanished, as the prairies were colonized, as Indigenous families were torn apart by government fiat and severed from their hunting grounds, those connections became that much more prized.
Then there's Banff. Canada's first national park, it was established in 1887 in concert with the forces that drove the bison to the edge of extinction and Indigenous peoples off their lands. It is a heartbreakingly beautiful site. With its iconic snow-capped Rocky Mountains, lush valleys, jewel-like lakes and sacred hot springs, it holds a special place in the hearts of Canadians. I once read — perhaps an apocryphal story — that it was a more favoured Canadian honeymoon destination than even the mighty Niagara Falls.
These metaphoric forces merged in February 2017. Indigenous representatives at Elk Island National Park sang blessings for the safe journey south to Banff of 16 bison — offspring of those animals bought more than a century earlier from Montana. By May that year, the herd had grown to 26 as calves arrived in a paddock in Panther Valley, the first bison born in Banff for more than a century. Today, there are about four dozen, and they're out of the paddock and roaming free in Banff's backcountry.
They make up one of just a handful of wild subpopulations in Canada, each of whose numbers is fewer than 1,000. Though small, this Banff herd is considered a globally significant addition to the wild bison population. It could become more important. Eventually, Banff could support as many as 1,000 bison, potentially becoming one of the largest wild herds in North America, according to a paper published in the scientific journal PLOS One.
Banff now has every single large carnivore that was there before Europeans settled North America: wolf, grizzly bear, black bear and cougar. Now that the bison has returned, it has every big grass-eater except the caribou. That tapestry of creatures, which evolved to co-exist, is nearly whole once more. Once again, the bison, such a superb landscape engineer, is shaping the land. Banff is getting a little closer to ecological balance.
And some Indigenous peoples are making trips back to Banff to bear witness to the bison, including filmmakers from the Napi Collective and the Nakoda. They're telling stories about how Indigenous ancestors and the bison were connected with each other, reminding us how things used to work. Listening to the stories is one way the non-Indigenous can honour the past. That's a balance of another type.
To me, all of this feels like healing. It's a symbol of what's possible when we decide, as a society, to make things right.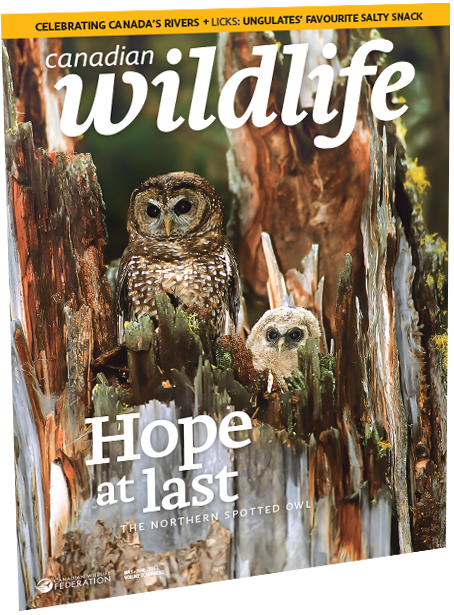 Reprinted from Canadian Wildlife magazine. Get more information or subscribe now! Now on newsstands! Or, get your digital edition today!