[PHOTOS: CWF]
Berries are ripening and birds are feasting! This week our pagoda dogwood berries (shown above) are attracting waxwings and eastern kingbirds, among others. I see glimpses of many other birds come to the pagoda outside my window – some for its flowers and then berries while some are getting ready to have a bath in the stream below it.
As to other visitors, early this morning I got a glimpse of our resident skunk. It contemplated if I was a threat or not and deciding on the latter, lowered its tail and continued its search for grubs in the ground. I also saw a young rabbit while earlier this week Al found a garter snake. All potentially challenging, but all possible to live along side in harmony, too.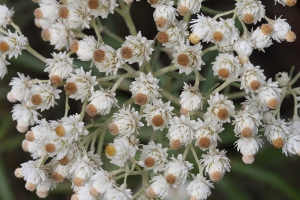 And just one new bloom to report – pearly everlasting. It gets its name from the fact that its flowers are great for drying and will last ages in displays. Its leaves remind me of rosemary, only with a whitish tinge. They form rounded mounds after a time and like to grow in the sun where they are a great food source for bees.
Have a happy week and don't forget to check out WildAboutGardening.org and our homepage photo contest with its great gardening prizes!