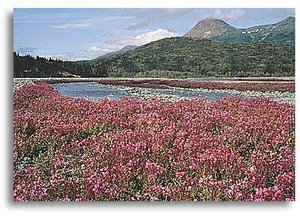 [Tatshenshini River Photo Credit]
This month's river is one that I would love to experience someday – the Tatshenshini River, although I must admit that the chances of having a close encounter with a grizzly bear frightens me – a lot!
The headwaters of the Tatshenini River starts in British Columbia, the river flows through the Yukon, enters into BC again, then meets the Alsek River before going into Alaska and eventually enters the Pacific Ocean.
The Tatshenshini has been referred to as "Wild North America at its best" and "one of the wildest areas in the world". Mountains, canyons, waterfalls, rapids, glaciers and icebergs add to the outstanding natural beauty of this pristine area. Grizzly bears, Dall sheep, mountain goats, wolves, woodland caribou, moose, bald eagles, golden eagles, peregrine falcons and salmon are just a few of the species that make up the incredible diversity of wildlife here.
I would love to hear your story if you've had the opportunity to visit this scenic wonder.