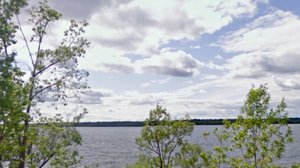 The Ottawa River is the next river I've chosen to highlight. The Ottawa River begins deep in the wilds of Quebec and heads west to Lake Temiskaming then turns south and southeast to the St. Lawrence River, flowing 1271 kilometres in length. The Ottawa River is the second largest river in Eastern Canada!
This beautiful river was the earliest route of commerce for the Northern Company and eventually for the Hudson's Bay Company.
Today it is home to many nationally or provincially at-risk species including the spotted turtle, loggerhead shrike, American ginseng, and the least bittern.  It provides habitat for more than 85 fish species, 300 species of birds, approximately 53 mammal species and 33 species of amphibians and reptiles. You can also find at least 14 different species of freshwater mussels in the Ottawa River.
While the Ottawa River is impacted by more than 50 major dams and is threatened by wastewater, urban runoff, agriculture, wetland loss and shoreline development, the resilient Ottawa River is used for a variety of recreational activities including white water kayaking, canoeing, sailing, and fishing, while it's riverside trails offer cycling, running, walking, and cross-country skiing.
This is certainly a gem for those that have experienced it.