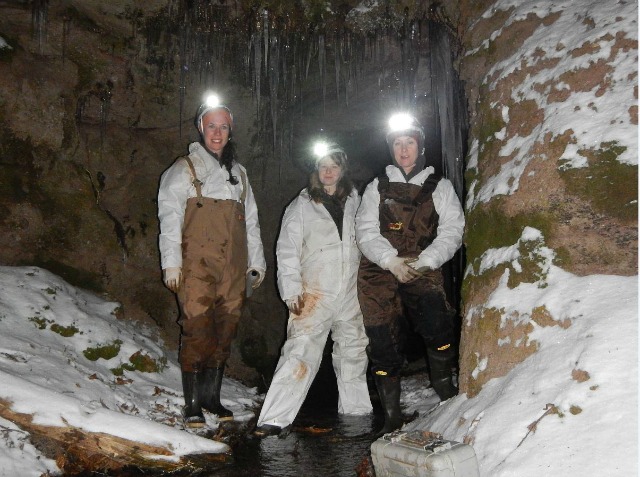 [PHOTO CREDIT: Donald McAlpine] – Allysia, myself, and Darlene working hard well into the evening! The entrance to the mine had many icicles hanging from the ceiling.
Field work season has started again and we are continuing our surveys of hibernating bats. This week we were joined by the Canadian National White-nose Syndrome Coordinator Allysia Park and Darlene Weeks, a wildlife technician at the Canadian Cooperative Wildlife Health Centre. Allysia has her own blog on bats that I invite you to check out!
We visited a cave and a mine that normally have hundreds of over-wintering bats; unfortunately we only saw 6. It was, however, a good day for rodents. We found a rat carcass in the cave; we had previously found a deer mouse carcass in this same site.
In the mine, we were wading through some water when I put my hand on the wall to steady myself. Noticing movement towards my hand out of the corner of my eye, I jerked back and was surprised to see 7 pairs of big black eyes staring back at me! It seems a family of deer mice has chosen to overwinter in this mine, refurbishing an old phoebe nest for their use. This behavior has been noted before in caves in other areas. The mine is warm and the mice are protected from both the elements and predators. We have never seen this before in our sites, so it was certainly an interesting surprise!

[PHOTO CREDIT: KAREN VANDERWOLF/NB MUSEUM]
In the first photo you can see that the mice initially sat and stared at us. The middle photo shows how they responded to our lights and noise by running around on the cave walls (taking pictures was difficult) – the mine floor is underwater so we didn't have to worry about them running up our legs! In the last photo, I finally got a nice pose!