The first and only time I ever saw an Endangered North Atlantic Right Whale was in 2016, off the coast of Digby, Nova Scotia.
I had booked a trip with Brier Island Whale and Seabird Cruises (BIWSC) on a sunny August afternoon with calm seas — perfect conditions for whale watching.
Just before my departure, a staff member, who I later learnt was Shelley Lonergan, the Business Manager and Chief Naturalist at BIWSC, had just received a phone call about a Right Whale sighting in the Digby coast. It wasn't just any Right Whale though.
This one was entangled in fishing ropes.
Since the next departing boat was the one I had tickets to, I was hopeful about the possibility of seeing the whale. I rehearsed in my mind everything I knew about how to identify a Right Whale: a V -shaped blow, white patches of thickened skin on its head, and no dorsal fin. Before I knew it, I had my camera ready, sitting in the zodiac with Captain Guy as we sailed into the smooth sea.
After 40 minutes of Captain Guy talking on the radio with other whale watching boats, there was a confirmed a sighting in the direction we were headed. A few minutes later, Captain Guy slowed the boat down and turned off the engine.
We saw and heard a loud V-shaped blow a few hundred meters away. A dark black whale, with white callosities on its head, rose up to the surface. There was no fin on its back. This was the individual I was waiting to see.
The whale skimmed under the surface, then came up for air right beside us. Multiple fishing ropes wrapped the whale's rostrum as it swam and breathed slowly. Soon enough my feeling of excitement was replaced with inevitable hopelessness and sorrow for the whale. I couldn't help but grab a few pictures and videos to preserve the bittersweet memory.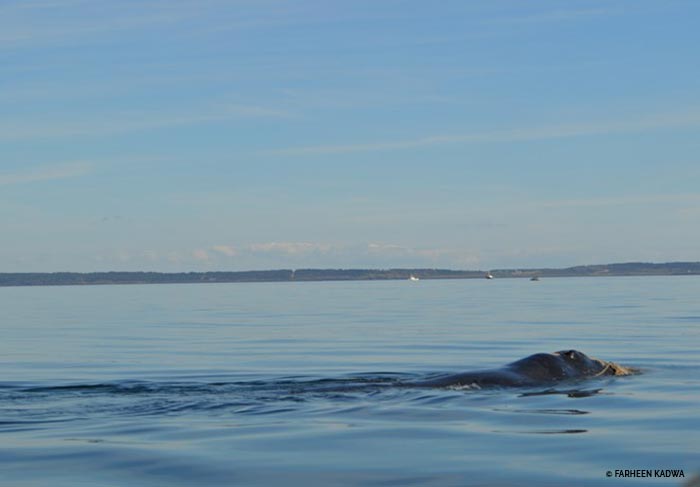 After returning to shore, I shared my photos with Shelley, who suggested passing them on to whale researchers who could use it to identify the individual and learn more about the threat of entanglement.
In January 2017, I reached out to BIWSC asking for updates on the entangled whale. Shelley informed me that the researchers at New England Aquarium identified the individual as #2608, a 20-year old male, using my photos which are now part of a public right whale sightings database.
They presume the individual to possibly be alive, but its status is not fully known since it wasn't sighted again. This implied that in the best case scenario the whale shed the gear itself. However, in the worst case scenario, it would have died due to trouble feeding, energy loss, infection, then drowning.
All Too Common
Unfortunately, the story of #2608 is not uncommon for North Atlantic Right Whales; rather it is worse for many individuals. Eighty-three per cent of its population has been entangled at least once. In recent years, entanglement has become the most prominent cause of death. Since 2017, North Atlantic Right Whales have experienced multiple unusual mortality events, as their current population of 366 individuals is faced with threats.
But we haven't given up hope. As an amateur scientist with the Canadian Wildlife Federation, I am trying to help de-tangle which marine areas and months could be high threats for North Atlantic Right Whales, based on fishing activity and gear used in some of the Atlantic lobster fishery. Another major threat to North Atlantic Right Whales' threatened population are ship strikes. Researchers are also studying and suggesting measures to reduce the threat of ship strikes to North Atlantic Right Whales.
While the Canadian government has plans to reduce the threat of fishing gear in upcoming years, a lot of work is still pending to help the North Atlantic Right Whale population truly recover. We are also asking the Canadian government to make waterways safer by reducing mortality from ship strikes to whales.
Voice your support for protecting Endangered North Atlantic Right Whales and other marine life by signing the Marine Action Plan 2020 petition.