I grew up on a farm in North Easthope Township in southwestern Ontario. As a kid, I was surrounded by farming and big equipment, with an understanding of the environment from a farming perspective. Farmers rely on healthy soils and adequate precipitation to produce crops. In the past few years my interest towards the environment has grown and I have become aware as to what role the environment plays for us. I am currently studying at Sault College, Sault St. Marie, ON for a Natural Environment Technician – Conservation and Management. I feel great doing work that can have a beneficial impact on our native lands, and appreciate this opportunity that CWF has given me to work as a summer student.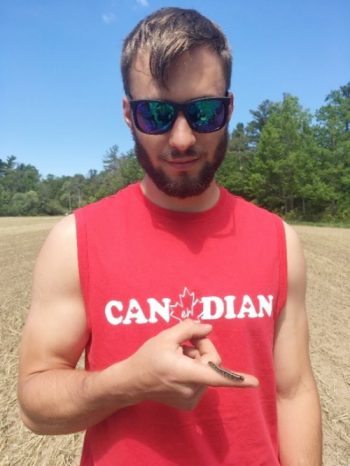 What Does an Insect Technician do, Exactly?
My job as an Insect Technician involves conducting insect surveys on 22 different farms in southwestern Ontario. In the field, we use two techniques to catch the insects. One involves using a sweep net to catch them and the other uses pan traps or malaise traps. Once the insects are successfully trapped, they are brought back to the Guelph University Summerlee Science Complex where we identify, pin, label, and data base the specimens. All insects are placed under the microscope, where they are identified to family and species (if possible). The goal is to determine whether the insect is a pest, predator or a pollinator, and to discern if that insect is 'beneficial' to farming. Bees are truly beneficial pollinators and play a major role in the ecosystem as they are vital for the foraging crops. Other important pollinators are hoverflies, flower beetles, butterflies and moths.
Collecting Soil
One of my daily responsibilities has been to collect soil samples. Quadrats at the field sites are recorded into a Geographic Positioning System. This is for the purpose of re-sampling years after this pilot study is finished. The work we began here will continue for another seven years in collaboration with a network of University of Guelph professors called CFREF. Testing is done to find the porosity and the carbon storage at different soil profiles. The samples are taken to the university lab where another technician performs various tests.
Studying Plants
In the coming weeks, I look forward to beginning the plant portion of the research project. I will be conducting plant surveys related to species diversity, biomass, light canopy, and crop damage by insect herbivores. We will continue to travel to field sites in southwestern Ontario to collect, study and identify the plants. I feel that the work I am doing this summer as an intern will provide evidence to farmers and scientists that beneficial insects play a contributing role in agricultural production by showing the symbiotic relationship between insects, plants and soils.
Highlights of My Field Work
Besides coming across many dangerous plants like poison ivy and giant hogweed, I have really enjoyed my outdoor field work. Some awesome highlights of this summer so far have been: watching a deer raceby me only 10 feet away in the middle of a corn field, witnessing a Bald Eagle swoop right in front of my eyes, and even coming face to face with a beautiful orange Eastern Hognose Snake.