Ever wonder what that plant is growing in your backyard, or what animal is leaving those tracks in the snow? Not only are people satisfying their curiosity, we can also contribute to the conservation of these small wonders we see outside every day.
This is precisely what thousands of Canadians have been doing on their own and as part of Bioblitz Canada 150 over the past year using iNaturalist.ca. The website and associated app allows us to take a photo of a species and document the location in a central database to be used by all Canadians, researchers and the public alike. What's more is the latest addition to the platform incorporates photo recognition software to help identify what you've just seen – and it's shockingly accurate!
This initiative is taking off; people are using their smartphones and digital cameras to document their observations. Since 2015, when the iNaturalist Canada app was created, users have documented over 400,000 observations. And scientists are taking notice.
This has built an unprecedented database of species occurrences throughout Canada which can help answer key questions related to biodiversity. For example, between 2014 and 2016 the number of Monarch Butterflies reported in iNaturalist.ca hovered between 57 and 77. In 2017, despite now being named Endangered by experts, this jumped drastically to 1,052. Arguably this could be due to an increase in people using iNaturalist.ca rather than more Monarchs, but the upswing is consistent with what experts are saying was a good year for Monarchs.
Thanks to these documented occurrences in iNaturalist.ca we can track occurrences to see if they fare as well next year. We can also see where and when these butterflies were in Canada to help plan for planting native plants, including milkweed, to help them survive.
Interestingly, most range maps for this species end along a line from the Gaspé to Lake Superior to the southern tip of Lake Winnipeg and onwards to Vancouver island. We're seeing in iNaturalist.ca that there are credible occurrences (with photos to vouch for it) in areas 50 kilometres to nearly 100 km north of this. With this information we can study whether this species is shifting its range as a result of climate change and, more importantly, allows scientists, communities and conservation organizations to make decisions for Monarch conservation. This is particularly timely, since Canada has entered into a tri-National agreement with the U.S. and Mexico to address the declines in Monarch populations.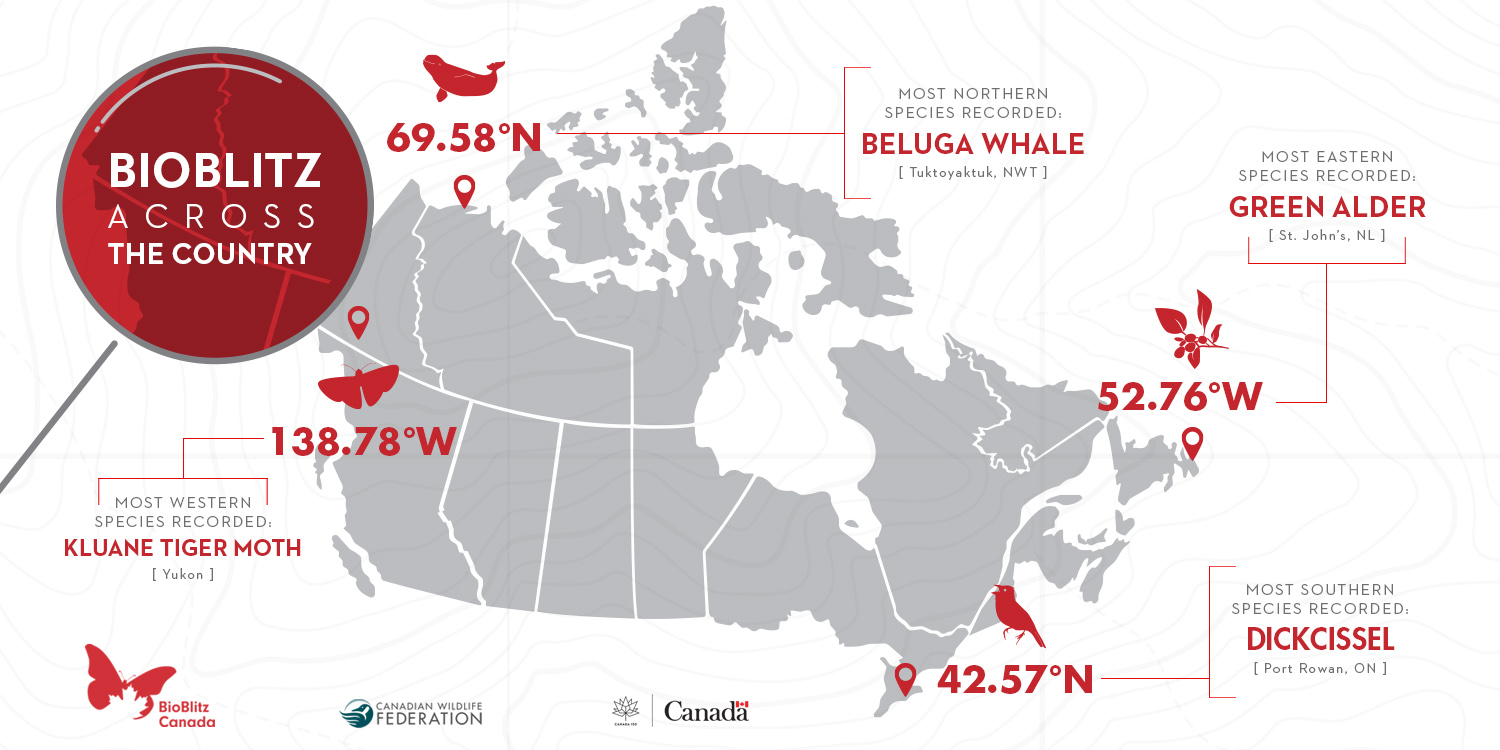 There's more to iNaturalist.ca and the organized 24 hour species inventory that we call a BioBlitz. It's a place where I keep a record and list of what I've come across while hiking, walking in town or exploring with my family. It's also how I contribute to a larger initiative like one of the 35 events that took place across the country in 2017 for BioBlitz Canada 150.
Moreover, I know that what I've just recorded will be useful to others and help conserve what I've taken the time to photograph. And then there's the online community of over 10,000 Canadians and counting, among which are some of the leading experts in their field. These like-minded people are what makes iNaturalist.ca tick. Scientists truly couldn't gather the amount of data that we have through iNaturalist without help. That's why the program is so remarkable. Every day Canadians are contributing meaningful data to the scientific community.
I've personally learned a lot about species identification and what to make sure is captured in a photograph to make it easier for others to identify. For example, when you're taking a photo of a crayfish, it's critical to capture the ridges along the snout (actually called a rostrum). Who knew? For most species identification, scientists can garner more information with a close up photo than a picture taken further off in the distance.
So if you're curious about what you've seen outside or want to make a contribution to conservation, have a look at iNaturalist.ca. The app is available for Android and iPhone and it's free.