What an experience! Where to start? Last week I joined eight other individuals on a 10 day winter camping expedition within the Algonquin Highlands. Let me tell you, this experience definitely put us all through the wringer, challenging us on all levels including mental, physical, and all elements possible. But overall we adventured, we conquered, and we giggled a lot.
The trip started with us doing what is known as a duffle shuffle to attain gear we did not have and to pack it all into the provided equipment. We were quickly briefed on the excursion details and what to expect. Then we headed straight into Algonquin Provincial Park, were set up with two dog sledding teams, snow shoes, and pulks to start our expedition. Pulks are types of sleds that harness around your hips to enabling you to carry personal and camp equipment between sites while snow shoeing. And then we journeyed into the unknown!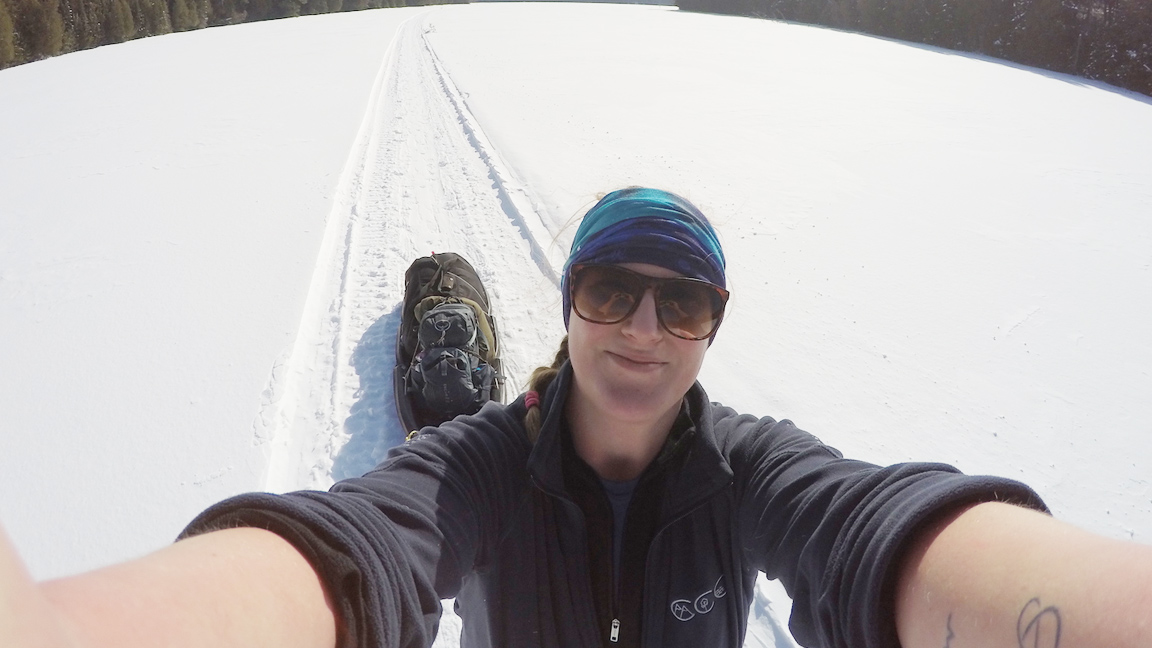 The 10 days were filled with limitless memorable experiences, from tracking wild animal tracks to gazing at the stars, to axing through two feet of lake ice to supply us with drinking water. The first five days involved the use and care of the dog sledding teams, where we got to learn the proper techniques to ensure the safety of these amazing creatures and how to give them the quality care they need. Our daily routines revolved around these dogs to make sure they were in top shape to perform their duty of sledding us around the Sunday Lake Dog Sled trail system. Being a sustainable vegan and an animal activist, I was definitely a little hesitant of this dog sledding component, but I cannot express enough the superior treatment these pooches received. Snow Forest Adventures is dedicated to the care and quality treatment of these animals and it made my heart melt seeing how excited these working dogs got when harnessed up to take off for the day.
The other major part of our trip was snow shoeing; we covered roughly 40 kilometres of trails over the course of the excursion. That may not seem like a lot, but when you are doing it 10 days straight and pulling 30 to 50 pounds of gear behind you, it ups the ante a little. But I am so proud of the whole team for persevering through these intensive conditions and accomplishing this expedition with smiles on our faces. Our snow shoeing adventure led us over multiple ecosystems and through the habitats of many species including wolves, foxes, pine martens and so much more!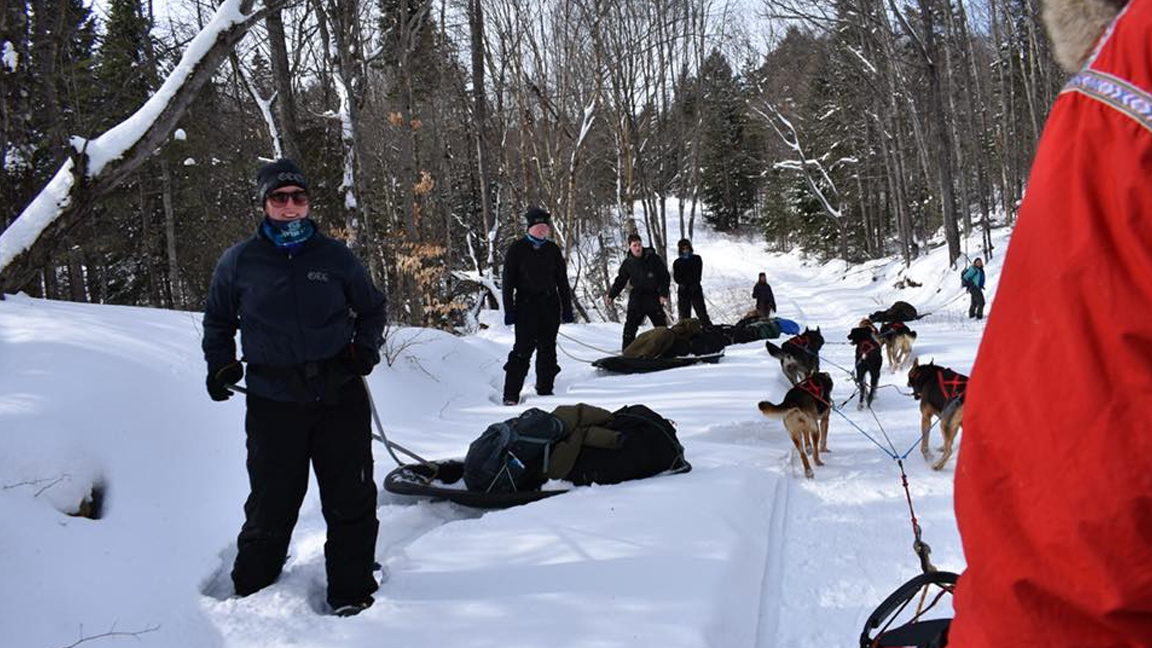 This adventure journey was the follow up to our whirlwind of a first week, from meeting complete strangers, to practically becoming best friends in a matter of days. This Canadian Conservation Corps (CCC) Group One is an amazingly unique and diverse group of individuals, who are all so eager to participate and gain experiences to prepare them for a future of conservation in Canada. A variety of ages, backgrounds, and so much more, we each bring a different dynamic to this group that makes us work well together.
We are all thrilled to be selected for this opportunity and are all hopeful to move forward with our passions, conservation and giving back to our communities. Not only does this amazing program prepare us for our futures, but it is helping us to engage young Canadians in our home communities to get out and give back! We want to encourage them to make a difference – no matter how big or small. And all I can say is I am grateful to be a part of it all!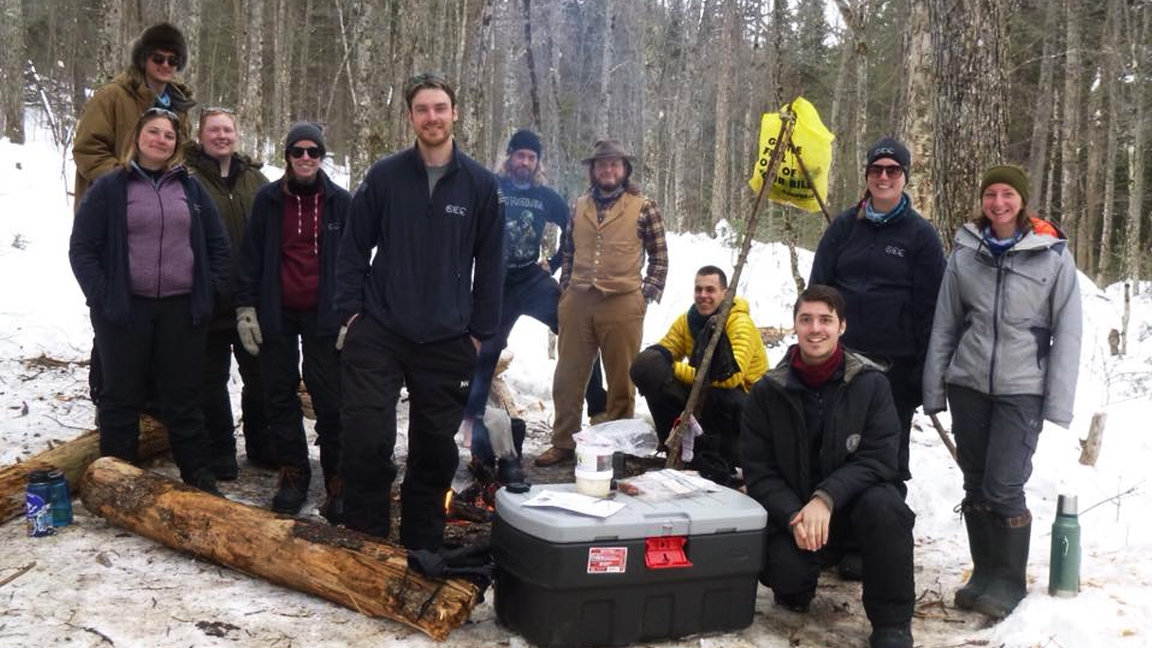 Well I just wanted to give an update from the first CCC group and cannot wait to continue to share our stories with you over the next nine months! So bookmark this site, follow the blog and go check out the CCC Instagram @ConservationCorpsCan!