A right whale nicknamed Sundog hit the news in late May 2022, when Fisheries and Oceans Canada declared she was the entangled whale that had been spotted in the Gulf of St Lawrence, just offshore of the city of Gaspé, Quebec.
Since the spotting, efforts to find her have failed. If she is located a Marine mammal disentanglement rescue team can be dispatched to try to extricate her. (You can follow @ FishOceansCAN on Twitter for updates.)
She had been spotted swimming freely just weeks earlier in mid-March in Cape Cod Bay, Massachusetts.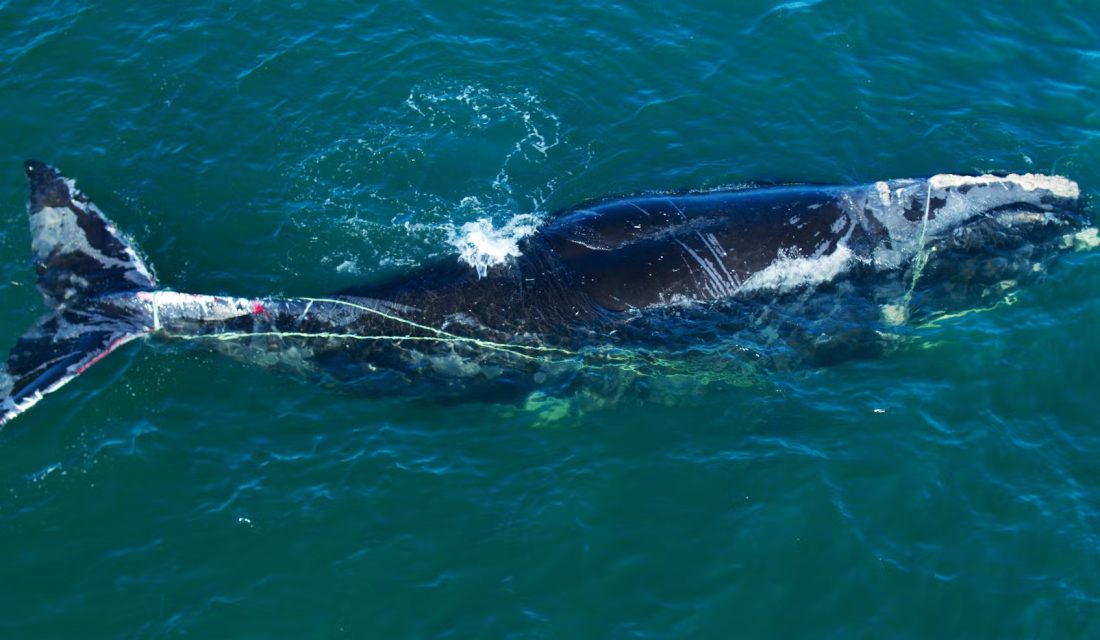 Listed in the official right whale catalog as #3823, Sundog has been entangled in gear at least five previous times. She was first spotted in 2017 in the Gulf of St. Lawrence at the age of about 10, already showing severe injuries on the peduncle and leading edges of the flukes as well as moderate scarring on her head. The following year she was identified in Cape Cod Bay multiple times and was dart-biopsied. At that time, she was showing new wounds from a severe entanglement and was reported to be in diminished physical condition.
Saving Sundog is urgent; she is one of only approximately 70 females of breeding age still in existence. She has never been spotted with a calf.
Right whales are given nicknames to facilitate identification, based on identifying marks and colours on their heads and backs. Sundog gets her name from a bright round marking next to a prominent callosity on her head that reminded tracking scientists of a parhelion, a bright spot seen next to the sun, often referred to as a sundog.
What YOU Can Do
Sign Our Petition! Support CWF's Marine Action Plan – MAP is a major conservation plan designed to make Canada's ocean safer for marine wildlife. We are asking the Canadian government to continue to invest in research and programs that can help us better understand the range and movement of marine mammals. Knowing where these majestic animals are is critical to ensure their survival. Add your voice and help us get the support we need to help protect and conserve marine animals.
Learn more about the critically Endangered North Atlantic Right Whale and the CWF Marine Action Plan.