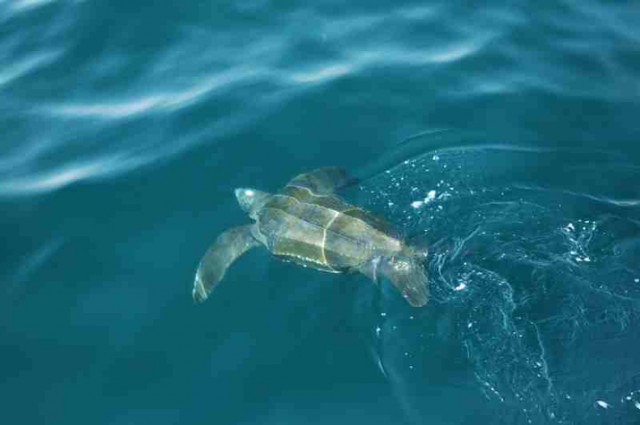 I'm thrilled to announce that we have officially launched the Great Canadian Turtle Race! This project will help to conserve the Endangered leatherback sea turtle and to ensure more caring Canadians, like you, learn about this at-risk reptile and about marine conservation.
The leatherback sea turtle is officially recognized as an endangered species by Canada and on an international scale. It was only in the last decade that Canadian Sea Turtle Network scientists, with support from the Canadian Wildlife Federation, identified how crucial Canada's Atlantic waters are for Atlantic leatherback populations. For ages, these giant reptiles have travelled to Atlantic Canada every summer to forage on abundant jellyfish in preparation for their journey to their southern nesting grounds. The challenge now is to ensure that more Canadians recognize these turtles as a part of Canada's wildlife and that we share responsibility for their conservation.
My hope is that we can improve this with the Great Canadian Turtle Race.
Scientists from the Canadian Sea Turtle Network were able to attach satellite tags to four female leatherback turtles which will give scientists important knowledge about the behavior and location of the turtles as they make their way to their southern wintering grounds.
Here comes the fun. The previous winner of the Great Canadian Turtle Race, Red Rockette, will be joining the race as a pace maker for these reptile racers! Whichever turtle travels the greatest distance by World Wildlife Day, on March 3, will be the winner of this year's race!
Which turtle do you think will win the race? Learn more about the racers here!
—————————————————————————————–
J'ai le grand plaisir d'annoncer que nous avons officiellement donné le coup d'envoi de la Grande Course canadienne des tortues! Ce projet favorisera la conservation de la tortue luth, une espèce en voie de disparition, et permettra à un plus grand nombre de Canadiens sensibles à la cause, comme vous, de découvrir cette espèce de reptiles en péril et de se renseigner sur la conservation marine.
Le danger d'extinction auquel est exposée la tortue luth est reconnu officiellement tant au Canada qu'à l'échelle internationale. C'est seulement dans la dernière décennie que des scientifiques du Canadian Sea Turtle Network, bénéficiant d'un soutien apporté par la Fédération canadienne de la faune, ont constaté à quel point les eaux canadiennes de l'Atlantique sont importantes pour les populations de luths de cet océan. Depuis très longtemps, ces reptiles géants se rendent chaque été au Canada atlantique pour se nourrir de méduses, qui sont abondantes dans cette région, en préparation de leur voyage vers les plages méridionales de nidification. Le défi que nous devons relever maintenant, c'est de veiller à ce que davantage de Canadiens se rendent compte que ces tortues font partie de la faune du Canada et que nous partageons la responsabilité de leur conservation.
J'ai l'espoir que la Grande Course canadienne des tortuespourra contribuer à cette sensibilisation.
Des scientifiques du Canadian Sea Turtle Network ont réussi à munir quatre luths femelles de dispositifs de repérage par satellite, ce qui permettra de recueillir des renseignements importants sur le comportement et la position de ces tortues au cours de leur migration vers les aires méridionales où elles hivernent.
En outre, la migration promet d'être divertissante. La gagnante précédente de la Grande Course canadienne des tortues, Red Rockette, se joindra à la course comme meneuse de train pour ces reptiles marathoniens! La tortue qui a franchi la plus grande distance d'ici le 3 mars, Journée mondiale de la vie sauvage, gagnera la course de cette année!
D'après vous, quelle tortue gagnera la course? Découvrez les concurrentes ici!