The Canadian Wildlife Federation is pleased to announce the full release of the Canadian Aquatic Barriers Database (CABD)!
The launch of the CABD web tool invites users to explore aquatic barrier and hydrographic data directly through their browser – no extra software required. With the release of version 1.0 of the CABD (CABD 1.0) on September 25, 2022, data is available for all of Canada – from coast-to-coast-to-coast!
The CABD will be an important tool to support work in a variety of fields and sectors related to freshwater connectivity and aquatic barriers. The vision for the CABD is all of Canada's barrier and connectivity information in one place – easily and openly accessible!
The Canadian Aquatic Barriers Database is a multi-year project that is supported partially by financial contributions from Fisheries and Oceans Canada.
The Canadian Aquatic Barriers Database is also funded in part by the RBC Foundation in support of RBC Tech for Nature.
What is freshwater connectivity?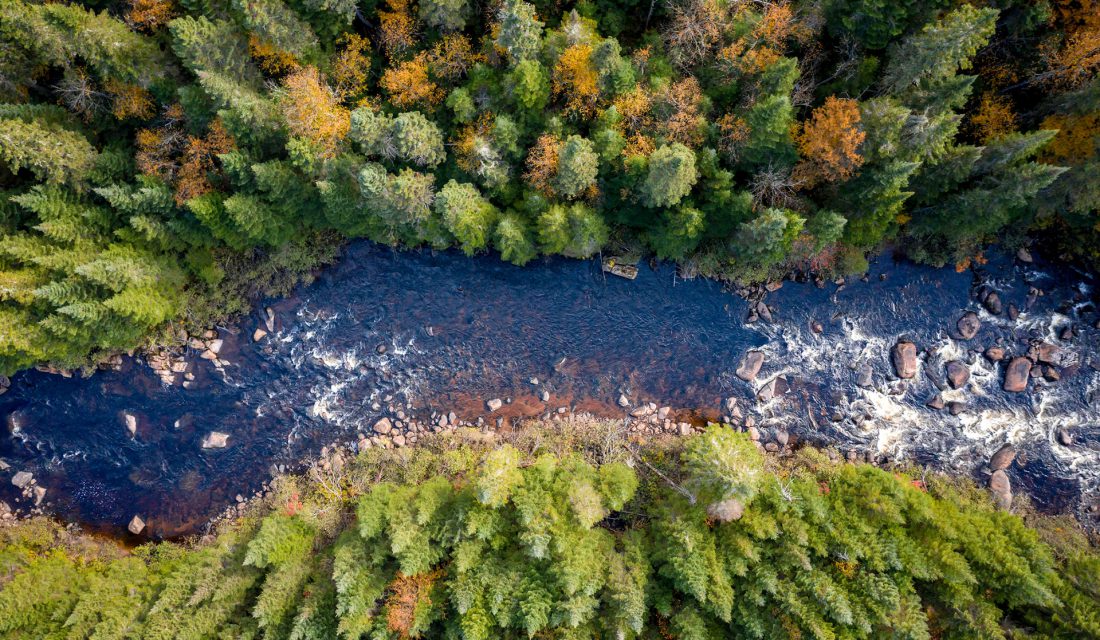 Freshwater connectivity refers to the ability of fish and other aquatic species, nutrients, and energy to flow freely within freshwater ecosystems (rivers, lakes, and wetlands) without the physical disruption of this movement by barriers. Connectivity is vital for maintaining processes like fish migrations to important habitats to complete life cycles, distributing food sources and nutrients throughout the system, and regulating water temperature. Unfortunately, in many freshwater ecosystems across the country, aquatic barriers disrupt these processes and disconnect portions of our streams, rivers, and lakes. Freshwater connectivity has been declining in Canada in recent decades and is identified as a threat to many aquatic species at risk.
What is an aquatic barrier?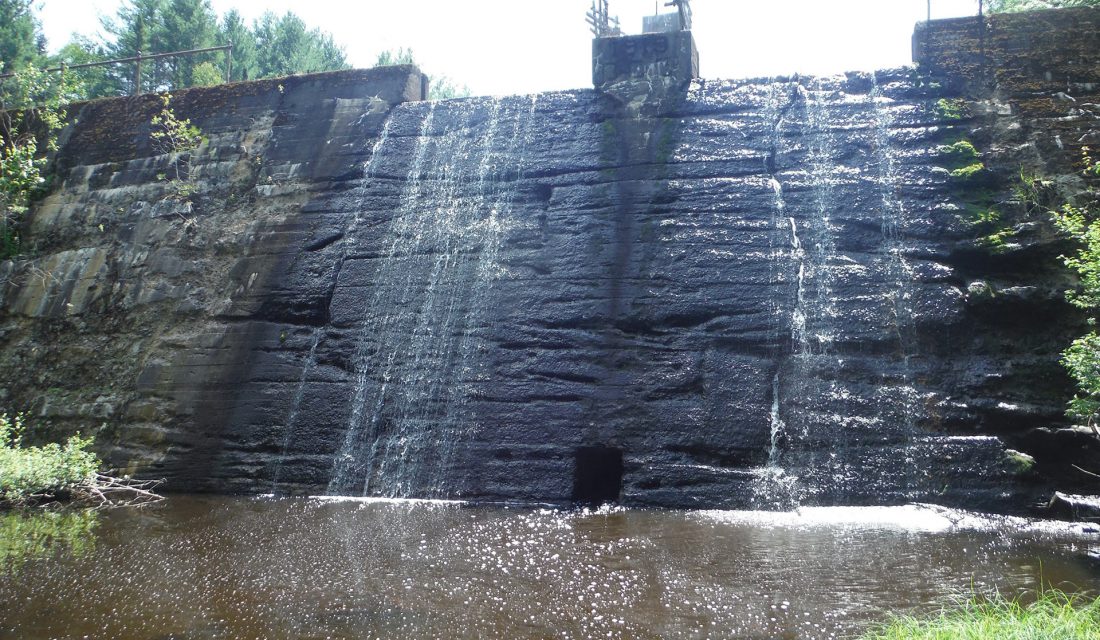 An aquatic barrier is any structure that disrupts the connectivity of freshwater ecosystems and can include both natural and human-made features. From a conservation perspective, an aquatic barrier is generally considered based on its effects on fish passage – can aquatic species move freely past this feature? But it is also important to account for the other ecosystem processes affected by aquatic barriers. Streams and rivers can naturally be disconnected by features like waterfalls, which, if big enough, have likely always blocked fish movement and are not usually considered for fish passage restoration. Alternatively, infrastructure like dams and stream crossings (where a road or rail line crosses over a stream) are artificial features constructed on the landscape that disconnect important parts of freshwater systems, and these structures have increasingly been the target of restoration efforts across Canada to improve fish passage and connectivity.
What effects do aquatic barriers have on freshwater ecosystems?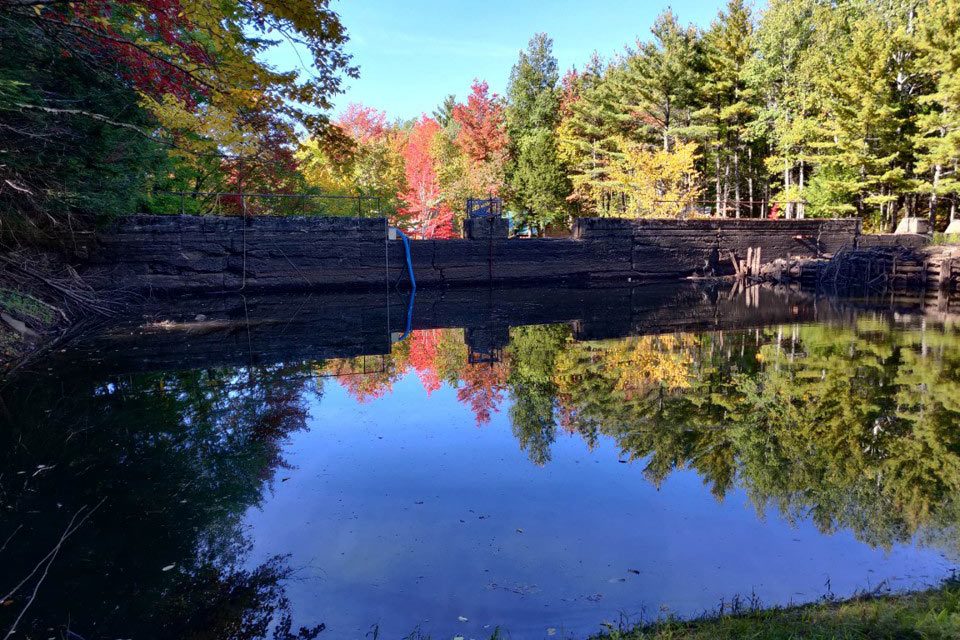 Human-made aquatic barriers are often important infrastructure features that provide social and economic value. However, these same structures often have negative ecological impacts on streams and rivers. Dams restrict the amount of water in these systems, disrupt the downstream movement of nutrients and sediments, and change the temperature and structure of the waterbody. Poorly designed and installed stream crossings, usually in the form of culverts, can become perched above the stream, create velocity barriers as flowing water is constricted through the narrow pipe, and cause water to pool on the upstream end of the structure. Our freshwater species have evolved to use streams and rivers to move large distances to access important spawning and rearing habitat. If fish passage is not accounted for in the design of these structures, they will block the movement of fish and other species. Dams may be built with fishways – engineered structures designed to allow fish to move past the dam freely. Similarly, stream crossings can be designed as clearspan bridges, rather than culverts, to ensure that streams and rivers are not disconnected. In many cases, these pieces of infrastructure have outlived their purpose and can be removed from the landscape. When evaluating potential barrier restoration projects, it is necessary to weigh the social and economic costs against the potential ecological gain to ensure that resources are being used to maximize connectivity.
How does a national database help fish and other species?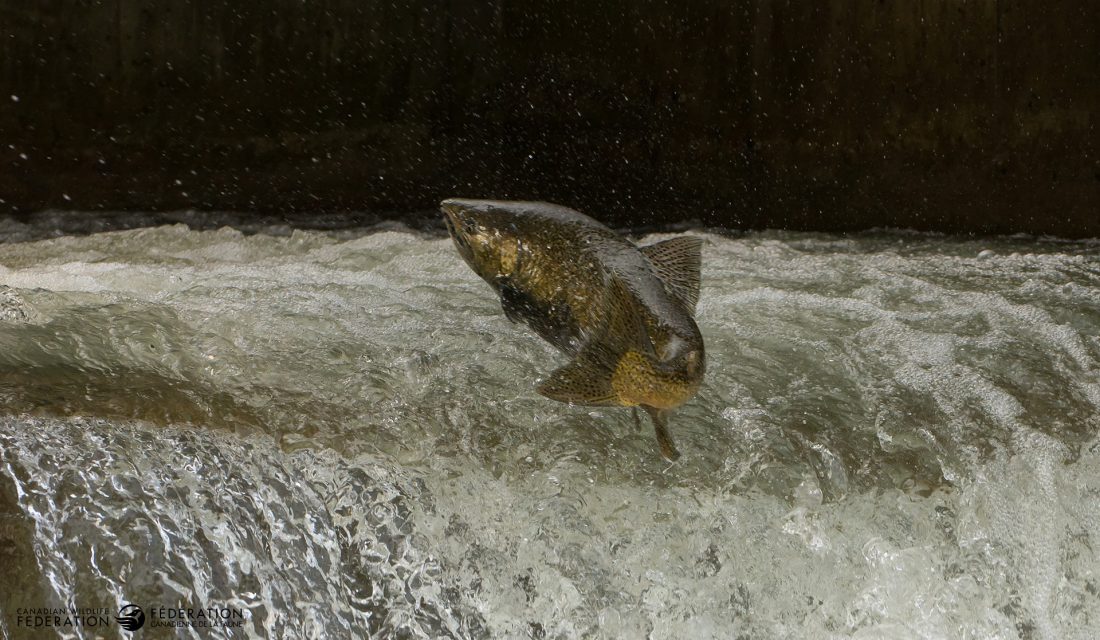 We know that these aquatic barriers are prevalent across Canada, that barrier removal is needed to restore connectivity and access to vital habitat, and that restoration projects are expensive. But we don't have the answers to some important questions: How many barriers exist in Canada? How much habitat is not accessible for fish and other species? How do we identify the most important barriers to restore and maximize benefits for these species? We need a comprehensive information source to answer these questions, which is where the Canadian Aquatic Barriers Database (CABD) comes in! The CABD will allow CWF and other organizations across the country to assess and report on the status of habitat connectivity and inform management and regulatory decisions relating to infrastructure construction and management. It also supports barrier restoration planning and prioritization of projects to improve connectivity and fish passages for important species. Additionally, the database will inform research and monitoring initiatives to better understand the effects these barriers have on freshwater ecosystems and the species they support and provide a national forum for sharing resources, best practices, and success stories to support education and public outreach.
So, what is the CABD?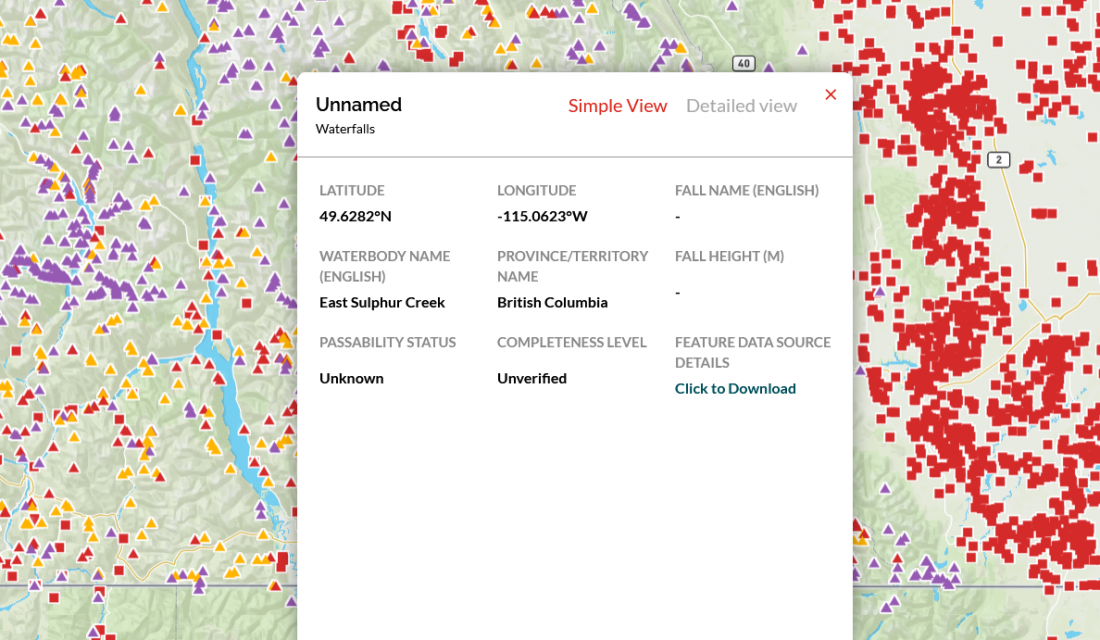 The CABD is a standardized, curated, central, and open repository for barrier and connectivity data in Canada.
Currently, the CABD 1.0 offers four types of data:
Dams
Waterfalls
Fishways
Hydrographic (stream and river) networks (coming soon!).
Is the CABD 1.0 a perfect dataset? No! Data gaps exist in our datasets – we are going to be missing structures and need to fill in attribute gaps for the majority of existing points. For CABD 1.0 we have relied on compiling existing spatial data sources and performing de-duplication, geolocation, attribute mapping (i.e., bringing in and tracking attributes that come from various sources for an individual feature), and standardizing to the CABD data structures. As such, while not perfect, the CABD datasets do represent the most comprehensive information source for dams, waterfalls, and fishways in Canada.
As the CABD develops, users will be able to access all the barrier and connectivity information they need in one place, rather than having to track down and compile multiple sources on their own – saving valuable time and resources. In addition to the four current barrier types, we plan to begin compiling stream crossing barrier data across Canada in 2022. Visit our website to learn more about the project.
How can you access the CABD?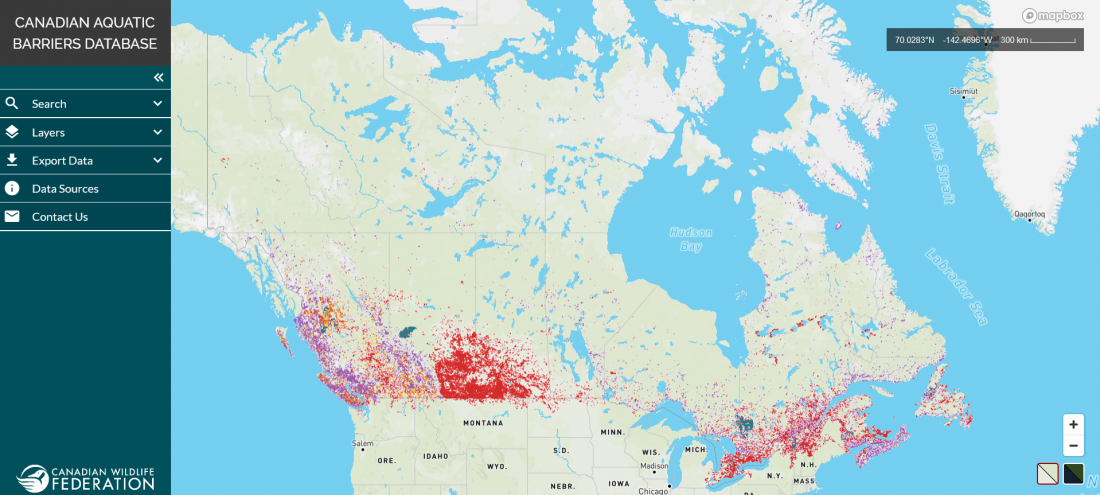 The web tool can be accessed at aquaticbarriers.ca through any browser. The tool is currently only available in English, but we will be releasing a French version in Fall/Winter 2022.
Through the web mapping interface, you can:
Explore barrier data
Toggle between a standard basemap and satellite imagery
Click on barrier and fishway points to explore their attributes
Filter layers based on geography (e.g., province or watershed) or attributes (e.g., dam use)
Download the barrier and fishway data in multiple formats (shapefile, geopackage, kml, and csv)
View the data sources used (so far) to compile the CABD
For more details on how to use the CABD web tool and access data, check out our CABD documentation site or contact us.
How was the CABD developed?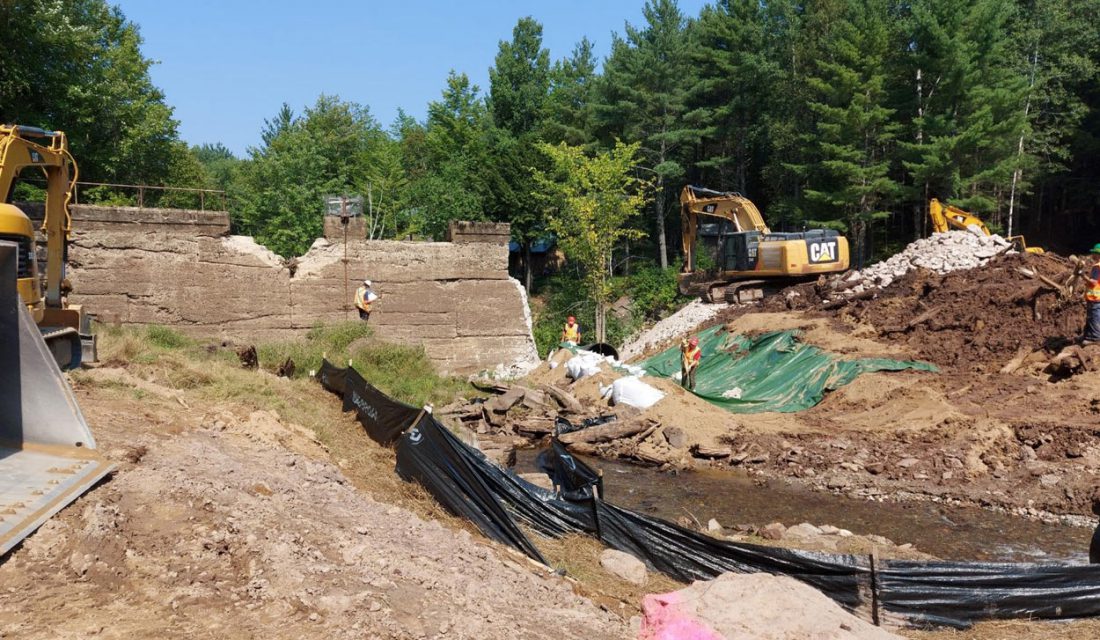 CWF engaged extensively with potential users across Canada in a variety of sectors and fields of work, including all levels of government, NGOs, local and community groups, and industry. The engagement process helped us answer key questions about the value of a national database for barriers to aquatic connectivity.
With CABD 1.0, CWF has completed Phase 1 of the project, where we worked to collect and standardize existing barrier datasets into a single database. This is done by accessing openly available datasets or establishing reciprocal data-sharing agreements with data providers. To date, we have compiled over 100 dam, waterfall, and fishway datasets. CWF technicians review each barrier to remove duplicates, improve location accuracy, and assign attributes from multiple sources to a single CABD point. For a full list of our data sources, please visit our Data Sources page.
The hydrographic networks contain data for streams, rivers, and lakes derived from the National Hydro Network (NHN). Building on open-source software created by Natural Resources Canada, CWF has continued development of the Common Hydrology Features (CHyF) tools and services to create clean, connected, and analysis-ready networks to support connectivity and hydrological modelling. While the hydrographic networks are not yet downloadable through the web tool, if you are interested in accessing the data, you can contact us.
The CABD makes data available through the open-source CC BY-SA 4.0 license.
What comes next?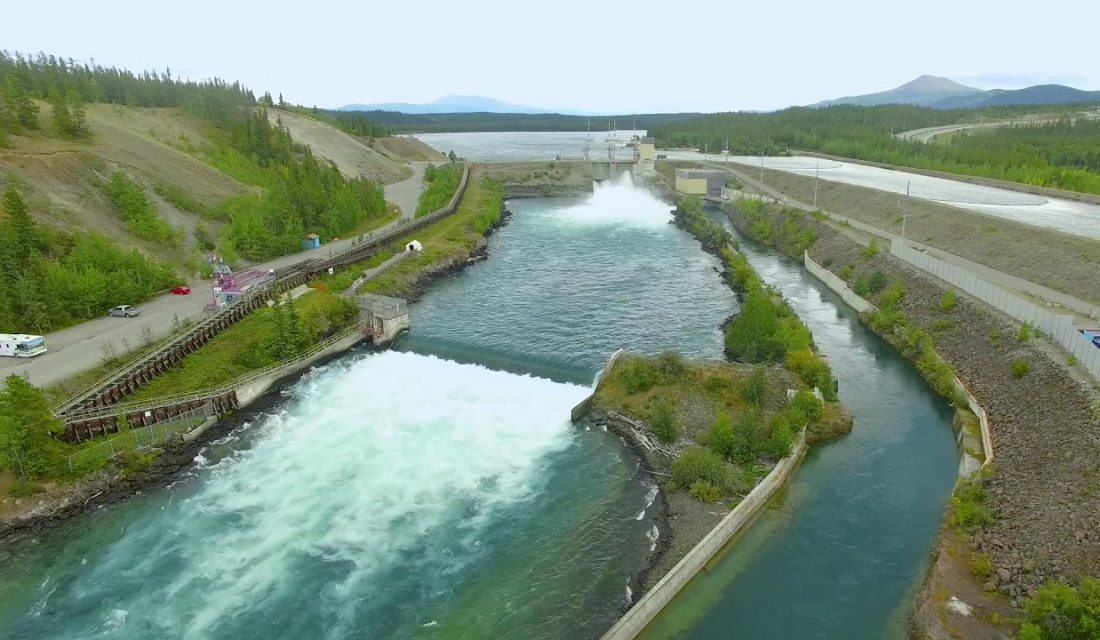 We are always processing new data, but currently the CABD contains:
Over 36,000 dams and associated structures
Over 22,000 waterfalls
Over 400 fishways
The next key steps we are working on are:
Start Phase 2 of CABD population
You may notice that many barrier points in the CABD currently have blank or 'Unknown' values for many attributes. This is due to two reasons:
The set of attributes for dams, waterfalls, and fishways were developed through the engagement process to be an "aspirational" list of the information that users would find valuable for each barrier, recognizing that some attributes will need to be filled in over time.
The current attributes available for each barrier is limited to those that are found in the source datasets. If specific information on a barrier does not currently exist in another data source, then it will not be captured in the CABD.
This is where Phase 2 comes in! We are working hard to begin to fill those data gaps by reviewing non-spatial data sources (e.g., reports, scientific studies, websites) that can provide additional information for structures. Filling these data gaps is a huge job and we're hoping people across Canada can help! We're working on some new tools to allow users to submit information through the CABD web tool, but in the meantime check out our Submit Data Updates page or reach out to us to learn how you can help us fill these data gaps. We'll release data updates periodically with new information, so stay tuned for future release announcements!
Begin Compiling Stream Crossing Data
CABD 1.0 is a huge step towards meeting the data needs to support connectivity conservation and fish passage restoration work; however, dams are only one type of human-made structures that fragment freshwater ecosystems in Canada. While dams are often major barriers to connectivity, smaller structures like stream crossings (e.g., road, rail, or trail crossings), of which there are over a million in Canada, combine to create major concerns for freshwater connectivity through the cumulative effects of the sheer volume of structures. As part of the next stage of the CABD, CWF is working on incorporating stream crossings by developing a standardized data structure and beginning to compile existing data sources. CWF will continue to work with partners, stakeholders, and interested parties to ensure that the stream crossing data is useful and available to practitioners across the country.
Create an Aquatic Connectivity Toolbox
In subsequent years, we plan to compile existing tools, resources, and best practices in the field of aquatic connectivity to form a toolbox to support users and practitioners in their work. This will include compiling barrier remediation success stories to inspire and inform future projects.