Nydia Chowdhury is a summer insect field technician working with the Canadian Wildlife Federation's terrestrial wildlife team.

Working for the Canadian Wildlife Federation alongside Agriculture and Agri-Food Canada was a greater experience than I could have ever expected.
Not only did I gain wonderful field experience in southwest Saskatchewan learning about native insects and wildlife in the area, but also the people I met along the way made the experience an everlasting memory.
Picking Favourites
While catching insects, we saw the amazing wildlife that southern Saskatchewan has to offer. One of my personal favourites is the Swift Fox den that was near one of our radius plots. The first time we saw them, the parents were sitting alert, keeping an eye out for the family, while the young kits were running around playing with each other. There were three or four kits, running around, tackling, biting and chasing each other. It was a magnificent sight to see at six o'clock in the morning.
As for insects, a personal favourite was this cluster of beautiful purple butterflies, the Eastern-tailed Blue Butterfly. I look back at the pictures and they look unreal, almost like stickers that are oddly placed in a colouring book. I felt like I was in a magical fairy-tale, and it made me genuinely grateful for this world we live in.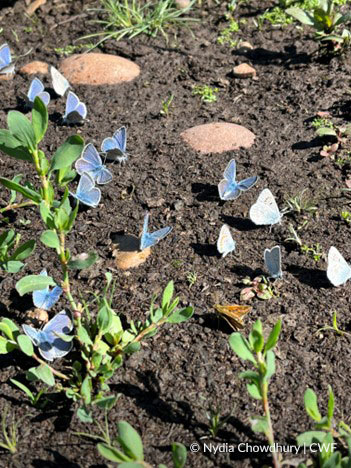 Seasons Change
During our work term in Saskatchewan, we got to see life change completely. When we were first there in May, there was still snow on the ground with dead grasses, bushes and trees. Quickly the grasses started turning green, the flowers started blossoming, and young wildlife could be spotted frequently. It was always an exciting part of my day to see the new life that surrounded us. As our work term came to an end, the fields turned gold and our hearts were full of the memories we made.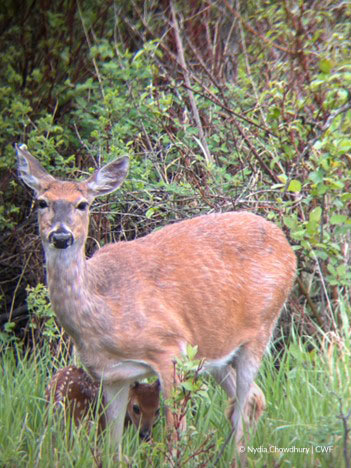 Working with CWF has been the most rewarding experience and beyond anything I could have imagined. The friendships I have gained along the way made living in remote Saskatchewan that much more incredible. I am grateful to have had this opportunity that I will cherish forever.
About the author
Nydia Chowdhury is a recent graduate from the University of Alberta where she studied biology. She  worked for the Canadian Wildlife Federation as a 2022 summer student on the grasslands project, in partnership with the Saskatchewan Stockgrowers Foundation, South of the Divide Conservation Action Program, Birds Canada, Agriculture and Agri-Food Canada and Carleton University. She was on the insect sampling team, led by Behnam Motamedinia, postdoctoral fellow at Carleton University. This project is funded by the Weston Family Foundation.