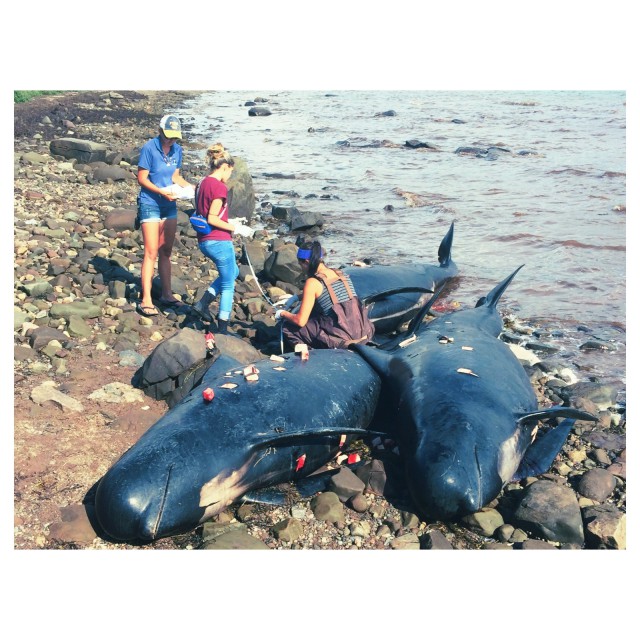 We are nearing the end of the summer season, and what a season it's been! With so much marine wildlife visiting our food-rich oceans at this time of year, there are many chances where they may interact with human activities. Some of these situations can lead to wildlife emergencies and thankfully there are experts who can respond. There have been many marine wildlife incidents this summer and our regional response networks are thankful for the dedicated support of community members and volunteers who help in times of need. This is an update of some of the national incidents since we last reported in July to let you know what's been keeping all of Canada's regional response networks so busy!
British Columbia
On the west coast, the British Columbia Marine Mammal Response Network was notified of a young orca that had stranded itself while hunting a seal in the shallow rugged coastal waters of Hartley Bay, northern coast, in late July. Thankfully, Cetacea Lab's own Hermann Meuter was the first on scene and was soon accompanied by local community member, including about 15 First Nations Gitga'at residents, who helped tend to the whale for 8 hours, keeping it cool and wet until the high tide came back in and freed the whale. There have also been several sightings of grey and humpback whales around the Pacific Rim National Park, some with evidence of having been struck by ships in the past. A sea otter was rescued in mid-August with a broken rib and bloating, likely caused by blunt force trauma consistent with a ship strike. Volunteers and staff at the Vancouver Aquarium's Marine Mammal Rescue Centre will rehabilitate the otter and hope to release him back into the wild once he's recovered. Meanwhile, a wildlife guide discovered a dead humpback whale near Klemtu, central coast, with signs of a likely past entanglement as responders observed several cuts on its fluke. This whale was the fourth dead humpback to be discovered within one week, and researchers have thus far performed two necropsies (these are autopsies that are done on dead animals). There has also been a spike in humpback and fin whale deaths along the southeastern coast of Alaska this summer, and these incidents may be related.
Quebec
The Quebec Marine Mammal Emergency Response Network has noted a high incidence of beluga mortality this year with 16 carcasses reported since the beginning of July, six of which were juveniles or infants. This high infant mortality rate is alarming to the network and research partners, as they continue to seek help from volunteers and beach-goers to report carcasses so that the network can recover them for necropsies and further analyses. Since the media coverage of the North Atlantic right whale (NARW) necropsy, two other right whales were reported stranded dead at sea but were not towed ashore before the strong tides carried them out – local groups remain vigilant for the carcasses. Having said that, several whale watching and research groups have noted a higher than usual number of sightings of several whale species along St Lawrence, and have been able to photo-ID many of them – including humpback whales, blue whales, NARW, belugas, and more!
Maritimes
The Maritime Marine Animal Response Network has had what might be its busiest season in years! While teamed up with the members of the Newfoundland network to search for a satellite-tagged humpback whale off Cape Breton, Nova Scotia, the group instead found an entangled NARW and immediately began work to successfully disentangle the animal. Soon thereafter, a whale watching group in the Bay of Fundy found an entangled minke whale and quickly teamed up with Campobello Whale Rescue team to successfully disentangle that animal. In early August, the Maritime network was notified of a mass stranding of 16 pilot whales near Judique, Cape Breton. Although 8 whales had perished, the network worked with 30 volunteers from the local community for several hours to successfully re-float the other 8 whales. Samples were taken of the deceased animals for further analyses. Two days later, another 14 pilot whales stranded together in very shallow waters just in Bayfield, across the bay from Judique. This time, the Maritime network worked with 80 local residents and volunteers, including the local volunteer firefighter department and successfully re-floated all 14 whales.
Newfoundland and Labrador
In Newfoundland and Labrador, the Whale Release and Strandings Group has been largely preoccupied in trying to relocate the satellite-tagged humpback whale from the Maritimes region that has, since, moved far offshore Newfoundland. Fishermen off the Saint Pierre bank are working with the network to help locate this whale. The network continues to work with rural fishing communities to train fishermen how to respond to entangled marine animals if they encounter any while at sea. So far this season, fishermen, in conjunction with the NL network have successfully disentangled two humpback whales and are keeping an eye on an unhealthy-looking humpback that appears to have entanglement scars. The community of St. John's also participated in the fifth annual Whale Day in June, where hundreds of locals came to learn from network volunteers about whales in the area.
Arctic and Northwest Territories
In the remote hamlet of Tuktoyaktuk, North West Territories, a hunter and his son came across a dead bowhead whale washed onto the local beach. While local biologists estimate the whale to be approximately a 4 year-old, it will be difficult to perform a necropsy and determine the cause of death because of the state of decomposition. Bowhead whales are fairly common to the area, although only 24 have been reported beached in the area since 1987. The remains of the whale will be used by the local Inuit people for traditional craftwork, including bone carvings that the community rarely has the opportunity to practice.
Though we are near the end of the summer, there are still many marine wildlife and our oceans. Be sure to keep an eye on the water for any marine animals (live, distressed, or dead) and be sure to report it to your regional response network! Better yet, get involved – learn more about how you can become a volunteer, or help support these networks with a donation today.
Who to contact:
BC & Canada: 1-800-465-4336
Quebec: 1-877-722-5346
Maritimes: 1-866-567-6277
Newfoundland & Labrador: 1-888-895-3003
U.S.A: 1-888-256-9840
Sightings: 1-866-472-9663 – http://wildwhales.org/sightings
CETUS Straitwatch program
Photos courtesy of Alexandra Vance (Judique, Cape Breton, August 4, 2015)