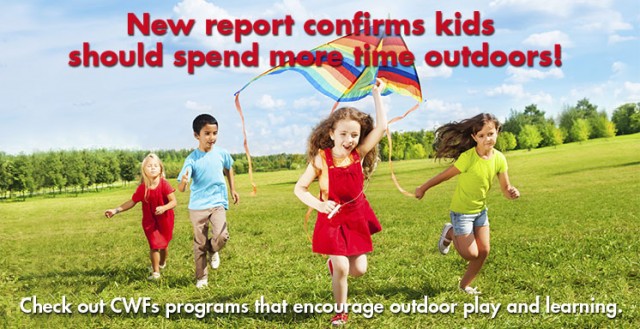 The newly released report provides clear evidence that kids are spending too much time learning indoors. The 2015 ParticipACTION Report Card on Physical Activity for Children and Youth, gives Canadian schools a C- grade and clearly shows that along with other sectors, schools can play a leadership role in encouraging outdoor learning, creative and risky play all of which are opportunities for healthy child development.
In May, CWF was pleased to be the presenting partner for international researcher Tim Gill, author of No Fear: Growing Up in a Risk Averse Society, Canadian speaking tour that encouraged discussion of the benefits of outdoor play. The tour coincided with the release of the Helsinki report that confirms natural environments boost our physical, mental health & cognitive functions.
CWF offers many programs that make connecting with wildlife and nature easy and fun. Check out CWF's new Wild Family Nature Clubs that provide great opportunities for kids and families to learn and play outdoors. If you are an educator, sign up for one of CWF's Wild Education workshops here.