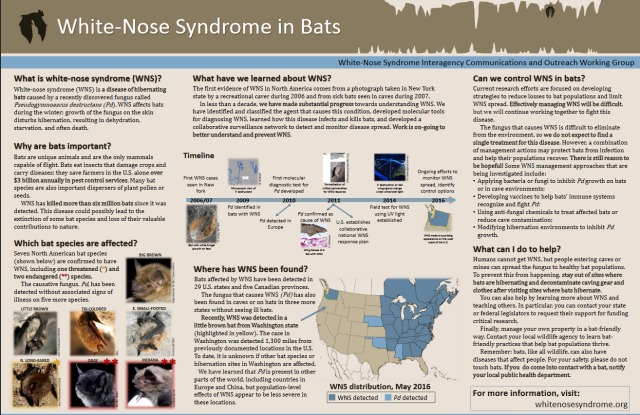 [COURTESY OF: WHITE-NOSE SYNDROME INTERAGENCY COMMUNICATIONS AND OUTREACH WORKING GROUP]
Check out the new WNS poster that was recently released! It's a great way to educate others about this important issue; perhaps by posting it in schools. Also be sure to check out HelpTheBats.ca for more information on WNS and what you can do!
I recently had two papers published about the fungi found on bats! We studied the three bat species most susceptible to white-nose syndrome: Little Brown Bats, Northern Long-ear Bats, and Tricolored Bats.
1. http://scholarcommons.usf.edu/ijs/vol45/iss1/5/
2. https://caves.org/pub/journal/PDF/v77/cave-77-03-145.pdf
The field of microbiome research is just getting started, and scientists are starting to appreciate the role that bacteria and fungi play in immunity and disease progression in humans and other animals. Bats are no exception, and our previous research found over 100 fungal species on the skin of healthy hibernating bats.
Bats seem to pick up a variety of fungal spores from their environment, and the fungal diversity varies depending on which hibernaculum bats roost in. For these most recent studies, we sampled white-nose infected hibernating bats to determine if the fungal diversity had changed with the introduction of the disease. We found that the diversity of fungal species on the surface of bats did not change after infection with white-nose syndrome, at least in susceptible bat species. The next step is to examine bat species that do not succumb to white-nose syndrome, or at least have lower disease-related mortality. It is possible that the bats' microbiome helps with this resistance.
When a bat dies in a cave, the carcass becomes covered in a variety of fungal species.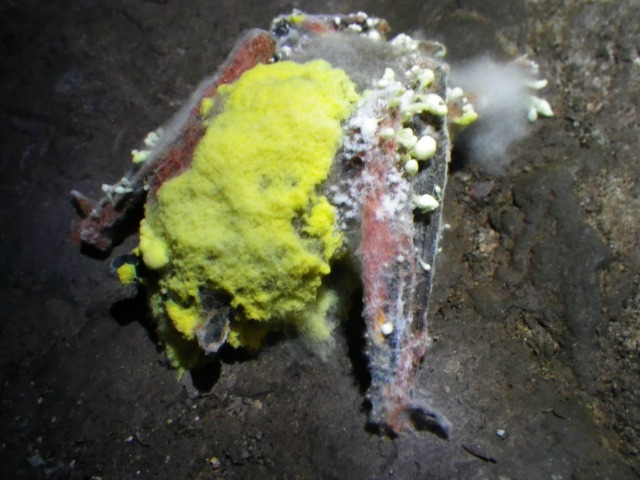 [PHOTO CREDIT: KAREN VANDERWOLF]
There are few scavengers in caves so fungi play an important role as decomposers. During a mass mortality event of bats in a cave, for instance due to white-nose syndrome, there is a lot of fungal growth and some of the fungal spores that are produced end up on the live bats. Many of the fungi I culture from bats are quite colorful!


[PHOTO CREDIT: KAREN VANDERWOLF]