Recreation can be your gateway to conservation through the Canadian Wildlife Federation and friends. Our interactions with the natural world can inspire and benefit us if we are mindful of our actions and receptive to what we hear and see around us.
Summer is the time of year when Canadians spend more times outdoors and especially on our oceans. It is also the time of year when many marine wildlife also return to our oceans; wildlife like whales, dolphins, porpoises, seals, sea lions, sea turtles and sharks. So it's no surprise that you may have already heard of emergencies with marine animals this year.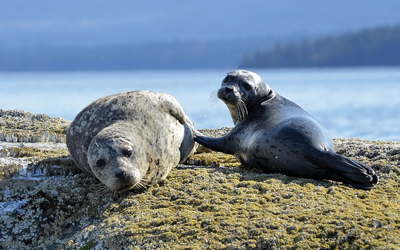 The Canadian Marine Animal Response Alliance (CMARA) is tracking the efforts of the regional networks that respond to these emergencies. If you witness a distressed or dead marine animal this summer, make sure to report it to your local regional response network! Check out more CMARA tips and contact information on our website at MarineAnimalResponse.ca. Well-documented emergencies can help lead to better conservation knowledge and actions! Together, our behavior will play a critical role in the survival of our Canadian wildlife heritage and marine animals.
CWF'S WILD About Sports encourages Canadians to get outside and enjoy Canada's waterways, coastline and oceans by providing the training, resources and opportunities for them to get involved and take action.
A brand new version of the CWF WILD About Sports manual for outdoor educators is now available and the Best Practices on the Water guide has also been updated for 2016.
To learn more about our education resources and training workshops, visit CWFWildAboutSports.ca.

Join the CWF WILD About Sports Club
to receive a one year subscription to Canadian Wildlife magazine, CWF's Best Practices on the
Water booklet and other fantastic resources!
Sign up today at CWFWildAboutSports.ca.