Canadian Wildlife Federation – 2014 American Eel Project
What we're up to this summer!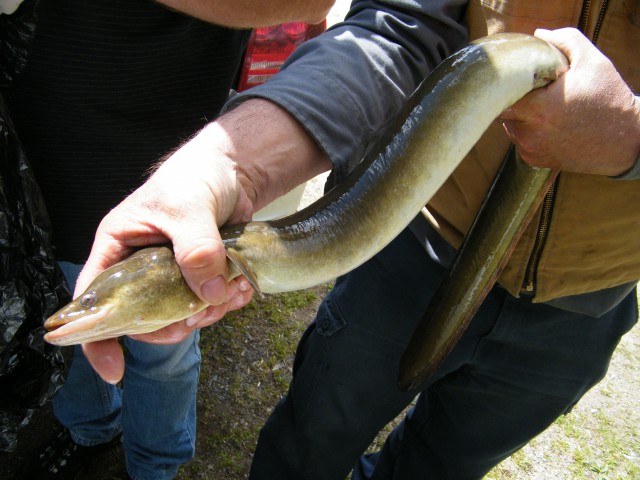 Canadian Wildlife Federation has once again started their Ottawa River Eel Project this summer! The 2014 Ottawa River eel project will mark the 3rd year of the program which aims to study the presence and movement of American eels in the Ottawa River, along with various partners including the Arnprior & District Fish and Game Club and the Ontario Ministry of Natural Resources.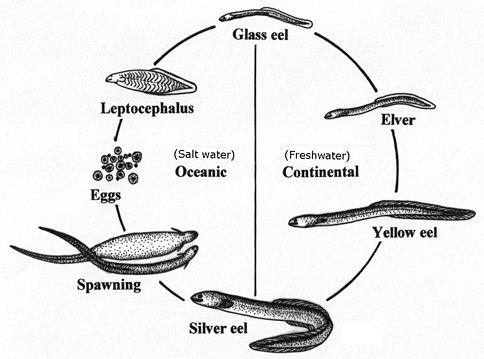 The American eel has a unique albeit complicated life cycle! American eels have a single breeding population and although they spend most of their lives in freshwater, all eels spawn in the Sargasso Sea, a unique oceanic region located in the North Atlantic Ocean. Once mature individuals spawn, they then die. This lifestyle – living most of its life in freshwater and spawning in marine systems is known as catadromous, and many eel species exhibit this lifestyle. Relatively little is known about the early stages of eel life in the Sargasso Sea. What we do know is that after hatching, juveniles use ocean currents to distribute themselves throughout their range. American eels are found from as far as Northern South America, throughout North America and all the way up to Greenland. Upon reaching coastal waters, some individuals chose to remain in these Atlantic estuaries and others will choose to migrate upstream into freshwater via the St. Lawrence River, and are now referred to as "yellow eels" for their distinct yellow colour. Most eels that inhabit Canadian freshwater exist in the St. Lawrence – Ottawa River – Lake Ontario area and spend years maturing in these habitats and the associated tributaries. In fact, most eels within this system are large females, which are responsible for a large percentage of the population's reproductive output. Historically, the Ottawa River and St. Lawrence River have been important habitats for American eels. "Pimisi" as they are known to the Algonquin people, are an important species for Algonquin heritage, both culturally and as a staple food and natural resource.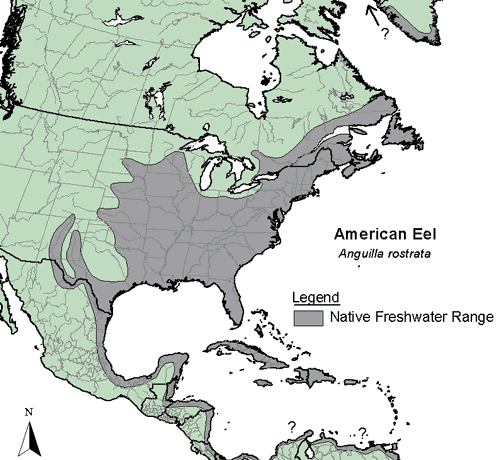 Throughout the previous two summers, research teams from Arnprior District Fish and Game Club, Canadian Wildlife Federation and the Ontario Ministry of Natural Resources along with the help of many volunteers have increased our baseline knowledge of American eels throughout the Ottawa River. These teams focused on determining eel preferred habitat, locations, best methods for capture and their downstream movement patterns through the stretches between Chats Dam, near Fitzroy Harbour all the way to Chaudière Falls, right in downtown Ottawa. The objective of this summer's project is to focus on juvenile eels that are moving upstream throughout the lower reaches of the Ottawa River. Previous work has installed temporary eel ladders in the Ottawa River and its associated tributaries.  These ladders are used to determine if eels are in the area as well as monitor their ability to use the ladder (similar to a peg board in which they crawl up). At the top, eels are caught in a trap which is checked daily.  Once caught,  we will then record basic body measurements and check for the presence of a PIT tag, which is a small tag that is implanted internally into the animal and acts as a unique "barcode" identifier. When we catch individuals with PIT tags, we can compare measurements and previous capture locations to determine movement and growth of the individual over time. This summer, we will continue to use temporary eel ladders to monitor the presence of eels and install ladders at new locations. Through the use of these ladders, we hope to determine potential locations for more permanent ladders in the future.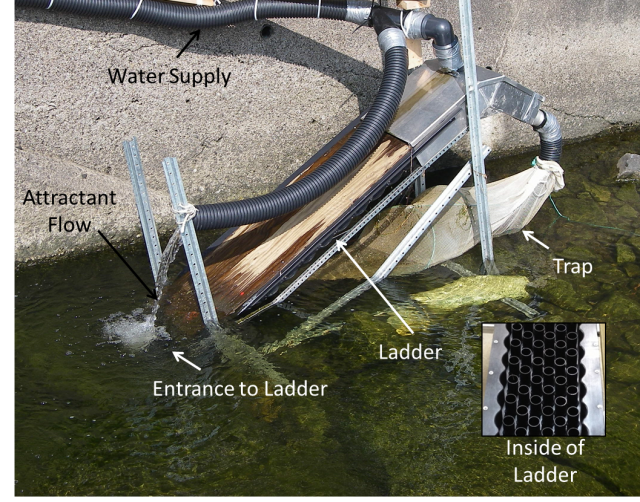 In addition to catching eels with ladders, we will also be trapping eels throughout the Ottawa River. To catch them, we will be using eel pots, similar to those used in commercial fisheries. All our eel pots were made in house, so be sure to check out a future blog post regarding the making and deployment of these traps!
We are also hoping to use acoustic telemetry to track eels as they move throughout the Ottawa River. Acoustic telemetry is frequently used in fisheries research and allows biologists to study the movement and behavior of their study species in real time without interfering with their activity. Acoustic tags are a sound-emitting device which emits a small "ping" that sends the location information of the eel to the hydrophone receivers which are stationed throughout the study area (lake, river, ocean) in a stationary location. Depending on the time in which the ping reaches the receiver, the receiver can determine the fish's position and location from the receiver.  We will be testing the system at important areas throughout the Ottawa River (near various barriers to eel passage) in hopes of deploying the system and tagging some individuals towards the late summer – more updates as this unfolds!
To learn more about the status of the American eel in Ontario, check out the Ontario Ministry of Natural Resources status report.
Our team is looking forward to a great summer on the Ottawa River in hopes to uncover a little more about this unique and interesting fish! Feel free to contact us for more information about the project!