Climate change is making winters colder and warmer. How does that work?
We hear of climate change making winters colder, but we also hear that climate change is making winters warmer. Which one is right? Turns out maybe both – depending on where you live! You see, what's happening in one part of the country isn't necessarily what's happening in other parts of the country or the world. While cold extremes may be felt in some places, above average temperatures are being felt further and wider.
Wondering how a warming climate can actually be making winters colder? While it does seem a bit odd, there are a few theories that attempt to explain how this could be possible. One of the theories that appears to be garnering the most attention has to do with the polar vortex. The polar vortex is a term we seem to be hearing more of as of late, even though it's been around since the 1850s. The polar vortex is a large area of swirling cold air that surrounds both of the earth's polar regions.
A 'Wobbly' Jet Stream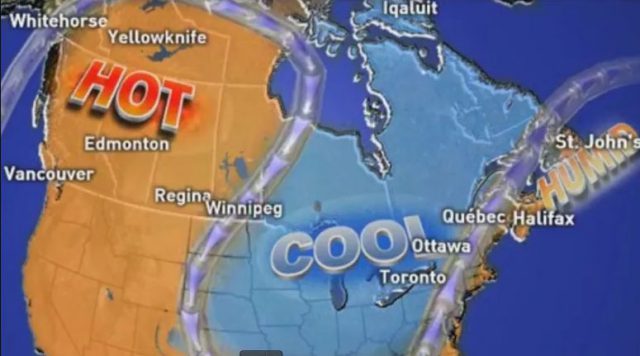 To put it simply, the theory suggests that as the Arctic warms, this causes the polar jet stream to become 'wobbly', as it is described by some researchers. This wobble causes the polar vortex to dip further south into North America and the Northern Hemisphere bringing with it cold Arctic air. This wobble can also slow weather patterns down, making these cold outbreaks last longer – causing what is often referred to as a cold snap.
Most scientists agree that there is some connection between the Arctic warming and mid-latitude weather. Because weather has so much variability, it can be difficult to confirm a direct link. It seems there is more to learn and more will be learned as more data and modeling becomes available.
In the meantime, we've got colder than normal temperatures and warmer than normal temperatures happening. Check out some of these record-breaking temperatures:
Lytton, BC in June 2021 reached 49.6°C – the hottest ever recorded in Canada
A cold snap in 2021 affected Texas – a cold spell that broke historical records for many cities
Many daily heat records were broken in areas across Newfoundland and Labrador on August 31, 2022
Montreal had its warmest November day ever recorded on November 5, 2022
On September 3, 2022, new daily maximum temperature records were set for 37 different Alberta communities
Several areas in the Yukon and Northwest Territories set a daily maximum temperature record on July 4, 2022. Inuvik, NWT – approximately 200 km north of the Arctic Circle hit 31.8°C.
On May 31, 2022, Toronto beat a 78-year-old record when it reached 32.2°C
And speaking of Toronto, on December 16, 2021, it broke a 180-year-old heat record when it reached 17°C
December 29, 2021, Alberta broke seven daily minimum temperature records. Vegreville was the coldest area with a temperature of -44.6°C.