The negative repercussions of COVID-19 on mental and physical health have highlighted the importance of getting outside for individuals and families.
Studies show that there are many health benefits to spending time in nature, such as decreased anxiety and stress, as well as improved concentration and cognition, and calmness. With these backyard activities, you and your family can explore nature in a creative way close to home while promoting your mental and physical wellness!
Rock Sculpture Art (Age 2+)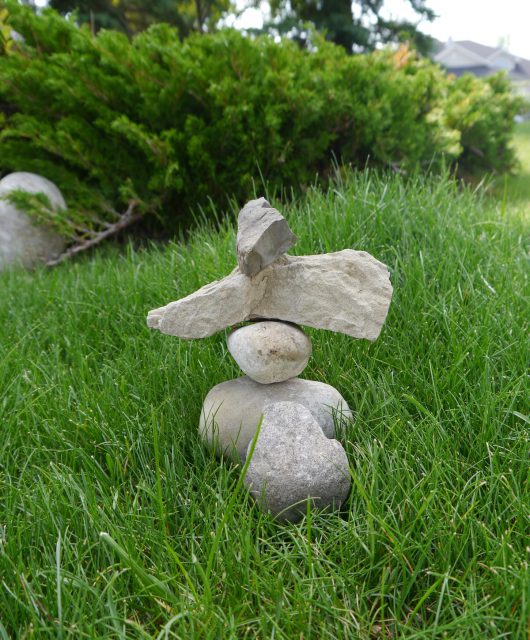 Building materials for sculptures are all around us! Channel your creativity by creating a unique sculpture using rocks you have collected in your backyard or around your neighbourhood!
You will need:

What to do:
Go outside and search for a variety of rocks about the size of your hand.
Once you have collected your rocks, take time to sort them by size or colour.
Now it's time to create your rock sculpture! Experiment with different ways of stacking to make them balance.

Which rock should you use first for your sculpture?
How many rocks will you use?
Stack your rocks carefully so they don't fall and hurt you or anyone around you.
Wear proper shoes to protect your feet and ask an adult for help if you need it.

Once you've created your sculpture, use your imagination to create a story about it!

What does your sculpture look like?
Why did you stack the rocks the way you did?
How did you feel when you were making your rock sculpture?

Invite your family and friends to admire your rock sculpture and share your story with them!
Backyard Wildlife Safari (Age 3+)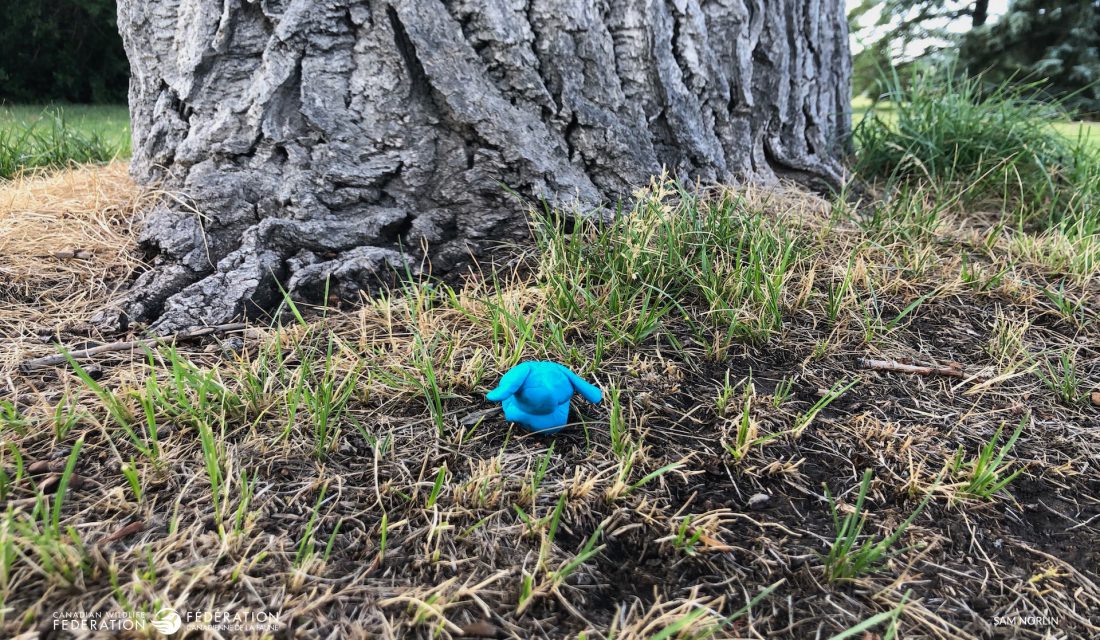 Turn modeling clay or dough into wildlife, then create a habitat for them in your backyard and go on a "wildlife safari" to snap pictures of your creations!
You will need:
Modelling clay or dough
Outdoor spaces for habitat pictures
Camera/tablet/phone (optional)

What to do:
Create your wild animals using modelling clay or dough. They could be animals you have seen before or unique creations from your imagination.
Take your clay animals outside and find a place for them to live! Create a nature scene for each of your animals. Consider:
Where would your animals sleep?
What would your animals eat and drink?
What kind of habitat would your animal enjoy?
For example, you could make a bird, create a nest for it to sleep in, then place your bird in a nearby tree.
Once you've created a home for each of your clay animals, go on a wildlife safari!

With the help of an adult, use a camera to snap some pictures of your creation! (optional). You can also create your own cardboard camera for a bit of pretend play.

Share your clay creations with others! Lead your family and friends on a wildlife safari through your nature scenes and tell a story about each of your animals.
Don't forget to bring the modelling clay inside after taking the photos. It's important to not leave anything outside that could harm wildlife.
Dandelion Painting (18 months +)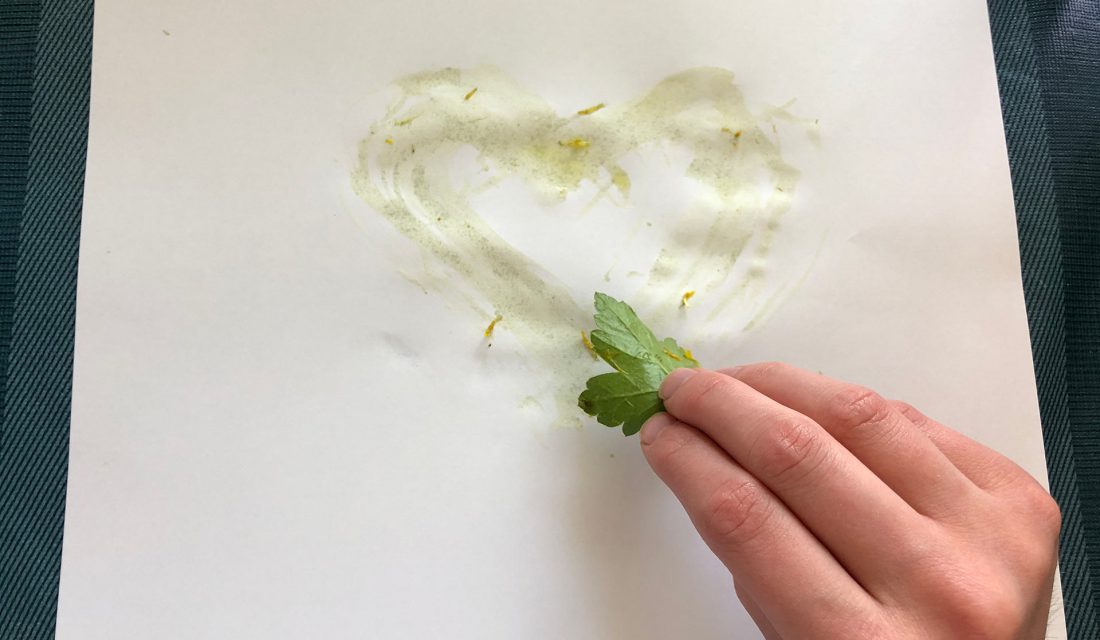 Many paints can be made from natural items such as dandelions. Painting with dandelions is a fun way to combine art and nature using a few easy to find items!
You will need:
Dandelions
Bowl
Rock
Water
Paper
Items found in nature
Paintbrush (optional)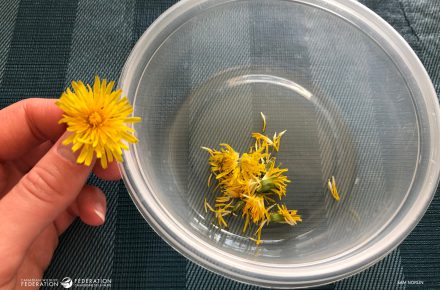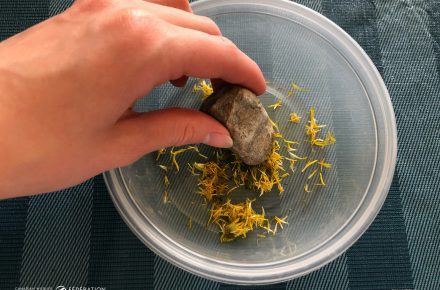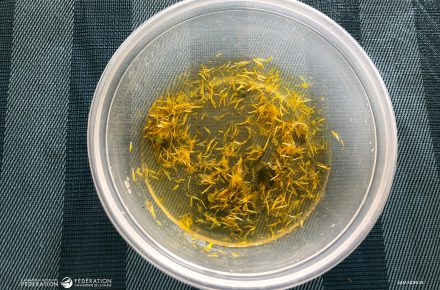 What to do:
Go outside and look for a handful of dandelions and a rock about the size of your hand.
Using the rock, grind the dandelions in the bowl into small pieces.

When grinding the dandelion with the rock, be careful and ask for help if you need it!

Add a small amount of water to your bowl and wait a few minutes to get yellow watercolour paint!

To get a stronger colour, use more dandelions and less water.

Next find a paintbrush! Look for loose parts like leaves, feathers, or poplar seeds to use as a paintbrush. You can also use a normal paintbrush if you prefer.
Once you've selected your paintbrush, put your paper on a flat surface and start painting!
When you've finished your art piece, let it dry before sharing it with your family and friends!
What did you paint a picture of?
What were some difficulties or advantages you found when painting with the nature object?
How did you feel when painting?
Get more nature activities at the Canadian Wildlife Federation.