Wow! Week 5 just flew by! December already! As everyone prepares for the holiday season, these ladies are still swimming furiously to get to their nesting beaches!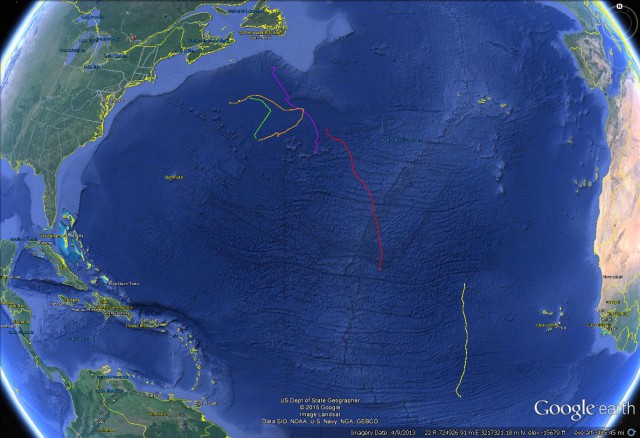 Remember: the race this year is about which turtle can swim the greatest distance before March 3rd, 2016 (UN World Wildlife Day).
Let's see what our speedy shelled racers were up to this week!
Agile Abigail is blazing the trail for the rest our 2015 turtles! Although Red Rockette has swam farther than her, she is still our race leader for our 2015 turtles. She had swam a total of 1566 kms and is swimming at a speed of 53 kms/day. That's the same distance as driving from St. John's, Newfoundland to Moncton, New Brunswick! After going out into the Atlantic Ocean, Abi is beelining it back towards North America and the southern United States. Is she a snow bird, like so many other Canadians and headed to Florida for the chilly months?  Or will she decide to nest in one of the other countries in the Caribbean? Only time will tell!
Rev It Bev is our turtle that likes to be different! She is still further out in the Atlantic Ocean than the rest of her competitors. Since the last recap, she changed her typical straight south migration path and veered east, towards the coast of Africa – could she head to Africa or was she just bored of going in a straight line?  She is approximately 1600 kms away from the coast of South America now and has swam a total of 1374 kms (which is the same distance as a trip from Calgary, Alberta to Winnipeg, Manitoba) and is swimming at a pace of 43 kms/day – so she has slowed since her speed of 50 kms/day last week. Do you think she will get to a nesting beach before Christmas?
Cruisin' Christie; I am sad to report that Christie is still not transmitting. Next week on the blog, we will discuss what could have caused this.
Sharon la petite demone is proving that slow and steady will still get you to your nesting beach! She is still travelling south, but it looks as if she is hopping around a bit as she is alternating heading south, then heading west.  Sharon has swam a total of 1254 kms at this point in the race – that's the same as a road trip from Quebec City, Quebec to Sault St. Marie, Ontario. Sharon is swimming at our slowest speed of 39 kms/day – keep it up Sharon! We're cheering you on!
Red Rockette, who is  our pace maker and 2013 Great Canadian Turtle Race winner, is setting the pace for these 2015 turtles. She is ahead of the 2015 Race leader, Abigail, by 87 kms and swimming at a speed of 54 kms/day – she's increased her speed since last week. She's moving south now and right around the Tropic of Cancer. As of this week she has swam a total of 1653 kms – that's the same distance as driving from Vancouver, British Columbia to Moose Jaw, Saskatchewan. WOW! Our pace maker has overtaken our current racers, but do you think the 2015 racers will put in a mid-race charge? Will Red Rockette be in the lead next week?
Don't forgot to keep an eye on our map! Updates are completed on Tuesdays and Fridays along with a race recap every Friday!