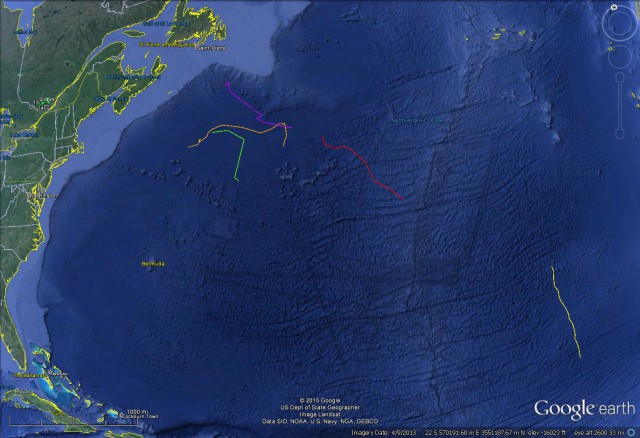 Wow! Week 3 already!  If you've been keeping up with the race, you'll definitely notice some changes to the race map this week.
Remember: the race this year is about which turtle can swim the greatest distance before March 3rd, 2016 (UN Wild Wildlife Day).
This is what our turtles have been up to as of the end of Week 3!
Agile Abigail is our currently leader! As of today, she has totalled 1071 kms! Looking at the map, it looks like Abigail has decided to change course from swimming east and has now started to make her way south! Abi is also quite speedy, swimming 65 kms per day! Also, she is quite close to Sharon – within 200 kms from each other!
Rev It Bev is the ever so consistent turtle! Since we started the race, it was evident that Bev was bee-lining it down south. She has continued her southward migration in a straight line that would make ocean navigation technology jealous! Currently, Beverly has swam 916 kms and is travelling at a pace of 52 kms per day.
Cruisin' Christie is a little off the grid lately. We haven't had a transmission from her since November 11th. Unfortunately, we don't know why she hasn't transmitted, there could be a variety of reasons which most likely have to do with malfunction of the transmitter. But not all hope is lost – there is definitely the potential for her transmitter to start transmitting again so please keep checking in on her! Even though we don't have her exact location, we do suspect that she is in the same general area as her racing friends Abigail and Sharon but you never know! Let's hope that we get some transmissions from her this week! Fingers crossed!
Sharon la petite demone is our turtle that is the farthest north, although not by much as her and Abigail are within 200 kms of each other! She has continued to maintain her south-east path, but similarly to Abigail, she could start heading due south anytime soon! Sharon has totaled 798 kms and is swimming on average 43 kms per day – even though she is swimming at the slowest speed of all our turtles (43 km/day), she is still managing to swim the equivalent distance of running a marathon (42.2kms) each day – so impressive! Keep it up!
Our seasoned veteran Red Rockette, who is  our pace maker and 2013 Great Canadian Turtle Race winner, is keeping a consistent steady pace south. She is further east  into the Atlantic Ocean than our other racers, Sharon, Abigail and Christie and we will see in the coming weeks if she curves back west! As of week 3,  she has traveled 840 kms and swimming at 53 kms per day.
Don't forgot to keep an eye on our map! Updates are completed on Tuesdays and Fridays along with a race recap every Friday!