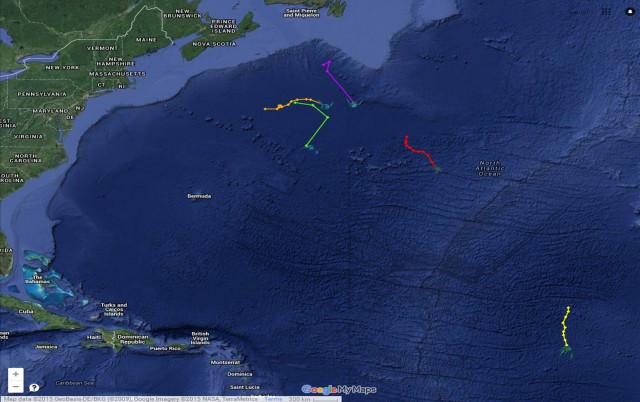 Hi Turtle Race Followers!
Our racers have just finished up their second week of the race and have been moving throughout the week!
Remember: the race this year is about which turtle can swim the greatest distance before March 3rd, 2016 (UN Wild Wildlife Day).
Here is the race recap for Week 2!
Agile Abigail  is moving at approximately 57kms/day and has traveled a total of 502km since the being of our race. Over the last week, she's continued to head east and is now started to move slightly south, most likely with the warmer weather on her mind!
Rev It Bev is sticking to her path and is swimming due south – she's definitely not a follower and is blazing the trail! Bev has currently swam 508kms and had a daily average speed of 52km/day! The following weeks will be interesting to see if Bev changes her south-bound path as she gets closer to potential nesting ground.
Cruisin' Christie is definitely cruising! Out of our 4 racers this year, she has swam the most kilometres, at the moment, with a total of 622kms – she also our speediest turtle this week  averaging 68km/day! We haven't received quite as many locations for Christie as our other racers, but she's definitely moving south this week!
Sharon la petite demone only gave us one location this week (Nov 11), but is headed south and slightly east from her previous location last week. She has totaled 454kms and is traveling at a speed of 37km/day.
Red Rockette, our pace maker and 2013 Great Canadian Turtle Race winner, is keeping a consistent steady pace south. She has totaled 430kms to date and traveled at a speed of 37km/day this week!
Don't forgot to keep an eye on our map! Updates are completed on Tuesdays and Fridays along with a race recap every Friday!